It's the 1930's, and love and trickery are in the air, but that's okay, because times have changed. In olden days a glimpse of stocking was looked on as something shocking. Now heaven knows, Anything Goes!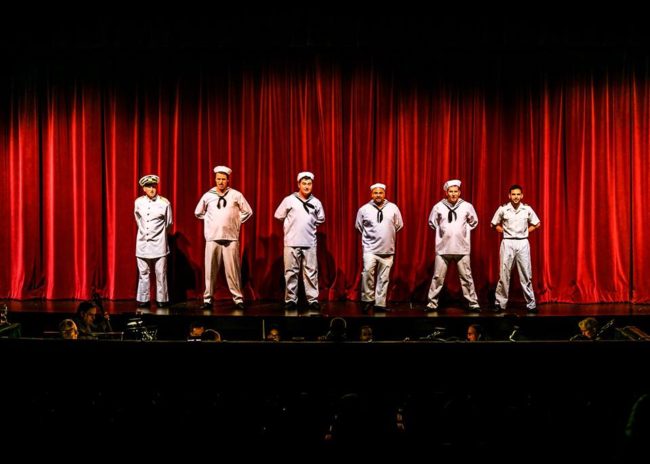 This classic campy Cole Porter production, currently being performed by Rockville Musical Theatre at the F. Scott Fitzgerald, is set aboard a luxury liner, the S.S. American. Nightclub singer Reno Sweeney is en route from New York to England, and her friend and crush Billy Crocker, has stowed away on the ship to pursue his true love – Hope Harcourt – who unfortunately is engaged to someone else. However, he refuses to give her up without a fight, so Billy enlists the help of both Reno and Public Enemy #13 – gangster Moonface Martin – to win Hope's heart. Along the way, Reno falls for Hope's fiancé. Who will end up with whom?
This gangbusters cast is sizable, but there are definitely notables who stand out. As Billy Crocker's boss, Elisha Whitney (who is also on the ship) David E. Elvove is appropriately gruff, and his singing matches his acting choices wonderfully. Paul Loebach plays Hope Harcourt's fiancé, Lord Evelyn Oakleigh, with subdued elegance – that is until he reveals his wild side – and when he does, it's a lot of fun to watch. Jackie Rogers is the ultimate ingénue as Hope Harcourt. Jordan Clifford and Marcie Schwartz as gangster Moonface Martin and moll Erma, respectively, are amazing character actors with fantastic singing voices. Mr. Clifford is incredibly charismatic, and Ms. Schwartz could have been lifted straight out of a 1930's film.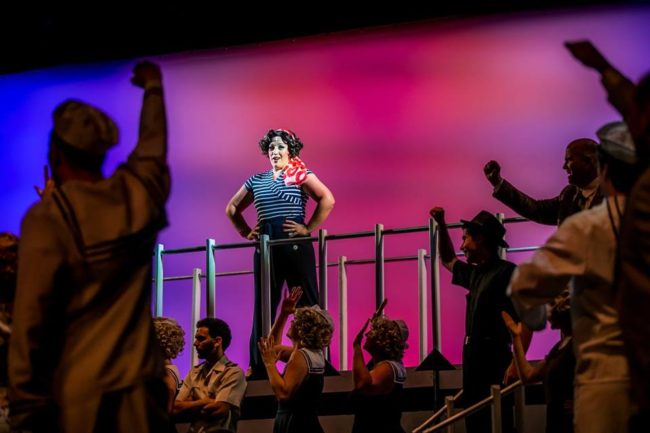 As Billy Crocker, the diminutive Rinaldo Martinez is able to fill the stage with his spectacular singing, dancing, and acting. His chemistry with both Jackie Rogers and Melani Drummer (Reno Sweeney) is palpable. However, the true star of the show – in every way – is the multi-talented, triple-threat powerhouse – Melani Drummer as Reno Sweeney. This tour de force takes the audience's breath away with her every move. And boy, can she tap dance! Without question, Ms. Drummer is the real deal. Truth be told, though, there is not a single weak link in the entire cast.
The set is very well done. Upstage is a permanent structure representing the ocean liner. It has two entrances, left and right, and a double staircase leading to an upper platform with a scrim to the rear. Other set pieces representing various rooms are on wheels, and they are rolled on and off stage as needed. The 1930's are definitely brought to life in this production through dress. Each frock is more gorgeous than the last. Costumers Ginger Ager and Lee Michele Rosenthal deserve special mention for their efforts. That goes for Malca Giblin for Hair and Makeup Design as well. The orchestra is wonderful. The choreography is phenomenal. The lighting is beautiful. As a matter of fact, I think it needs to be said – to the entire technical staff – "You're the top!"
 Anything Goes is a popular musical and is done fairly often, but this production is not to be missed. Let Rockville Musical Theatre tap dance their way into your hearts. But do it quickly. They are closing soon!
Running Time: Approximately 2 hours and 30 minutes with one intermission
Anything Goes plays through July 22, 2018 with Rockville Musical Theatre currently at the F. Scott Fitzgerald Theatre— 603 Edmonston Drive in Rockville, MD. Tickets can be purchased at the door or in advance online.