What's in the papes today? Who made the headlines? Above the fold?!? Why it's Shenandoah Summer Music Theatre with their real swell production of Disney's Newsies. Directed by Edward Carignan, with Musical Direction by Rick Edinger, and Choreography by Dionysia Williams, this charming tale based on the 1992 film of the same name, will catch your eye like a bold and sassy headline on the morning paper. Filled with heart and some incredibly impressive moments, there is much to be said in praise of this production of Newsies.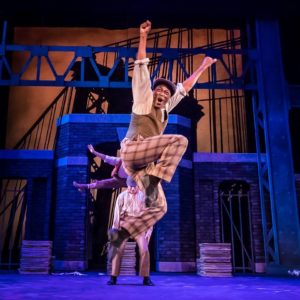 The rooftops of New York City look particularly distressed under the creative vision of Scenic Designer William Pierson. Coupled with the work of Lighting Designer Andrew Carson and Technical Director Brandyn Graves, Pierson puts forth scaffolding up against a silhouette of the Brooklyn Bridge to give the illusion of really being in the grungy city that never sleeps right around the turn of the century. Costume Designer Sammi Geppert gives every newsie in New York that bedraggled, ragtag, ragamuffin look (and even does a splendid job at hiding our newsie-sisters-in-arms with the correct types of tops and low-sitting caps!) The show's aesthetic is a strong supporting feature of the impressive production, though no less a quality could be expected when there is such a high amount of talent to support on the stage.
The show's only issue is some of Dionysia Williams' overly ambitious choreography. The opening dance routines, which populate energetic numbers like "Carrying the Banner" and "The World Will Know" try a little too hard to intensely mimic both the style and verve of the show's original Broadway choreography. This is only problematic as some of the dancers fall out of sync and out of step with some of these vigorous, high-octane leaping routines. This, however, is readily forgivable not because the performers are students or because it's a summer theatre at a college but because the tap routine presented in "King of New York" is impeccably flawless. Receiving a well-deserved ovation at the end of the number, the newsies thoroughly execute a jaw-dropping series of intense (and spotlessly clean) tap routines all throughout this song, making Williams' choreographic potential radiate in blinding waves.
Minor character actors of praise include Jeremy Scott Blaustein, whose two most notable roles are that of the snide Wiesel selling papes and the mincing, kvetching Jacobi inside his deli. The Bowery Beauties (Stephanie Ainsworth, Kelly Donah, Alexis Hasbrouck, Megan Hasse, Erin Puskar, Kristin Rebera), while not given much stage time, are noteworthy for their fancy footwork during their half of "Don't You Come a-Knocking" which happens as Jack is attempting to win over Katherine with his rendition of "I Never Planned On You."
Big, bold, boisterous, and beautiful, Miss Medda Larkin (Jordan L. McCaskill) can put all your troubles at bay when you step into her theatre and hear her belt out her song. McCaskill's character is only briefly featured, what one might call a stellar, standout, cameo, but McCaskill doesn't let this stand in her way when it comes to making the most of every second she's on stage. With a full-bodied voice that is robust and rich she all but belts her way through the entirety of "That's Rich", her only solo song in the show. But her bubbly personality situates itself as a beacon of hope amid dreary times in the dirty city of New York just when things look bleakest.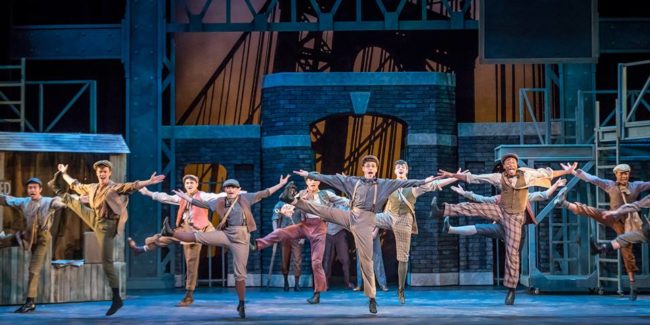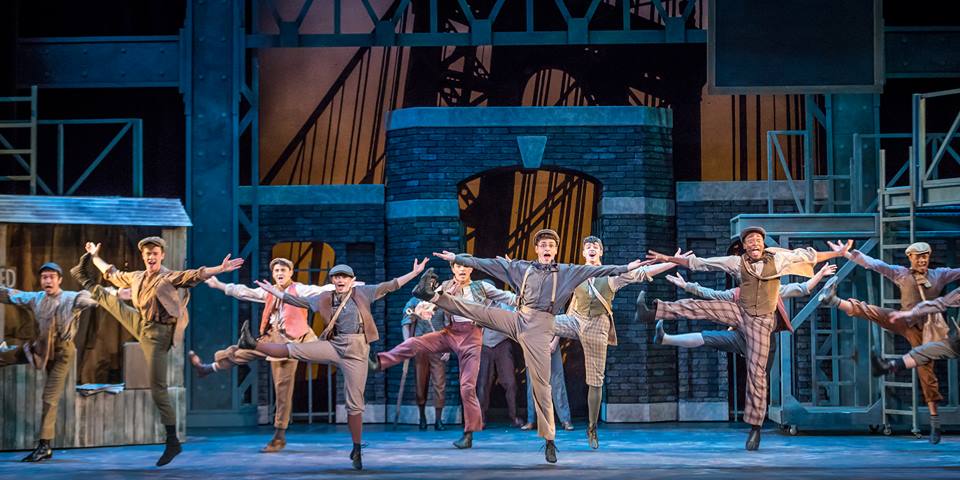 Despite simplistic vocal clarity, there is no mistaking the ready-made villainy in Timothy Browning's Joseph Pulitzer. Though he restrains the character from erupting into a full-on tantrum, Browning lets that fury burble just beneath the surface, driving his cause forward. When he dips into the number, "The Bottom Line", it's rather smooth, but the belted parts towards the song's conclusion are indeed bombastically vile, bordering on maniacal. This dichotomy of engorged evil versus subtly savvy really creates a depth in the Joseph Pulitzer character, who represents The World in more ways than one.
If only one compliment could be paid to Director Edward Carignan ('cause let's face it, us newsies is broke and we've already paid attention!) it's that all of the newsies all across New York purport a strong, thick, but clear New York accent. Never once do these boys falter with their speaking patterns, and many of them carry the New York sound clean into their singing voices, which helps to further ground the production in big apple city. Choosing actors who can readily carry these accents, and do so cleanly so that the accent does not detract from but rather enhance the quality of the overall performance, is a mark of a keen-eyed and focused director.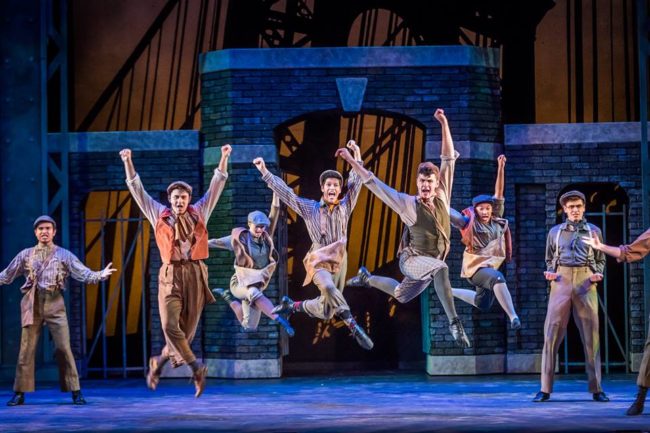 All of the newsies— especially those with names like shy Specs (Timothy Foszcz) and cheeky Romeo (Dorian Davis)— are well worth praising, but you'd do a turn better just to go and see all the marvels they're getting up to and just why they're making headlines. Of course that's not to be forgetting little Les (Jaxon Keller) who's about as cheeky as they come, especially once he starts boasting that he's got a date! Adorable and precocious, Keller doesn't mix words when it comes to being the kid brother of Davey (Tyler Dema) and adds his own full voice to "The World Will Know" with as much gusto and punch as the "older kids."
Tyler Dema, as the wary and precautious Davey, falls into stride with the cause just as soon as he unearths his passionate spark which drives the character forward. Davey's big moment, "Seize the Day", is a powerhouse steamroll of extraordinary things. Dema starts the number with a crisp, clear, and earnest set of emotional intentions that really cuts into the core of the newsies current mission. By the back half of the number, he's full of incendiary spirit, which is quite contagious to the others. Though not nearly as exuberant in transformative moments, the Crutchie character (Eddie Falshaw) is plucky and spunky in a similar fashion. Falshaw has good vocal harmonies against the Jack Kelly character in "Santa Fe" and really delivers deep emotional connections to his plight in "Letter from the Refuge."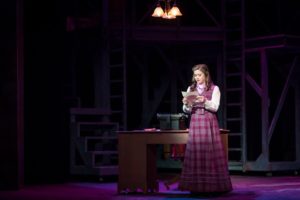 Katherine Plumber (Katie Davis) is the stand-out figure among the newsies because not only is she a journalist but she's a woman. Davis does a fine job of holding her own against all of these big male personalities in a world dominated by men. Sparking to life with pure euphoria, Davis zips a zest into "Watch What Happens", shifting seamlessly from the frantic patter of the number into the fragrant blossoms of the chorus. Vocally and emotionally she traverses this number, no easy feat, with ease and makes a great case for a passionate and devoted Katherine.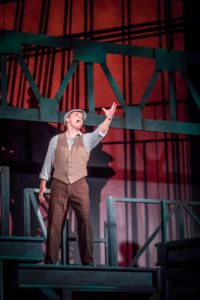 With emotions as deep as the Hudson and as murky at times too, Josh Strobl's Jack Kelly is a sheer delight to behold. There is a deep versatility present in the way Strobl presents Jack Kelly, giving him depth beneath his grit and heart beneath his edge. "Santa Fe" and its reprise are powerful, emotional, gut-wrenching pieces of music that Strobl fills with honest sentiment and deep connectivity. Watching the way Strobl grows as he navigates the tricky character arc of Jack Kelly is quite impressive as well, especially when the Jack Kelly character is faced with that ultimate turning-point moment in the show just inside "Watch What Happens (Reprise)."
You read it here first— what a show! And remember, if it ain't in the papes? It didn't happen! See Newsies at Shenandoah Summer Music Theatre before you miss out on one heck of a headline!
Newsies plays through July 1, 2018 at Shenandoah Summer Music Theatre in the Ohrstrom-Bryant Theatre on the Shenandoah University Campus— 1460 University Drive in Winchester, VA. For tickets call the box office at (540) 665-4569 or purchase them online.