In a smoky club they let the record spin…only it isn't a smoky club, but rather an enchanting distillery…and they aren't spinning a record so much as a four-person rock band, stirring up sound from the back corner of the unique space…From New York to Berlin— to Frederick, MD— comes stories of true love gone awry. Making its debut production, Free Range Humans, a new theatre company based in Frederick, presents Murder Ballad, the atmospheric and immersive musical experience conceived with Book & Lyrics by Julia Jordan and Music & Lyrics by Juliana Nash. Directed by Elizabeth Lucas with Musical Direction by Marci Shegogue, this edgy powder-keg of rock warps and winds its way through sordid stories that are quite close to real life.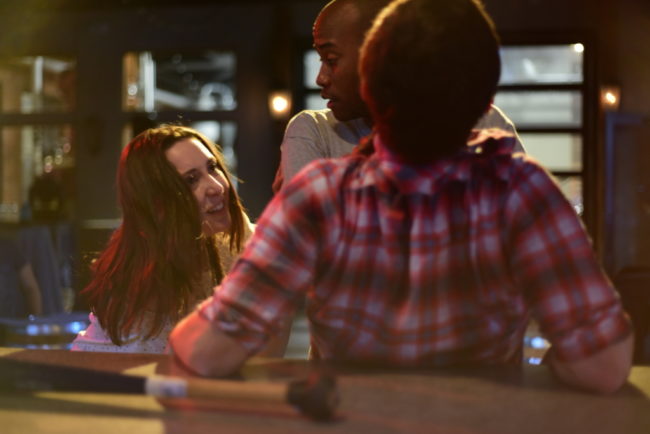 Director Elizabeth Lucas takes the open floor plan of the distillery and works it to the show's advantage, immersing the audience in the direct encounters shared across the four performers. Using the space's natural bar counter, Lucas incorporates this furnishing, as well as the distillery wagon into the scenes created inside the story of the show. Lighting Designer TJ Lukacsina accentuates the happenings of the show with simplistic overhead lighting, that occasionally shifts color for a more emotionally charged impact during certain musical numbers. Taking the overhead strings of faerie lights and lowering them to serve as a swing for the scene in Central Park is both innovative and clever, symbolically showcasing how a child can be the true light in a couple's life.
Musical Director Marci Shegogue is faced with the extraordinary challenge of properly balancing the live band, which consists of herself, Danny Santiago on guitar, Jasiu Mich on drums, and Cameron Siedjeski on bass, against the sound of the performers. Shegogue rises to the challenge and for the most part succeeds in keeping the band's volume from overcoming that of the performers. A small smattering of moments notwithstanding, where microphones didn't initially pickup as intended, the overall sound and balance of live music and vocal performances is quite impressive for the space.
Four powerhouse performers come together to unfurl the steamy and sordid tale of love gone wrong in New York City over the course of a 90-minute evening. With no intermission to disrupt the tale's natural flow, it's an emotional and vocal super-charged marathon for TJ Bolden, Allison Bradbury, Matt Hirsh, and Kylie Smith. This quartet of stupendous individuals creates an unforgettable performance with their raw emotional renderings of these tortured and deeply flawed characters. The most electrifying moment in the show is the consuming, chaotic inferno of emotional fire that blazes in turn from each of these singers during their verses of "You Belong to Me—Reprise." All four performers create stunning moments of emotional display, "Built For Longing" being another fine example wherein the quartet showcases four vastly different flavors of anguish as they belt their faces off at the audience in this number.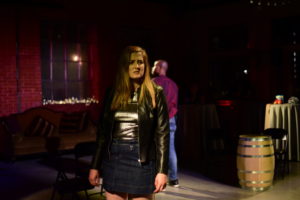 Kylie Smith, who plays the role of the Narrator, does so in a coy and unobtrusive fashion. With an expressive face, done so in a tasteful but subdued manner, Smith adds a cheeky side of the narrative into her retelling of the tale, locking eyes with various and sundry audience members to personalize the story. What's ultimately fascinating is the covert way that her character slips into the narrative as an unnamed other. There are clandestine shifts in both her emotional intonation and overall expressivity that make this sly transformation a jaw-dropping one by the time she bursts into the passionate insanity which carries "Clubs and Diamonds/Prattle 6."
The emotional gravity of the show is shouldered squarely between the remaining trio of the tale. Tom (TJ Bolden), Michael (Matt Hirsh) and Sara (Allison Bradbury.) The story is a racy one from the start, but builds slowly with smoke, steam, and sensuality all throughout right until it reaches a boiling point. Visceral edges of jagged glass cut the tension as the trio moves through "Prattle 5", the first confrontation between the Michael and Tom character. Watching the way these three performers interact, with one another, against the story, and as a performing unit, is truly astonishing.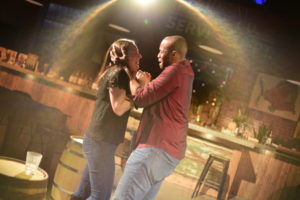 Bolden's Tom is smooth, engaging and invigorating. At first the character is appealing, with Bolden's strong voice giving a vibrant life to his half of "I Love NY." Grasping a hard transformation, Bolden reveals the darker and more dangerous side of Tom as the story progresses. The emotional intent shifts hard, as do the facial and physical expressions that Bolden brings to the character. His portion of "Answer Me" is intimidating and his rendition of "I'll Be There" is harrowing, sending unpleasant shivers up the spine; this is the case all the more if you're seated on a certain side of the house as a series of unpleasant interactions plays out in this moment as well as during "Answer Me."
Allison Bradbury's Sara is complex and vocally magnificent. Showing the full arc of the character in a palpable and relatable fashion, Bradbury puts not only her superb vocal talent on display but showcases a fine set of acting skills to accompany the complex musical numbers. Vivacious and yet full of intricately darkened emotions, Bradbury gives the full scope of the Sara character to everyone present. There is a forbidden racy pulse that drives her into "Mouth Tattoo", and reserved hesitancy that tugs at the lyrics in "Promises." Bradbury is extraordinary in the role, cultivating two unique sets of chemistry— one for her character with Tom and the other for her character with Michael— of which both are fascinating and extremely different from one another.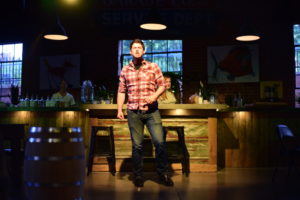 Matt Hirsh delivers a dynamic and versatile interpretation of Michael, creating fathomless depths to this deceptively simplistic character. There is an honesty and a sincerity to Hirsh's portrayal in the earlier stages of the musical that endear the audience readily to his tale; this includes his performance of "Troubled Mind", the only song (excluding segments performed by the Narrator) to be song as a true solo. Hirsh is emotionally well endowed, channeling a vast ocean of feelings into the creation of the Michael character, many of which come surging forth in a wild and incensed outcry during "Little by Little—Reprise." Remarkable in his vocal performance, astonishing in his character portrayal, Hirsh creates a masterpiece alongside his equally talented cohorts in this production.
Risqué, engaging, and full of magnetic life that draws you inexplicably down the darkened path of these characters, Murder Ballad is a thrilling musical shocker that sets a high bar for Free Range Humans as its first production.  
Running Time: 90 minutes with no intermission
Murder Ballad plays through June 29, 2018 with Free Range Humans at McClintock Distilling— 35 S. Carroll Street in historic downtown Frederick, MD. Tickets are available for purchase at the door or in advance online.