It's bad and beautiful; it's bawdy and bizarre! For just who is who and what is what is quite the question at— well— Harvey Fierstein's other smash-hit show, Casa Valentina, making its community theatre area debut at Colonial Players. Directed by Mickey Lund, this edgy, inspiring, and potently poignant dramedy will give you, as the modern phrasing goes, "all the feels." Despite its early 1960's setting, the show's relevance to the world of 2018 is remarkable; Lund and the cast create believable characters from Fierstein's work which reach out and touch the hearts of the audience and draw attention to how important acceptance of others, no matter their lifestyle choices, can be.

While not lavish, the quaint little bungalow style set, compliments of Eric Lund and Laurie Nolan, has its charm. Nolan, assisted by Heather Quinn and Constance Robinson, take charge of decorating and painting the set. Some might even call it rustic! The lighting is simple, following the overall verve of the show's primary aesthetic. Lighting Designer Alex Brady doesn't take a heavy hand to the dramatic illumination cues that could so readily be thrust into place for a show like this. When Brady does find cause to use lighting for dramatic emphasis, it is subtle. This is best executed by the delicate fade out on George at the make-up table at the show's conclusion, creating a stunning exit from the reality of the performance. Other such moments include the dim orange glow to ignite the candlelit dinner scene and the lowered lights for the dance party in the back room.
Where the production values deviate from the ordinary is in the costume department. Designers Fran Marchand and Christina McAlpine have their work cut out for them, having to find not only styles that were appropriate for the early 60's but fit them to men dressing in drag. Marchand and McAlpine do exactly that; fitted waist-lines and A-Frame dresses are all over, and done so in tasteful patterns that best befit these "women" of a certain age. What's more impressive than their overall sartorial selections is just how well they help these men fill out these costumes, with appropriate shaping and padding. Hair & Wig Designer Dough Dawson and Make-up Designer Darice Clewell add the perfect polish to the "total look" of the transvestites, with drag make-up that is on point. There is a delicate balance to painting up perfection in these drag-style polishes, and Clewell does that will radiant brilliance. Her finest work is most definitely witnessed on Bessie; the loud and yet finely manicured look is a flawless match to the character's obnoxious personality.
Despite some minor instances where lines trail away and the actors' fail to project, the show is solid on its feet. The show's only major fault is a lack of soundscape— though the garden gate sound effects crafted by Sound Designer Ben Cornwell is quite crisp— throughout the show. There are moments between scenes and in silence with various actors where some sort of underscoring is desperately being cried out for, and ultimately arising as a missed opportunity. This aside, it stands to reason that Director Mickey Lund has a clear grasp on the concept he's delivering, has a keen understanding on how to block in the unusual rectangular space that is the Colonial Players' stage, and ultimately delivers a satisfying production threaded deeply  with emotional gravity as well as snappy and sassy humor. Lund understands balance; the piece is not meant to be purely a drama or purely a comedy and Lund's ability to level these two dueling components against one another is superior. With an exceptional cast, Lund puts forth an exemplary production of Fierstein's work, one that makes the books in Colonial Players' stage history.
Each of the gentlemen donning the dress in this production creates a unique and vivacious character as their female-alter-ego selves and it's divine to watch them work. Even young Jonathan (Jason Vellon), who arrives as the newcomer to the party, finds a spirit inside Miranda's skin once he gets comfortable in his surroundings, and once he gets a full-standing makeover from the girls. The dynamics they develop with one another possesses an authentic feel to it. There is no artifice or fabrication of caricature here. This in itself is an astonishing feat as the entirety of the show pivots around the premise of living out your inner most truth in peace and friendship.
There is something to be said for playing women of a certain age, and while none of characters in the production are meant to be spring chickens, both Theodore (Peter Wilkes) and The Judge (Mike Dunlop) take the crown when it comes to playing aged seniors. Wilkes, whose female alter-ego is the insatiably excitable Terry, is giddy and full of a spryness that defies the character's age. Watch closely how this boundless fount of youth engages with great enthusiasm when assisting with the makeover or when telling stories about being punished with dresses as a young child. A true scream in the role, Wilkes does a fine job of fitting into the group dynamic. But there's more to Wilkes' Terri than inexhaustible youthfulness at her ripe age; there is a powerful plea driven by desperate passion when it comes to the issue of accepting homosexuality as their brethren kin. This is by far one of the more moving moments in the piece as Wilkes delivers this speech with truth, reverence, and a liveliness that is still echoed in similar pleas of today, begging for acceptance and understanding of those in lifestyles different from our own.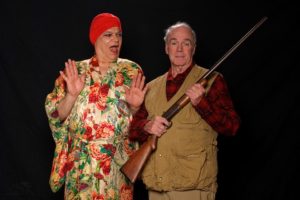 Dunlop, who arrives as The Judge out of drag and looking quite surly in his hunting gear, quickly blends into the group once The Judge becomes Amy. Dunlop's Amy is quieter, and much more reserved when it comes to putting opinions on the line, but speaks with no less reverence and sincerity when it comes to the more difficult issues. Listening to Dunlop present Amy the crossover between his female-alter-ego and The Judge are quite present, with Amy's speeches often being delivered with swift justice. The scene that defines Dunlop in this show is one wherein the character of Amy does almost no talking at all but rather serves as a reactionary listener to a tirade of vicious assaults from Charlotte. Dunlop's body language and facial expressions here are what truly charge this scene with intensity.
Charlotte (Tom Wyatt) is truly a fiendish snake in the grass. Slippery and slick upon arrival with airs and graces as bold as the gold and blue dress frock she's wearing, Wyatt presents Charlotte with aristocracy and a cringe-worthy level of self-importance. Though without the vicious viper nature of Wyatt's Charlotte, the stakes would sit at a rather low premium in this production. There is something to be said for the way Wyatt slinks under the skin of the other girls, in full belief that Charlotte and her beliefs are 100% accurate and the only way to exist as they are. Wyatt's potent approach to the pungency of the character makes her easy to dislike from the moment she sashays into the resort.
Standing in staunch opposition to Charlotte the snake is the feisty and fiery Gloria (Eric Lund.) Dressed to kill in shades of mint, olive, and lime, all tastefully displayed and outlaid, Lund's Gloria is a creature of subtlety, existing ever so softly in the background right up until she pushes herself into the fray, standing up for what's right. Proving to be the Thomas Jefferson of Casa Valentina, with Charlotte pushing for the bigger picture of her cause and Gloria holding strong for equality for all, Lund delivers a most admirable and heartfelt character in Gloria. And good gracious watch his hips on the dance floor at the top of the second act, if ever there was a man who could shake it in an A-line dress combo and stellar mint high heels, it's Eric Lund.
The resort may be full of women for the weekend, but Laura Gayvert is the true woman to walk among the cast of men. Taking up the difficult role of Rita, wife of George and house keeper of Casa Valentina, Gayvert delivers a striking performance and holds her own against all these men playing women. The casual housewife pin-up style that has been outfitted on Gayvert adds a layer of confidence to her overall portrayal, giving her a more realistic look and feel. She is congenial and honest, especially when it comes to questioning George and Valentina. There is a natural essence about Gayvert whenever she's in a scene, be it assisting with the makeover, encouraging George, or supporting Valentina; she's an all-round delight on stage.
Jim Gallagher is half the show's namesake. Once Gallagher tucks George away and transforms into Valentina, the party is on. Gallagher, much like Gayvert's Rita, is honest and draws the momentum of the character from a wellspring of honesty. Finding that level where humor and drama can collide and keeping the humorous bits light and fluffy whilst keeping the more serious moments appropriately weighted, Gallagher does a fine job of pushing and pulling the show in this direction and that. Confronted with a plethora of problems, which plague Valentina most soundly and vex George even harder still, Gallagher has a keen sense of stage presence and knows when a reserved look does better than a sputtered word.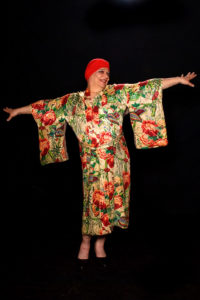 It may be Casa Valentina, but the show is all Bessie's. Kevin Wallace takes on the larger than life character of Bessie, tackles her soundly, and the result is a magnificent performance of extraordinary proportions. Full of sass, cheek, and hilarity, Wallace's Bessie is an uproarious hot mess of hilarity. Never allowing a dull moment to exist, or a hot one to fizzle out, Wallace makes entrance after entrance, delivers zinger after zinger, and ultimately rules the roost inside Casa Valentina. But there is more to Wallace's Bessie than just a pretty face, a snappy attitude, and a series of hot and shady punches that pack a wallop when they land. Carrying two of the show's most moving moments— both in fully elaborating on the 'perfect married couple' relationship of Bessie and Albert (with Albert being Bessie's real male half) and when crying out towards the show's conclusion about confusion and understanding— Wallace displays a miraculous dichotomy between the two halves of Bessie. This dynamic portrayal is not unlike undertaking two separate characters, which ties beautifully into the overall duality of the piece. Wallace is perfection as Bessie and truly makes Casa Valentina a vacation worth exploring.
Live your inner most truth, whatever that may be, in this fine stage spectacular at Colonial Players through the middle of this June. It's one for the books by far and bares such striking relevance to today's world that it is most definitely a must-see.
Running Time: 2 hours and 30 minutes with one intermission
Casa Valentina plays through June 17, 2018 at The Colonial Players of Annapolis— 108 East Street in historic Annapolis, MD. For tickets call the box office at (410) 268-7373 or purchase them online.