Annapolis Summer Garden Theatre opens their 2018 season with a bang—literally—in the madcap musical version of Woody Allen's Academy Award winning film Bullets Over Broadway. When an up and coming playwright is paired with the financial backing of the underworld, expect all the standard screwball hijinx of the Roaring 20's told with the sounds of the Jazz Age hit parade. Armed with a book by Woody Allen (adapted form his Academy Award nominated original screenplay with Douglas McGrath) and a score, hand picked by Allen, calling on the biggest composers of the era, from Cole Porter and Sammy Cohn to Fats Waller and Hoagy Carmichael, director Clare Shaffer crafts a fun evening of musical standards and comic mayhem under the stars.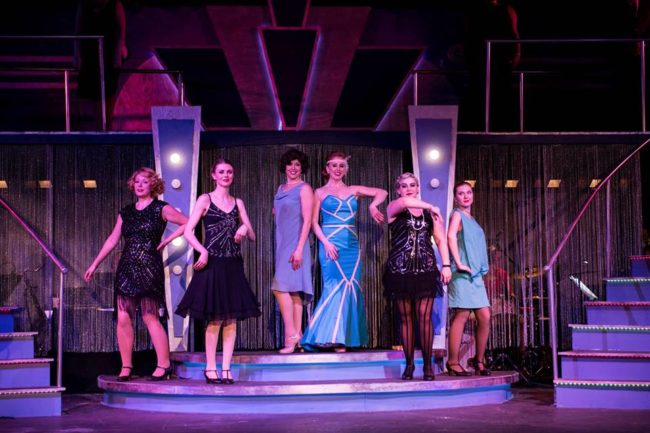 Aspiring playwright David Shayne (Trevor Greenfield) is in need of financing for the world premier of his new stage play. Producer Julian Marx (Morgan Thomas), pressed for investors, pairs him up with shady Mafia boss Nick Valenti (Jerry Vess), who foots the bill with one requirement—his current no-talent bimbo girlfriend, Olive Neal (Caitlyn Ruth McClellan), a failed chorine with unwarranted ambitions of stardom, gets a featured role. To protect her interests as well as his own, Valenti sends along his heavy, hit man Cheech (Jeffrey Hawkins) as her bodyguard, who turns out to have the heart of an assassin but the soul of a poet. Add to the cast the reigning theatrical deities of the day and all the ingredients for a broad, manic comedy are on the table.
The cast of characters is deep and demanding, both musically and comically, but Shaffer gets good mileage out of her performers. Greenfield's Shayne is charmingly neurotic as the stock Woody Allen stand in (if Allen was a handsome, silver-voiced, unassuming heartthrob).
As his above-the-name star, reigning Broadway doyenne Helen Sinclair, Traci Denhardt has the burden of comparisons with the sublime Diane Weist's Oscar winning performance, but completely erases them courtesy of a megawatt belt and supreme over the top comic timing, even with Weist's signature "Don't speak!" theatrics.
McClellan is brash and brassy as Olive Neal, Valenti's mol who is a star in her own mind. Although Allen gives her the bulk of his stock schlock humor, she delivers. Her high point is her (purposely) lowbrow production number, "I Want a Hot Dog for My Roll", enhanced with a perfect assist from Andrew Gordon delivering the titular beef.
Hawkins steals the show as Cheech, the hard as nails hit man with a softer artistic side who salvages Shayne's script, in both the right and wrong ways. Whether crooning an ironic "Up a Lazy River" or leading a tap tour de force in "T'Aint Nobody's Business if I Do", his smooth vocals and sharp dance moves stop the show.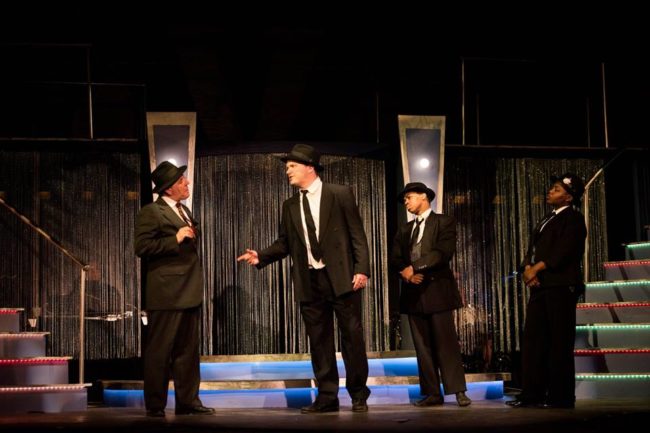 Emma Godfrey, as Shayne's longstanding girlfriend Ellen, is saddled with an underwritten role for the bulk of the show, but sits tight and makes the best of it with her until she blows away her (in this case almost literal) 11:00 number, "I Found a New Baby". Although it seems to come from nowhere, who cares when Godfrey comes alive and wails in a voice that would blow the nonexistent roof off the under-the-stars theatre, if only one existed.
John Purnell and Kirsti Dixon provide fun comic relief as other suffering comedians in Shayne's beleaguered show, and Vess fills the large cement shoes of the comic mob boss. A special note goes to Thomas, who lights up what could be the thankless role of producer Marx. Thomas shines and exudes great stage charm, especially as she draws your eye in every dance number she is in with her crisp and precise execution and persuasive charm.
Music Director Rachel Sandler elicits great sound from her strong corps, but conductor Ken Kimble deserves equal credit for assembling musicians in an amazing big band that is flashy but never upstages his vocalists. Choreographer Pauline Lamb delivers an array of fun, splashy period dance numbers, with the generous aid of the expected ASGT chorus line of beautiful, talented triple threat dancers that only they seem to possess—and replenish–anymore.
Technically, set designer Dan Snyder establishes the tone with a stunning two tiered art deco classic set. Lighting designer Ian Claar enhances Snyder's efforts with a variety of flashy elements, getting great effect utilizing both traditional lighting and a series of Snyder's vintage inspired stage bulbs. Costume designer Megan Scott supplies an array of fun and colorful flapper gowns and "show within a show" stage costumes.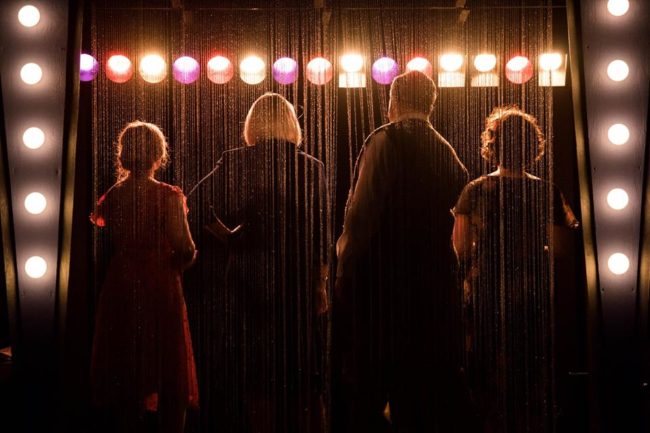 If there is a weak point in this fun frolicking evening, ironically it may be Allen's book. Considering the screenplay was an Oscar nominee, whether it be that paring it back to make room for the ample musical numbers or just lacking the balance of his former collaborator McGrath, some of the jokes seem forced to stale (although it is vintage gin joint humor) and some of the plot points seem rushed (particularly those leading up to Godfrey's big number). Or, perhaps the fact that American comic voices have changed so rapidly in the last few years may now make Allen's humor suddenly dated. However, ASGT's production compensates with stylish visuals, solid performances, and exciting musical numbers. Considering the original Broadway production ran only a mere four months before closing to no acclaim, it is possible that ASGT has found a way to elevate the material.
The production runs a solid month in downtown Annapolis. If considering attending, it would be advisable to take a cue from diva Helen Sinclair: Don't speak—just act now and get your tickets before they, like one of Cheech's "assignments", disappear for good.
Running Time: Approximately 2 hours and 45 minutes with one intermission
Bullets Over Broadway plays through June 16, 2018 at Annapolis Summer Garden Theatre— 143 Compromise Street in Historic Annapolis, MD. For tickets call the box office at (410) 268-9212 or purchase them online.