Would you choose to be you if you had to choose? What if at the end of the bright, white light there's a form with boxes that you have to check? Sex: Male or Female? Orientation: Heterosexual or Homosexual? Would you choose to be the you that you had just been, the you that you know yourself to be? Playwright Maureen Chadwick examines exactly that with her edgy and riveting work The Speed Twins, now appearing at Venus Theatre. Directed by Deborah Randall, this evocative dark comedy explores the spiritual reckoning of self-reclamation and identifying truly and honestly with one's own identity. A sublime blend of dark comedy and touching moments, this discovery of self is something everyone can relate to regardless of age, gender, orientation, or any other descriptive characteristic which one uses to define themselves.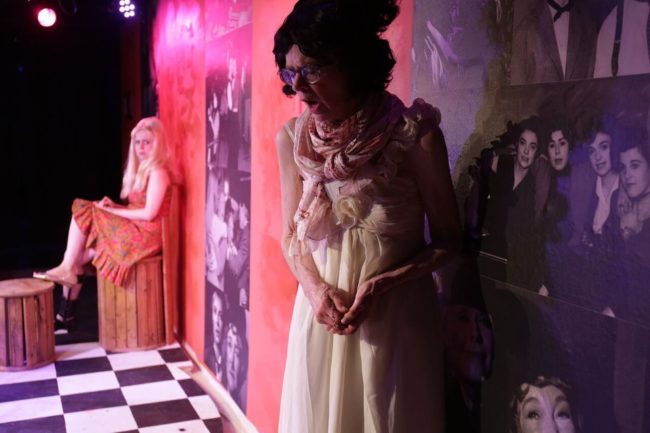 Setting and scenery never cease to amaze at Venus Theatre; resident Set Designer Amy E. Belschner Rhodes makes that so for every show and The Speed Twins is no exception to her artful practices. The vintage bar which lines one wall in an eye-popping shade of indeterminate teal-aqua sets the stage (quite literally) for a reflective flash into the mind's eye of London's Gateways Club circa 1968. This serves as a delightfully bold contrast to the angry, red wall, which features the work of Graphic Designer Laura Matteoni Schraven, who has layered the wall with celluloid-esque film strip framing of black and white frozen film images from the cinema gem, The Killing of Sister George, a prominent point of reference from within the play.
Lighting Designer Kristin A. Thompson and Sound Designer Neil McFadden get clever in combining their works not only to create the duality of experience that comes with dying and transitioning into 'Dyke Heaven' but also to signify the arrival of "The Powers That Be." McFadden uses overwhelming blends of sound, particularly during the beginning when Queenie first starts to experience her 'arrival', to captivate and simultaneously disorient the watchers so that we too experience this unbalanced existence as she does. McFadden and Thompson work together to create audio-visual clashes that are unsettling and equally hilarious every time "The Powers That Be" (played with zest and vigor by Myrrh Cauthen and Lynn Bruce) make something happen in the show.
Director Deborah Randall, wearing multiple hats as always, successfully tackles costumes and props within the realm of the play's reality. Randall deftly manipulates scope and size to suit the show, fiddling with mini shot bottles for ordinary liquor in the "bar in purgatory" and using large, life-size bottles for when the characters find themselves being rewarded. Her costume work is exceptional, fitting to period as well as to the meta-character homage to which some of the characters are attending in the script.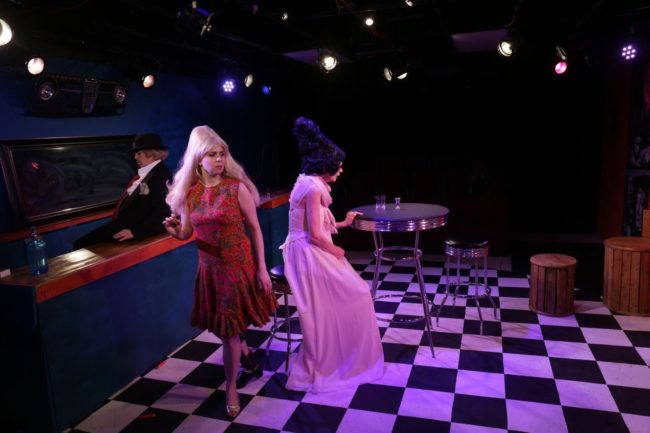 Randall's vision for the show is simple and yet extraordinary in its simplicity. Taking the primed topic of self-actualization, self-discovery, and self-acceptance that playwright Maureen Chadwick has so excellently and humorously penned, and presenting it in this intimate venue allows the audience to truly grasp the emotions of these characters, the overall bigger picture, and find a plethora of paths in which to explore their own personal connections to the content of the show, the characters of the script, and the overarching themes and messages present on the stage. Randall's choice to cast two of the three characters with performers over the age of 60 is a bold one that well suits the script. The play could very easily lend itself to that of memory, recall, or otherworldliness despite the actual ages being listed, and Randall takes this opportunity to emblazon the theatre's mission— giving voices to women and children through theatre— by giving voice and presence to "women of a certain age." It works out sublimely for the production, immensely enhancing the believability and overall experience of the show.
The three main performers— not to exclude the hilarious and at times intense Powers That Be (as enacted with much gusto by Lynn Bruce and Myrrh Cauthen)— have a fluid working chemistry among them that fluctuates as the circumstances of the plot shift, reflectively showcasing the varying dynamic between the relationships of Queenie and Ollie, Ollie and Shirley, Shirley and Queenie, and that rarest of dynamics between Queenie, Ollie, and Shirley. Each put their best foot forward when it comes to delivering the truths of these characters in varying dialects of British (coached thoroughly by Dialect Coach Erin Lee Hanratty) and deliver earnest, believable characters, even when their accents slip or grow muddled with emotion.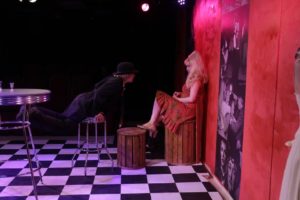 Shirley (Ann Fraistat) is the late-comer to the party, arriving last into the limbo of "Dyke Heaven" but she holds up her own third of the performance as an equal tripod leg of this complexly intricate emotional stool. Fraistat transcends her own personal youth to achieve a deep connection with the character, who despite appearing as she did in her youth, is of the aged crowd mentioned by the other two. Giving full breath and sheer life to the moment of reality that her character and that of Queenie's shared in a memory long forgotten, Fraistat seizes the emotional turmoil of the character and steers it with a firm tenacity, furthering the exploration of the way these women have trapped themselves, denied themselves, and overall distorted portions of their own being for the sake of safety in a world not yet ready to accept who they were. Fraistat plays beautifully with both of her co-stars and masters the subtlety of her character's physical defect, playing it up only when it is meant to be a focal point for plot progression.
There is sharpened double-edginess about the way Jane Petkofsky presents the character of Ollie. Serving as a makeshift devil's advocate (and the reveal at the show's conclusion is even further of a double whammy all thanks to her versatility in this character's skin), Petkofsky approaches Ollie with an abrasive exterior while keeping her tender, emotional core squirreled away beneath layers of grit, gusto, and cheekiness. Permeated by a crassness, Petkofsky allows this comedic nonchalance to guide her character through this afterlife, finding the delicate balance between beautifully bitter and tragically sincere. The way she plays with language, in addition to the quirky phraseology given in the text, adds an extra layer of intrigue to Petkofsky's portrayal; this is another element that keeps the production in the mirthful category, however dark it deviates at times.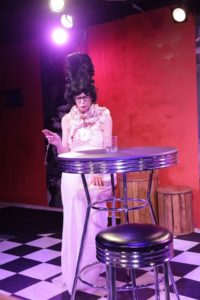 Emotionally stunted and simultaneously expressive, Nancy Linden's Queenie is a metaphysical mess, but this makes the character and her portrayal all the more interesting and entertaining. Linden pulls her emotional composure together as quickly as she falls apart in various scenes; the way which she snaps from a completely composed, resolved, and stoic figure into one of deeply expressive emotions— most oft of regret and frustration— is astonishing. Watching her character's trajectory as the play progresses is the pivotal point around which the plot revolves. Linden creates a striking duality between Queenie, when she appears as such, and when she transforms into 'Bobbie', her former self. Watching the two are like night and day.
The play is full of moments where individuals from all walks of life can connect; the overarching theme being one of self-identification and self-acceptance. There is power and fortitude in the script, grace and tremendous tenacity in the cast, and an overall sense of feeling good by the time the show has resolved itself. Definitely a must-see at Venus Theatre this spring, The Speed Twins is not one to miss.
Running Time: 2 hours and 5 minutes with one intermission
The Speed Twins plays through May 27, 2018 at Venus Theatre— 21 C. Street in historic Laurel, MD. For tickets call the box office at (202) 236-4078 or purchase them online.