Words, words, words. Not to read, but to hear, and Shakespeare did write so many of them, five act's worth for arguably his most infamous tragedy, Hamlet. Appearing now as a limited engagement, the Royal Shakespeare Company brings their evocative conflagration of a production to The Eisenhower Theatre inside The John F. Kennedy Center for the Performing Arts. Directed by Simon Godwin, this spellbinding, razor's edge modernity casts new light on the Bard's most treasured tragedy, captivating audiences over the duration of three hours' stage traffic that is Hamlet.
Director Simon Godwin snatches everyone's attention straight away; the striking opening scenes, which are played without verbal communication, happen in rapid flashes, almost like the blink of an eye. This is a stunning way to capture the dizzying whirlwind of activity that physically plagues young Prince Hamlet before the play starts. Striking imagery: Hamlet graduating from Wittenberg University, King Hamlet being rolled through in his glass casket, Claudius and Gertrude overlooking the funeral procession before swooping into a sordid make-out session— all punctuated by wall-shaking bangs of noise and blackouts, as if the audience themselves were taking one massive blink from image to image.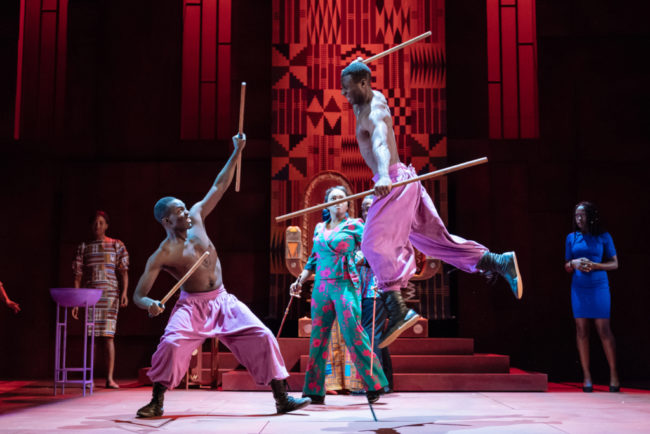 This is just the beginning of Godwin's visionary approach to the show. Godwin has placed the production aesthetically and thematically in Africa, perhaps reminiscent of Ghana. Scenic concepts, sartorial selections, and thematic overlays reflect this vision and present the play afresh. One of Godwin's most striking concepts in this vein is the wooden poll-dance-fighting used to replace the traditional fencing challenge in the final scene. Movement Director Mbulelo Ndabeni and Fight Director Kev McCurdy drive an intensity into this scene, which features the infamous showdown between Laertes and Hamlet, and has the audience teetering on the edges of their seats as this hypnotic dance to the death unfolds.
The overwhelming presence of tribal sound is not lost on the production; the constant drumming, chanting, and singing all driving the performance with surges of intense energy, swelling scenes forward like a great native current that pushes the play down its path. Sound Designer Christopher Shutt and Composer Sola Akingbola work in tandem to create an aural soundscape that supports rather than overtakes the play's nature; they succeed in tying the show together in Godwin's refreshing, radiant vision. Godwin draws together a modern world of power and corruption set against a native African backdrop, using Costumer Supervisor Cathy Hill's collection of colorful treasures (all sprung forth from the genius of Show Designer Paul Wills) to further inform setting and overarching themes. While Hamlet never truly stops being relevant, Godwin's approach to RSC's latest production, brings that message home tenfold.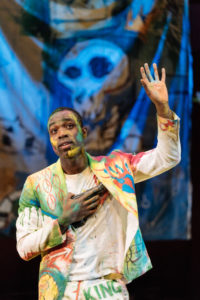 Electrifying and alive in his role as the titular character, Paapa Essiedu's Hamlet is bursting with unchecked emotions. Vibrant and radiant, each scene Essiedu tackles is more emotionally compelling than the last; though we've all heard such words as are gifted to the character of Hamlet, they feel somehow newborn and unheard from Essiedu's manner of speaking them. The paint-splattered jacket and graffiti-style paintings in his studio-bedchamber are an external continuation of his emotionally explosive core; these visual representations further accentuate the intensity with which Essiedu presents Hamlet. Regardless the scene, his volume or physical stance, that reigning intensity drives Essiedu's Hamlet from beginning to end, connecting the audience with his plight, which is far beyond madness and grief, drawing them into the dizzying delirium that plagues the young prince.
Dual-casting Ewart James Walters as both Gravedigger and Ghost is a striking but wise parallel that occurs in this production. Seeing the larger than life figure of the late king, dressed in his tribal finery, appearing to Hamlet (first on stage in the initial ghost encounter and then from the first balcony of The Eisenhower during the encounter in Gertrude's room) is a breathtaking experience; Walters commands the role with great tenacity and sparks a living fear into Hamlet with his sonorous manner of speaking. When Ewart transitions into his role as Gravedigger, there is an uncanny similarity, which almost bends the mind to the path of reincarnation; the striking and darkly humorous nature which Ewart imbues the Gravedigger adds a great deal of weight to the entire discourse between himself and Hamlet at the gravesite of Ophelia.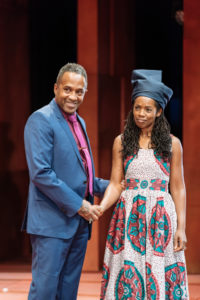 There are a great many stellar performances throughout the production, not the least of which are given by Lorna Brown as Gertrude and Clarence Smith as Claudius. One of the most harrowing scenes in the production is not any of death or imminent destruction but that wherein Smith's Claudius finds himself in repentance. The serpentine delivery of that telltale line, "my words fly up, my thoughts remain below…" is chilling. Perhaps more chilling is the rapid and frigid decline of the relationship between Gertrude and Claudius once Hamlet has made an insanity's plea with his mother. While most productions forego this warning, Brown's Gertrude heads it in physicality, showcasing a wretched cold shoulder and almost a fear in the presence of Claudius after this encounter. But never forgetting her character's place and duty, Brown's Gertrude remains reverent and upright. Another deeply shocking scene shared between the two comes when Smith's Claudius reprimands Brown's Gertrude over the news of Ophelia's death. The exchange between the pair here is riveting, almost implying that Gertrude drowned Ophelia, rather than the poor maiden's death having been accidental.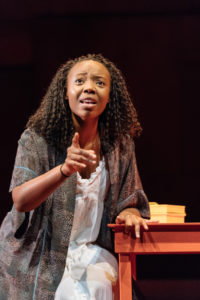 Ophelia herself, played with a plethora of feelings by Mimi Ndiweni, is a worthy character of note in this production, as are so many among the cast. The teasing cheer with which she addresses brother Laertes (played with great comport and compassion by Buom Tihngang), or the defiant yet forced respect she pays toward father Polonius (played as expected by Joseph Mydell) showcases Ndiweni's versatility in the role. Her descent into grief-roasted madness is one for the books, however, falling in line with the overall vision set forth in the production.
A true experience that must be seen to be believed, the Royal Shakespeare Company's vivacious new approach to Hamlet will leave audiences talking for days about the reimagined classic. And although the words, words, words, are hardly deviated from their original incarnation, the show itself speaks with such modernity and present relevance that it seems almost a dream to have come from the time of the Bard.
Running Time: 3 hours and 5 minutes with one intermission
Hamlet plays through May 6, 2018 in The Eisenhower Theatre of The John F. Kennedy Center for the Performing Arts— 2700 F Street NW in Washington, DC. For tickets call the box office at (202) 467-4600 or purchase them online.