Palindrome by Max Garner holds a special element of history with two important men of music in the two plays he wrote. With each one act play explaining the fantastic yet tragic stories of Thelonious Monk and Marvin Gaye. With subtle touches of musical aspects in each play, the audience's ears ring with the smooth sounds of jazz and other genres that were produced by the focused artists.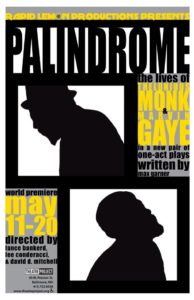 Allan Sean Weeks who took the responsibility of lighting director really took on the "less is more" saying for each play. Whether it was lighting up the stage to a shrink's office, transporting us to a club, or focusing on a character performing a testament in a courtroom, each moment was timed perfectly. Along with lighting, projections, done by Bob Denton, behind ongoing scenes were being done to help add and not take away from the on stage ambience. The projections being made didn't steal away from the actors' performances but at the same time weren't forgotten. It added another feature to familiarize the audience with who or what the performers were talking about.  
The first play, directed by David D. Mitchell, was titled "Sphere". The entirety of the first play's setting was Thelonious Monk, played by Martique Smith, and Hannah, played by Veronica T. Lockett, located in a shrink's office owned by Hannah. With going in and out of scene to monologue throughout, Mitchell added a special touch of fluency between the two. Mitchell worked well with what he was given. The artistry should be given great credit due to the performance.
Smith's incorporation of Thelonious was smooth with frantic tendencies. A tortured artist like Monk was played wonderfully by Smith. To his nostalgic memories of music with great artists, to hating even the small sounds of the typewriter, Smith held his character beautifully. The organic flow between him and Lockett in the scenes worked stunningly. However, the only times the play became unbearable to watch were memory slip ups. Lockett held her character well but the constant mistakes of speech made the play difficult to watch. If some confusion or studying was a character choice, there were far too many to pass it off as acting. With having high-lighted scripts on the desk and once having to look to the projection to remember her lines, it pulls the audience out of what could have been wonderful scene work.
The second play, directed by Lance Bankerd and Lee Conderacci, titled "Pentz" follows the tragic death of Marvin Gaye as well as the lead up to it and the court case of Gaye's father, Marvin Gay Sr. With the second play, there was a lot more to work with. Multiple scene changes, time changes, and character changes, Conderacci and Bankerd worked well with what they were given.
Justin Johnson, who played the distressed, charming, and sexy Marvin Gaye, had a smooth talking, suave walking charm to him. Johnson was able to embrace each emotion of each scene while keeping the character of Marvin Gaye that many know and love. His portrayal of every inner monologue that Gaye spoke to the audience was beautifully delivered. Johnson's singing had a rough tone to it but that's expected when you're (obviously) not actually Marvin Gaye himself. Johnson cultivated what voice he had and what he could give and it transforms the entire environment back to the times of Gaye's musical triumphs loved by nearly all.
Ime Essien who depicted a reporter, Jan (Gaye's mistress turned wife), and Tammi Terrell (a soul singer who recorded an entire album with Gaye) played each character so dynamically different that it's easy to forget she was all three. She wasn't the only one playing multiple characters though. Mia Robinson playing Anna Gaye (Gaye's first wife) and the mother of Gaye had a difficult part in the play. Robinson, playing the woman that loved him and raised him, as well as the woman who he married first, tackled two concepts that are difficult to separate but she did so impressively.
Mike Smith, who illustrated the villain of the story, Marvin Gay Sr., did a very fine job. We dove into the past of Gaye's abuse by his father as well as the time leading up to the murder; Smith was the perfect choice. His portrayal as the unknowingly do-bad father that thought he was simply teaching his son a lesson was wonderful. The scenes between Johnson and Smith was consistent throughout. Not one of them needed to carry the other, they were equally matched in talent.
Max Garner had a vision for this show and he successfully pulled it off. The words danced in each scene with history, music, and feeling. Palindrome is a show to see for laughs, tears, and knowledge that we had yet to learn about two amazing musicians.
Running Time: 2 hours and 15 minutes with one intermission
Palindrome plays through May 20, 2018 with Rapid Lemon Productions at Baltimore Theatre Project— 45 W. Preston Street in Baltimore, MD. For tickets call the box office at (410) 752-8558 or purchase them online.