It was a white dress with pink floral patterns all over it, A-frame and 50's vintage style cut with a singular crinoline layer that peaked out from the bottom. I wore it with a pink hat dotted in flowers and pearls, the hat that my partner calls "…that flower bucket on your head…" I got the dress in Vegas, at a retro-chic wannabe vintage shop called Rockin' Betty's over in the Arts District— that's off the strip— on the last Sunday of our family trip there. We had gone out to see Elton John in concert, or that's how my father would tell the story, the rest of us did that and also the entirety of the Vegas experience, plus things like the Grand Canyon and the Hoover Dam. My sister bought death-things in the death-shop next door? I bought dresses in this retro-chic wannabe vintage store because they fit like a charm, they didn't make me look fat, and I loved how I looked in them.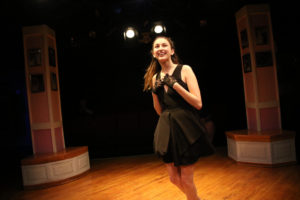 That was what I wore to Love, Loss, and What I Wore now playing at The Audrey Herman Spotlighters Theatre through the 10th of June, 2018. And you might think I'm the exception to the rule— "that girl always wears something crazy or memorable to a show" or "she's the crazy hat lady, you can see her coming for a mile" but I promise you, I'm not the only person that imprints memories of significance to garments and accessories. Other women do it too. Men do it also. Everyone has a shirt, or a dress, a pair of shoes, that perfect necklace— something in their wardrobe that takes them to another place and time for some reason or another. We stamp our lives through what we wear; Nora & Delia Ephron's Love, Loss, and What I Wore, explores exactly that in their intimate collection of stories based on the book by Ilene Beckerman. Directed by Erin Riley and Stage Managed by Lori Travis, this is a laugh, love, cry, feel-good sort of play to which everyone can relate.
Despite some minor sight-line issues, which are generally inevitable in the intimate Spotlighters' staging space, the show is well executed and gives the audience a full scope of a woman's closet, marking time through her life with her outfits, dresses, and accessories. Resident Scenic Designer Alan Zemla has soaked the columns of the stage in blush & bashful (one full season early!) and dotted the upper halves of said Pepto-pink columns with old timey photographs of women. There are all sorts of costumes on display one of the far corners of the stage while the other, complete with steamer trunk, hat box, and dressmaker doll, is more like an attic of memories waiting to be explored. Zemla even stenciled popular fashion magazine titles against one of the exit walls near the corridor that leads out from the stage to the lobby; it all looks tres chic and is very appropriate for the show at hand.
While the cast appears in basic black, to let the imagination run away with all of the various garments and accessories being described, there is an occasional splash of color or bling in Costume Supervisor Julia Golbey's gathering of garments. Sassy red heels here or simple yet sophisticated colorful scarves there, these little accents help the stories of these women pop as they're being told. Lighting Designer Laurie Brandon keeps the show's illumination to the very basics, nothing too special or dramatic. This best serves the simple collection of stories, though during the "Vogue" Madonna moment, Brandon lets it all go in favor of some flashy 80's show-style club lighting to highlight that instance.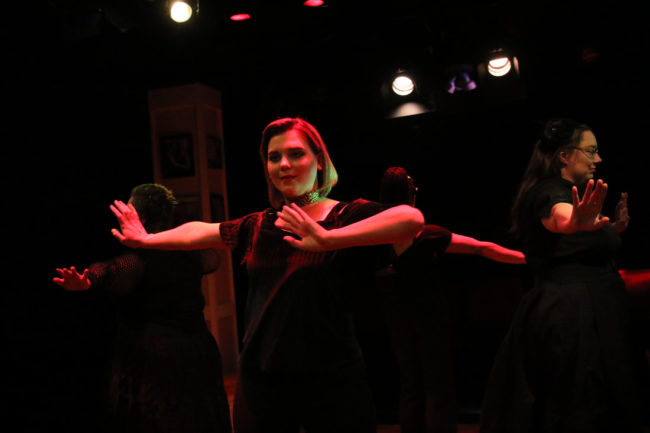 Director Erin Riley does a fine job of casting the show, using double the size the show was originally produced with, and sets up her ten actresses with monologues and stories that best suit their age and experience. While at times a bit of Riley's choreography feels redundant— mostly just the rotating carousel of performers during the group speaks (like when trying on clothing or hunting for clothing, etc.), which is somewhat of an inevitable necessity given the unique spacing of the stage— there is something deeply intimate about the way she introduces the characters and their tales to the audience. A few of the lengthier monologues stumble and hiccup with their pacing, though none so drastically as to be completely off-putting. And the group-speak sections at time also lag in their pacing, but again not so much as to make major detriments in the overall production value of the performance.
As an ensemble these ten women feel invested in the work that they are discovering, the stories that they are sharing, the narratives that they are retelling. It truly becomes an everywoman show. While the 'main character' happens to be Gingy (Mickey Mullany) the weight of the show is spread and carried evenly across ten sets of strong shoulders, ranging in all shapes, sizes, and ages. While a great deal of what's expressed is heartwarming, light and fluffy, or just downright funny, there are things that are heavier, and delivered with great reverence when the time comes to address them. One such is the boots and short skirts monologue delivered by Lanoree Blake. This piece, dealing with self-image and surviving rape, is quite striking and Blake does it an extraordinary justice. Melanie Bishop gets the distinguished honor of putting forth the cancer story, expressing sincerely the way such an experience can rob a woman of her identity and how important it is to hold onto something that grounds them in that feeling.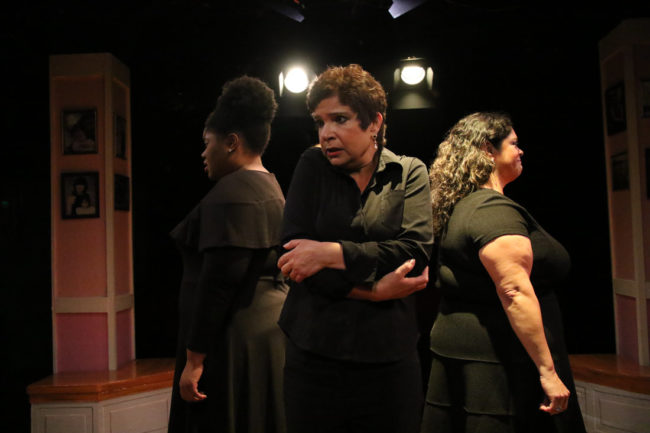 Other performers get the chance to really show off their caricature abilities, like Michelle Gonzalez who gives a riveting and humorous rendition of the "gang sweater" monologue, populated with all the right notes of mirth whilst still being filled with the hilarious anguish that is every young teen's experience in that arena. Lizzie Travis, who does an extraordinary job of embodying the youthful exuberance of a youngster both when bemoaning hideodious socks (which are quite stylishly rainbow when displayed on her actual feet) and when recounting her two encounters with her prom dress. Travis readily delineates the type of girl that wears both dresses that she describes, and makes a point of defiantly expressing how she could easily be either or when it comes to identifying with which girl her character truly is.
Hillary Mazer puts out a long-winded, but entertaining story about finding the right purse, really drawing the audience into her antics of fiddling with her bag, changing her shoes, and ultimately pulling out an absurd 'bag' that's just right for all that's wrong with the purses in her life. Shamire Cassell isn't afraid to get real with the audience when it comes to sharing "the bra experience" with us all, finding the exact sentiment needed to effectively deliver this story about "being felt up by Marvelene, the linebacker-shoulders-saleswoman when trying to get correctly fitted for a bra." Cassell, like all the women in the production, does a plethora of characters and snippets of different speeches, but this is one of her most memorable.
Lyn Belzer, who plays Gingy's Mother among others, finds her greatest successes in some of the group moments, like the aforementioned "Madonna" party scene. But there's also an honest and quirky passion about the way she delivers her story about Ray…his lettuce…and prison. Equally potent in group scenes but particularly memorable for her diatribe about "the favorite shirt" is Lexi Martinez, who literally imbues this narrative about losing the most comfortable, well-fitting shirt, with what we all readily recognize as the anguish of losing a good-bad boyfriend/relationship. Even if that isn't stated until the end of Martinez' tale, it's brilliantly obvious that that's the direction she's headed when painstakingly expressing this snippet of the story.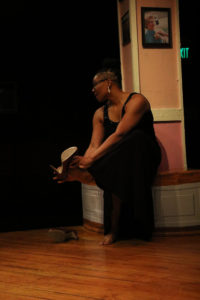 Master of character, whether it's a mother, or a fussy child, or the immature late-20-something bubbly lovesick loony who keeps falling for the wrong guy, Cynthia Miller is an incredible performer. Her high-heels monologue is both hilarious and true to its nature while simultaneously being spoken directly at anyone in the audience who has ever had to make the painfully difficult and difficultly painful decision between "brains" and "beauty" when it comes to high heels. Sassy, engaging, and full of panache and flare, Miller is the most interesting of the performers and yet blends well with the others when she's meant to blend.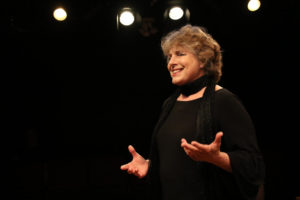 Our narrative Gingy, played by Mickey Mullany, is ordinary. This is not meant to be uncomplimentary, but rather, a praise. Mullany could be any woman. She's open, she's blank, and yet she's every woman, convivial, congenial, and present. There is something about the way she recollects her follies, both foolish and fancy, that allows everyone in the audience— man or woman— to share the narrative journey, and isn't that what Norah and Delia intended when they transformed Ilene Beckerman's book into a stage play?
Maybe you won't remember what you wore to see Love, Loss, and What I Wore, but you will take fond memories away from seeing it. See it now, before it too— like your favorite sweater, killer pair of boots, or perfect dress— is nothing but a memory.
Running Time: Approximately 2 hours and 10 minutes with one intermission
Love, Loss, and What I Wore plays through June 10, 2018 at The Audrey Herman Spotlighters Theatre— 817 St. Paul Street in the historic Mount Vernon neighborhood of Baltimore City in Maryland. For tickets call the box office at (410) 752-1225 or purchase them online.