War makes us blind. Love makes us blind. Life makes us blind. But Theatrical Mining Company is opening our eyes to clearly see their new production of Antigone. Directed by the company's Artistic Director, Barry Feinstein, this modernized edgy production takes snippets and snatches of the original text and melds them with a more accessibly modern style of speaking, rendering the Greek tragedy down to its most basic essence for all to experience.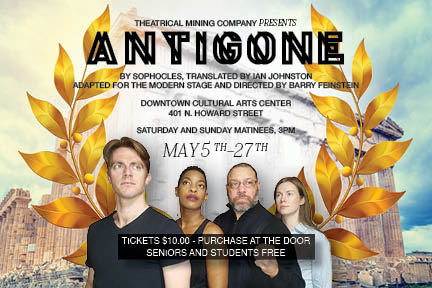 The setting is non-existent; it could be now or sometime not so far from now— there is no physical set to speak of— but the hones in on the parallels and relevance of the ancient script. Director Barry Feinstein outfits the cast in a hybrid of modernized styles complimented by Greek-esque accoutrements. The navy dress featured on Antigone is the most Greek-inspiration featured in the wardrobe department, but still lends itself to the modernity of both the characters' cadence and the overall relatability of the show.
Simple, straightforward lighting, designed by Charles Danforth, is implemented throughout the performance and although it is extraordinarily basic, it is effective. Feinstein's focus with this production is the message of the play, the overarching themes of power and corruption, and the way war can change men (or more broadly humanity) into unrecognizable monsters that even the gods will not pity. While there are some general hiccups in the overall delivery of the production, with some of the actors being more versed in emotional connectivity of text and character than others, overall things move smoothly and at pace. Feinstein does a fine job of taking what could easily be a three-hour tragedy and trimming it to fit neatly within 90 minutes, give or take, plus a brief intermission.
Feinstein sets the story, as most Greek tragedies go, with a proper Chorus— this one being comprised of three individuals, Carolyn Chissell, Peggy Freidman, and Billie Taylor. This trio of Chorus Members takes turns speaking as the chorus does, in their cryptic way, to inform the audience of what's happening, about to happen, and what has happened. With Feinstein's more modernized and liberal approach to the text, they simply tell it like it is, and avoid the heavier gravitas of the original text. The Chorus Members are straightforward in their approach, while the guards— played with smug amounts of comedy by Darius Alexander and Keyon Harris— are the true bridge into modernity. Dressed half like men of the streets of Baltimore City and half like proper soldiers, their off-handed way of addressing King Creon as well as each other draws the play into the present day as well as adds bits of levity to an otherwise dark and unruly tragedy.
Though his character is blind, Richard Peck's Tiresias speaks with wisdom beyond his physical sight. Despite the modern outfit, there is something in the pattern of his speech that truly transcends time, the way an honest prophet from the days of old might speak. There is a severity to the way he delivers his words, even though he only ever uses gentle tones and the simplest of speaking patterns. This serves as an excellent contrast to the consistently bombastic outbursts given by Creon (William Hawthorne.) A true man of stage presence, Hawthorne's King of Thebes is fueled predominantly by rage, though as he points out time and again, "he didn't ask to be king." (Of course that didn't stop his character from becoming king, did it…) There is a weight with which Hawthorne carries Creon, though at time it lacks dynamism as much of his portrayal exists on one level. His scene in the entombed chamber with Antigone is one of the most powerful in the production.
Valerie Lewis, as the matriarchal Eurydice, holds her own against Creon and all the other forces that be in this production. Showing honest versatility as well as a true shift in her character's arc, Lewis is compelling in the role. She uses her motherly charm and her keen understanding of Eurydice's relationship dynamic with Creon to make the argumentative scenes that the pair share compelling and engaging. Watching her final monologue as she breaks down, pleading with the gods, is quite emotionally touching, bordering on the point of harrowing.
There is something quirky about the way Adam Zoellner approaches Haemon, son of Creon, and it stands to reason that his portrayal fits the perimeters of a soap-opera male ingénue. While generally this might be perceived as poor acting or lacking in depth or character understanding, Zoellner takes this vein and runs with it, creating a perfect parallel between the universes in which this particular adaptation exists. Zoellner is the modernity of the show while Antigone remains in her original element. The way they interact with one another creates a fascinating paradox of the show's original intent and the way it reads in modern times. Zoellner does have varied tactics for encountering different characters, particularly when it comes to his outspoken and outlandish response to his father, the king, once things in that relationship turn sour.
As the titular character, Senetra Butler expresses a great deal of pathos— primarily strength and fury, which oft masquerade as sorrow and pride— over the course of ther performance. Her emotional outcries feel genuine and arise from a place deep within her spirit and soul. Watching her hold her own against the blustering windbag that is Creon during the entombed scene is quite impressive. Butler's Antigone creates "all the feels" as the modern kids say, really finding ways to connect the original emotions from the original text with those that traverse the chaotic waves of time and space.
Ultimately a solid way to digest such a tragedy, rendered to its point and made relatable to the modern world, Theatrical Mining Company's Antigone is well worth the time spent seeing it and the price paid of admission.
Running Time: Approximately 1 hour and 40 minutes with one intermission
Antigone plays through May 27, 2018 with Theatrical Mining Company in the Black Box Theatre of the Downtown Cultural Arts Center— 401 N. Howard Street in Baltimore, MD. Tickets are $10 and are available for purchase at the door.