We're getting a new deal for Christmas! And its only May! Why— who'd've thunk that Annie the Christmas musical would make a great mid-may production? Why— leapin' lizards— The St. Gabriel Miracle Players! That's who! They know that the sun'll come out— tomorrow! And they're production of Annie will set you smiling, and keep you grinning all through the well-worn, time-honored classic. Directed by Heidi Toll with Musical Direction by Mary Beth Bunting and Choreography by Jillian Arnold, this production is top notch and not a moment too soon for the holidays— well…the summer holidays, at any rate!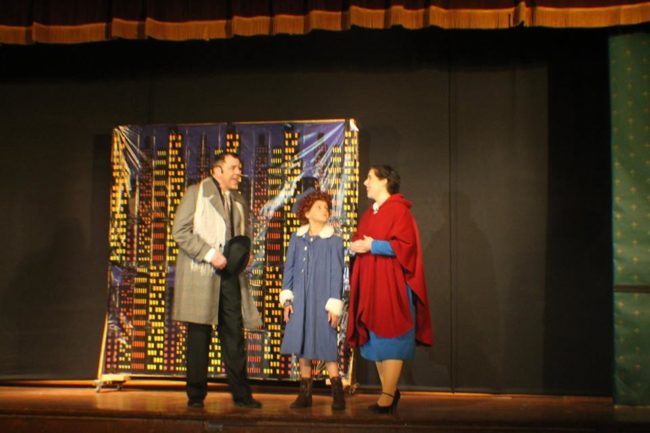 Simplicity is the name of the game and less is more is the golden rule when it comes to the design elements of Annie. Scenic Constructor and Painters Julianne DeMarco and John Wiggins keep the orphanage ragged, and Warbucks' mansion splendid, but on a basic and simple scale. This keeps the focus where it belongs— on the singing, dancing, and overall talent of the performers. Even Choreographer Jillian Arnold takes the simplistic road when it comes to choreographing dance routines, and the result is beautiful because all of her basic steps are performed cleanly, executed clearly, and made to look rather professional. Their simplicity adds to the overall enjoyment of the show because everyone moves in sync, everyone moves with one another, and the overall result of the various dance routines throughout the show is a clean and polished one.
Sally Kahn steps a few paces outside the boundaries of simplicity in the costume department, but that's okay because it really helps to distinguish the rich from the poor in this show. Nothing is too elaborate but everything fits well within the depression-era period. Check out the polka-dots on the Boylan Sisters and the rather dapper duds outfitted on that old softie Bert Healy too. Kahn keeps the orphans looking rundown without putting too muss and fuss into their costumes, and gives Grace Farrell a prim and proper look, which juxtaposes against the saggy rags of Hannigan.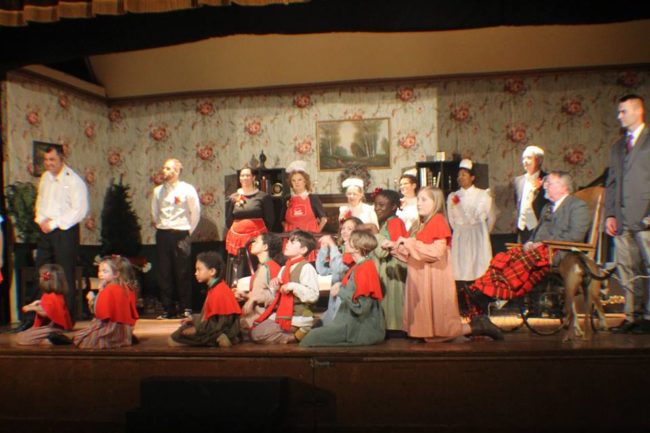 Smile, darn ya, smile! Because these kids playing all of the orphans in Annie are certainly going to put a bright blinking grin on your lips before the production is done. There's precocious little Molly (Ava Cantwell), and rough-n-tumble July (Austin Buerhaus), plucky Pepper (Gracin O'Connor), the lovely Tessie (Sophia Cooper), Kate (Natalie Tolosa), and Mary (Molly Wiggins.) The ringer among the ragtag band of orphans is Duffy (Therese DeMarco) who really puts some big smiles into her performance, particularly when she steps up during the "Never Fully Dressed Reprise" imitating Bert Healy. Watch DeMarco during "Hard Knock Life" as well, her dance moves are on point.
Speaking of your favorite ol' softie, Bert Healy (Leonard Taube) he's a laugh and a half when it comes to his scene-stealing show-down with Fred McCracken (Nathan Lohrmann.) There is a silent argument, full of fun and shenanigans when Lohrmann starts using tap-shoes during the "on air" dance segment of "Never Fully Dressed." This is one of the more adorable moments in the production that makes it unique to St. Gabriel Miracle Players. Taube has a rich and delightful singing voice that upholds this number well and serves as a great leading sound for which the lovely Boylan Sisters (Marybeth Bunting, Anastasia Lohrmann, and Meghan Sova) add a sweet compliment. Sova, who is heard earlier boasting her bright vocal chops as the Star-To-Be in "NYC" adds a lovely rounded sound to this trio of terrific singers.
Another such touching moment is developed between Drake (Forest Deal) and Mrs. Pugh (Sharon Zelefsky) at the end of a rather depressing scene. Deal and Zelefsky share a sentimental moment of feeling, silent but extremely touching, and it's the little moments like these that showcase the various actors' abilities all throughout the show, setting it apart from other productions who rush through the various non-musical scenes. Deal is actually quite the hoot as both Drake and when he plays Harold Ickes in Preside Roosevelt's cabinet. Roosevelt is played by Scott Graham with a reverent slowness, showing him near the end of wellness but still full of spirit.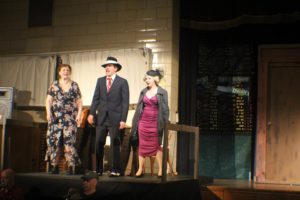 Speaking of characters, that Rooster (John Andrew Gurtshaw) and his ho— tel…Lily St. Regis (Ashley Case) are quite a pair of them! Gurtshaw has the look and mannerisms and even the patois of the dirty crook mastered down to a fine science. Case has quite the knack for that dippy airheaded personality and highly affected speech when it comes to talking as Lily. The pair do even better when they try to double up as— well, we won't say who so we don't spoil all the fun— but they sure are a doozy, that duo! When they get to dancing with fine, sleek moves all around the postage stamp of an office (with Miss Hannigan of course), they give you a real taste of the flavor of "Easy Street."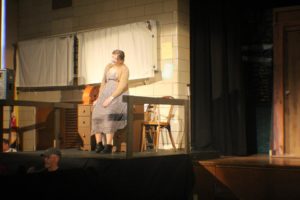 Miss Hannigan (Director Heidi Toll) is a scream all her own. Thoroughly invested in the character to the point of frightening believability, Toll creates a wretched, frightening, and still completely humorous Hannigan that you can take straight to the bank and cash in for a barrel of laughs. With her expressive facial features, her hilarious physicality, and her wild way of speaking, she's got Aggie Hannigan well in hand. Add to this primed perfection her insanely impressive sustained belt at the end of "Little Girls" and you've got one dynamite performance happening over in her tiny little orphan office tucked away in the corner of the stage.
A much smoother and refined character, Grace Farrell (Lauren DeSha) is the exact opposite of Hannigan, and the pair play extraordinarily well off of one another. (Watch DeSha's priceless reaction when she brings the news to Toll that Warbucks is considering adopting Annie! It's another one of those perfect silent reactionary moment that this production is loaded with!) DeSha fits the character of Grace like a second skin, gently warm and not too sweet with a smooth and even, clear vocal sound that does wonders for her solo features in "NYC" and "You Won't Be An Orphan For Long" and "Annie." A remarkable delight who manages a consistent handle on her pitches, DeSha really shines in the role of Grace.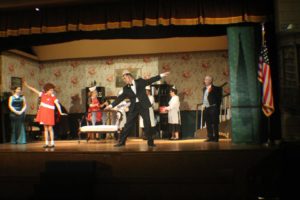 Aloof and detached, Doug Kotula's Oliver Warbucks is quite the eccentric billionaire. Not barky and brash as many tend to approach the character, Kotula is absent-minded and nervous, almost like being around ordinary people sets his skin on edge. This is a unique and rather ingenious approach to the character of Oliver Warbucks. His finest moment is during the Burt Healy "Hour of Smiles" radio program when he realizes he's just read a radio-air commercial, and his response is priceless. With a warm and deep sound, his verses of "NYC" and "I Don't Need Anything But You" are quite endearing and rather welcoming, especially when he starts dancing all around in the latter number with little orphan Annie.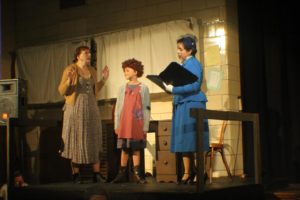 The poster child of optimism, the chin-up and grin-out gal, the title of the show, little miss orphan Annie (Mia Novak) is a super trooper. Only upstaged momentarily by Sandy (Novak's own dog, Gertrude Novak!), young Miss Novak puts quite the vocal punch into the role and really carries off her featured solos, "Maybe" and "The Sun Will Come Out" with gusto and glee. There isn't a moment where she feels out of place, and there isn't a song where she doesn't sail through it with the utmost confidence. Truly the welcomed face of "a new deal" Miss Novak is a sprightly, delightful, Annie.
So hey— hobo man! Hey— dapper Dan! If you're around for a while, then darn ya— get dressed up in your best, and be ready to be impressed— because Annie at St. Gabriel's Miracle Players will make you smile. Smile…SMIIIIILE! Smile, darn ya! SMILE!  
Running Time: Approximately 2 hours and 30 minutes with one intermission
Annie plays through May 20, 2018 at The Saint Gabriel Miracle Players— 6946 Dogwood Road in Baltimore, MD. Tickets can be purchased at the door, by calling Dan Conley at (410) 747-5626 or by purchasing them online.