There's a place called Chicago, I've seen it on a map. There's a place called Mary-land, I've seen it on a map. There's a place in America called "Havre de Grace" and I'm hoping it's a bit like Broadway, oh I'm hoping that it is… and I'm hoping that the Scottfield Theatre Company will build a floating city of success with their current production of Titanic. Directed by Al Herlinger with Musical Direction by Niki Tart, and Choreography by Becky Titelman, this mammoth production, this unsinkable dream, this magnificent impossibility: Titanic graces the stage of the Opera House inside the Havre de Grace cultural arts center as Scottfield Theatre's second production and to quite some success.

Much the way history and the movie by the same name start off, the audience is exposed to Titanic already sunk upon first encounter. Scenic Designer Bob Denton in conjunction with Lighting Designer William A. Price III, has subtly turned the ship's exterior (cleverly crafted on spinning uprights) into that of one swallowed by the ocean for a century. Price uses gyring gobos to create the illusion of the submerged liner, while Denton fully extends the play space out into the voms of the theatre, placing the ship's bridge just beyond the lip of the proscenium. Director Al Herlinger makes smart use of this scenic approach, bringing passengers up through the house to board the boat and keeping them in the house when the third class are locked below decks during the sinking. The largest production flaw on the creative side of the show comes from the attempted use of projections on the far wall just behind the 'bridge' of the ship. Because the light balance is incorrectly executed, often the projections are washed out and barely seen. This becomes somewhat distracting as it pulls attention from the performances while audience members squint and attempt to make out what's being projected.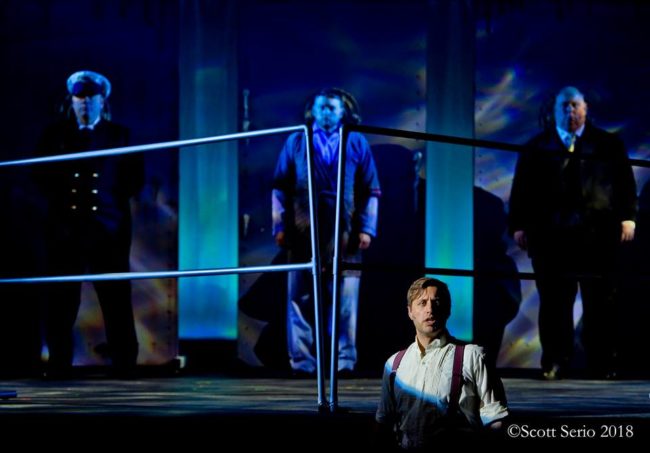 Fabricating glory befitting of the first class, Costume Designer Elizabeth Marion finds suitable outfits for all on board Titanic. Albeit, period-ish, the color palettes are vivid and well express the decadence of the first class, and in contrast Marion uses drab tones of the earth to better showcase the poverty of the lower class. Marion does a fine job of keeping everyone within their classes looking like everyone else; there are intentionally no standouts, which allows for the individual performers to make themselves standout based on talented performances rather than eye-popping sartorial selections. This augments the overall ensemble verve that Titanic sails upon, which Director Al Herlinger guides well through tempestuous waters.
Despite some wavering and wobbling pitch inconsistencies among a few of the soloists, the group sound created by the cast of 20+ is well-blended and overall a smooth experience. Robustly rounded and fully tuned for numbers like "Godspeed Titanic", this ensemble unearths the emotional beauty of Yeston's music naturally. Supported by a live pit orchestra (featuring Enid McClure Margaret McClure, Andrew McClure, Keiko Myers, Maddie Clifton, and Dan Vaughan, led by Orchestra Director Richard Hauf), the overall musical quality of the show is above what is oft expected of community theatre. Though not perfect, Hauf's orchestra does an impressive job at keeping pace and pitch with the vocal performances happening on the stage above them.
Filled with talented individuals, the production is packed with tender character moments, particularly that between Ida and Isador Strauss (Pamela Provins and Wayne Ivusich, respectively.) The tender compassion Provins and Ivusich display in their portrayals of this loving, married couple is a true testament to what is known of the real life celebrities. Their duet, "Still", is among the most moving in the production and truly stirs up the tears, tugging at the heartstrings in a bittersweet fashion. Other notable character performances include the doting love shared between Charles Clark and Caroline Neville (Donovan Murray and Lisa Rigsby, respectively.) With Poppinsian approaches to her English accent, Rigsby leads the teasingly coy chemistry between the pair and is given a chance to showcase her soprano vocal talents during her solo moments of various songs.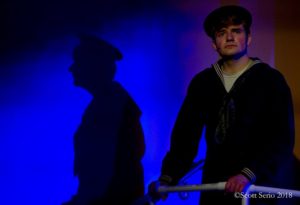 With a pristine voice belaying his youth, young master Fleet (Jess Hutchinson) delivers a serenely haunting sound during "No Moon", the song that is the beginning of the end. Hutchinson is quite expressive as well from the 'crow's nest' once he spots the iceberg; his facial reaction is incredibly authentic considering what he is convincing us he sees. Chuck Hamrick, as Wallace Hartley, puts on a fine display during both his bit of "Autumn" and "Doing the Latest Rag." With a proud presence and robust voice, Hartley holds his own as the ship's entertainment, and makes merry when the mood calls for it.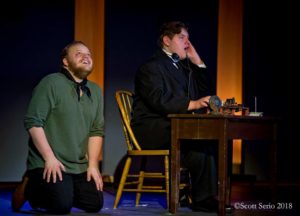 Full of vim and vigor, heated well by his toil, Barrett (Charlie Johnson) is fiery when he leads the stokers through "Barrett's Song." With a sturdy working class accent, Johnson really brings a flavor of earthy grit to his character, making his character's ending truly touching. Johnson pairs off in duet with Matthew Trulli, playing the bright and eager Harold Bride, commander of the ship's telegraph. Trulli touches a spark and sounds a tone for "The Night Was Alive" energetically filling his half of the duet. Johnson, whose half of the duo is entitled "The Proposal" matches vocal quality if not vocal energy. Keep your eyes on Trulli once the ship starts to sink, his response to the captain is too priceless for words and one of the much needed pauses of levity in the otherwise dire situation.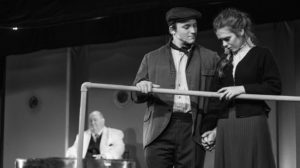 Possessed with a pure sound, though far less vigor than one might expect from the brassy and mouthy Kate McGowan, Isabela Bordner showcases a superior soprano sound every time she opens her mouth, but particularly when she leads the number "Lady's Maid." All three of the Kates, Bordner— as well as Sophia Williams and Katie Ruff, playing Kate Mullins and Kate Murphey respectively— maintain fair Irish accents, which they carry through with clarity from their speaking voices into their singing ones. With an equally sound Irish accent, Jonathan Cicone takes up the role of Jim Farrell and adds an element of cheek to Kate McGowan's existence, and does so with a warm, even sounding singing voice.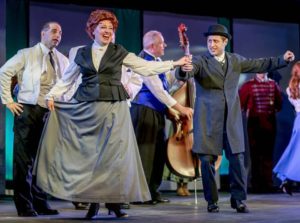 The heart of the ocean, the vocal sapphire aboard Titanic, Elizabeth Marion, playing Alice Beane, radiates with vocal resplendence and exuberant effervescence second to none. Though Alice Beane is a second class passenger, Marion's performance is vivaciously larger than life, honest first-class quality in her portrayal. She bounces, bubbles, and all but bursts her way through her segments of "The First Class Roster." With prominent vocal prowess, Marion makes her mark on "I Have Danced" as well, her solo sung at her husband Edgar (a vocally smooth and comically well-timed Brian Ruff), after she flits about in a series of well-choreographed shenanigans featuring Alice and Mr. Etches, played with sharp comedic edge by Sam Ranocchia. The levity provided by Ranocchia, when paired off against Marion during their dancing disaster of "Doing the Latest Rag", is highly comical and very much enjoyable.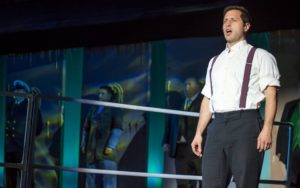 Impossibly magnificent with gleaming acting skills and superior vocal talent, Rob Tucker as Mr. Andrews is as tremendously astonishing as the ship of dreams herself. Watch his facial expressions, animated with emotional depth beyond compare, especially as the boat begins to sink (at this point, saying that the boat sinks is not in the least a spoiler.) With a voice as calm and clear as the water the night Titanic sunk, Tucker masterfully welcomes the story into the audiences' ears and hearts with his rendition of "In Every Age." The way his extraordinary vocal control grips the song and carries the striking visualizations of Maury Yeston's lyrics out into the house is stunning. His nervous, meager attitude is a fine way to present the character of Andrews, making the bombastic outburst during his third of the "The Blame" trio— featuring Mr. Ismay (Matthew Tart) and Captain E.J. Smith (Phil Hansel)— that much more cathartically rewarding. Frantic and seized with a manic madness during "Mr. Andrews' Vision", Tucker runs the full gambit of emotional portrayals, fully expressing his vocal capabilities with great consistency all throughout the show.
God speed, Titanic, for in Havre de Grace the streets are paved with gold. Get thee a ticket, to Titanic. This is one ship you'll want to set sail with before it sails on forever.
Running Time: 2 hours and 30 minutes with one intermission
Titanic plays through April 15, 2018 at Scottfield Theatre Company as guests of The Historic Havre de Grace Opera House— 121 N. Union Street in historic downtown Havre de Grace, MD. For tickets call the box office at 667-225-8433 or purchase them online.