Start the car, I know a whoopee spot where the leather is cold and the dancers are hot! It's just a leather bar where these burlesquers are— and all— THAT jaaaaaazzzzz…..hatcha! Whoopee! Skadoo…and all that jazz! That's right, ladies and gentlemen, Bunns of Steele is bringing you the finest burlesquers in Baltimore as they come together to present that sinfully stellar musical Chicago. Directed by Tommy Gunn and Produced by Bunny Vicious with Choreography by Tapitha Kix, Chicago: A Burlesque Review has singing, dancing, and of course— burlesque!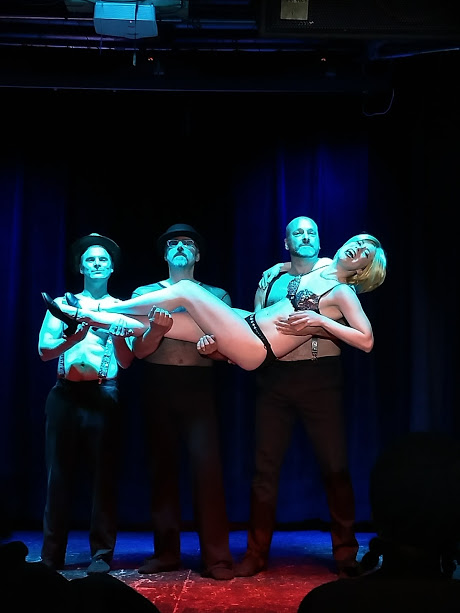 They're going to paint the town, and all that jazz! Bunns of Steele is once again on the scene tackling a larger than life goal of bringing musical theatre which lends itself to the art of burlesque new life! Director Tommy Gunn has gathered up a surefire team of performers to embody the characters of Velma Kelly, Roxie Heart, Matron Mama Morton, Billy Flynn, Miss Mary Sunshine, and more! And this isn't a shadow cast, this isn't just burlesque; this is the whole shebang, folks. The real deal; there's singing! There's dancing, and of course there's burlesque— there's even an iconic scene from the movie Chicago!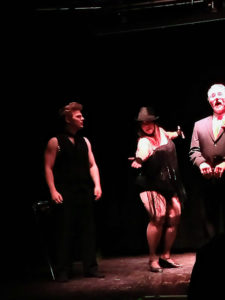 Choreographer Tapitha Kix, who is a featured dancer in the production, shows off her fancy footwork during that aforementioned movie scene. Billy Flynn (Dirk Hamfist) is busy giving another attorney the business end of the stick whilst Kix taps all around the courtroom, literally a Courtroom Tap Dance. Ba-dum-dum! Her skill level is stupendous and the dance that results is a most intriguing one, which really inspires and encourages the pacing of this scene, which could otherwise go very quickly awry. Kix, who choreographs the entirety of the show and not just her own number, has included some of the iconic dance styles and dance moves that often accompany productions of Chicago, like the chair dancing in the opening number, and fully shimmy-slides and stomp-steps during "The Cell Block Tango."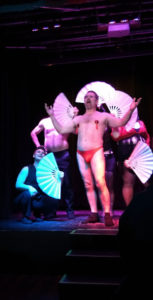 The aforementioned Dirk Hamfist, playing the silver-tongued prince of the courtroom Billy Flynn, wins vocal superiority of the evening. With a lusty, robust voice, Hamfist peels through "All I Care About is Love." There is a smarmy charm about Hamfist as he presents this Billy Flynn like we've never seen Billy Flynn before. And of course, it wouldn't be a true burlesque show if Billy Flynn didn't strip seductively and sensually down from his courtroom suit into a simply smashing birthday suit, complete with glittery heart pasties! Be sure to look for that iconic tattoo that makes Billy Flynn, why, well, Billy Flynn. After all, all he cares about is love!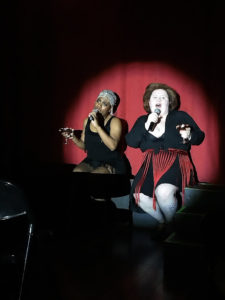 Watch out for the show's producer, Miss Bunny Vicious, who slips into the cast as the sassy, saucy Matron Mamma Morton. Her rich, renegade number "When You're Good to Mama" takes on a whole new level of heat and spice as Vicious seduces her way through the audience in delectable leather. There is an overt and undeniably sultry sense of fabulousness about Bunny Vicious in this number, which really boosts Matron Mama Morton up that ladder she keeps singing about. Vicious takes on a duet later in the show with Miss Mary Sunshine, played with vim and vigor by Ruby Darling. While the number, "Class" in both the movie and the stage musical is traditionally performed by Velma Kelly and Mama Morton, Tommy Gunn's production sees Ruby Darling— in this instance as Murderer 12017— singing alongside Bunny Vicious and the pair is priceless for this song.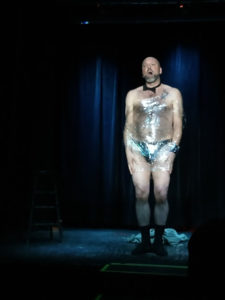 A man as proud as Ivan Hammer, who ain't gonna spend no time in the slammer, because his wife's a cheatin' scammer— you'll notice him! Hammer, who plays the humdrum, depressive Amos Hart, is too good for words. While he really only get one moment in the spotlight, which is ultimately the poor plight of the Amos character, Hammer makes the most of it and radiates brightly like the top of the Chrysler building! "Mr. Cellophane" is not only a perfectly pitiable number, but Hammer gets so into it— including a fluid strip tease that results in two 'stage kittens' (Scruffy Westside and Krissy Kupcake) wrapping him up in cellophane— that the audience is whooping and hollering and cheering him on by the end! Eat your heart out, Roxie Hart because Ivan Hammer is finally giving Amos Hart his due!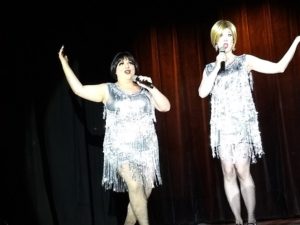 Of course, it's all about foxy, Roxie Hart! Played by the talented Miss Kaylee Kalliope, this Roxie Hart is full of punch, pizzazz, and panache. With a rich feminine alto-tenor sound, "Funny Honey" and "Roxie" are real delightful gems! Kaylee Kalliope is paired off often with Velma Kelly played by the boisterous and exuberant Bella La Blanc. While the characters initially dislike one another, when they get together for the show's penultimate number, "Nowadays" they put two and two together to create one fantastic number. La Blanc works her way with a lot of chutzpah all through "All the Jazz" and again during "I Can't Do it Alone", turning this show-stopper-style number into a true burlesquer's dream!
Some come on, babe, you're gonna paint the town, and all that jazz! They'll be time to rouge your knees and roll your stockings down on the way to The Nest to see Chicago: A Burlesque Review with Bunns of Steele this weekend!   
Running Time: Approximately 70 minutes with one intermission
Chicago: A Burlesque Review plays through April 28, 2018 as a Bunns of Steele production at The Next Nightclub at The Eagle Leatherbar— 2022 N. Charles Street in Baltimore. Tickets can be purchased at the door or in advance online.