If there isn't a right way to do things then you have to invent one. Iron Crow Theatre is doing exactly that with their current production of Caryl Churchill's Cloud 9. Directed by Dr. Natka Bianchini, this work of Churchill's examines a lot of things but askes a great deal from the audience in order to exist as anything other than a preachy drama with a lot of confusion. That said, the performances given by this team of seven actors are strong, fully grounded in the absurdist reality of Churchill's creation, and greatly explore and express forms and senses of identity through their roles of class, gender, sexual orientation, and race.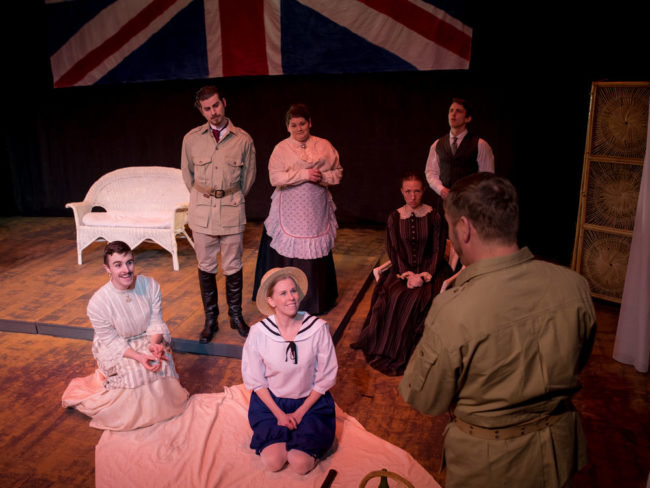 With everything else that the audience is asked to swallow in this production, Director Dr. Natka Bianchini is merciful when it comes to her grand vision of the show's aesthetic. Set Designer Megan Suder gives one large British flag— perfect in its physical existence as well as its symbolic representation— as the backdrop for the first act with minimally required wicker furnishings to complete the scene. Suder follows Churchill's absurd decline and decay of time by eroding the pristine existence of said flag, leaving a faded, shredded, and bedraggled cloth in the background for the existence of Act II.
While the setting is simplistic, the sartorial selection crafted by Costume Designer Heather C. Jackson is extraordinary; each outfit visually pops off of the character in a magnificent fashion. Jackson, who is working in a vein quite contrary to the otherwise basic aesthetic approach to the production, helps to create strong characters under the old adage— "clothes make the man." And as gender is so heavily played upon in this show— with Churchill specifically scripting various characters to be portrayed on stage by members of the opposite sex— Jackson's approach to outfitting the cast is an impressive one. Both her keen understanding of British colonial-occupied Africa in the 1880's and the more modern notes of the 1980's are crisp and clearly delineated.
Praise is well-deserved also of Dialect Coach Teresa Spencer, who assists the casts in believably creating various sounds of the British empire. Spencer's work with the cast creates further segregation of characters across gender lines, across age lines, across class lines. These affectations and accents, though used to a lesser degree in the second act, are a strong guiding force through the first act to fully illustrated Churchill's intentions— obscurely obtuse as they are— and ultimately create something almost corporeal to ground the focus of the show in when everything else seems a bit topsy-turvy.
While Dr. Natka Bianchini's work follows Churchill's casting requirements to the letter, the overall approach to the play feels muddled, though this hardly feels to be the fault of the director. Churchill manages to create a plethora of things happening in the first act— various affairs, various unspeakably abominable activities— all of which flirt with making statements about gender, class, race, and sexual persuasion, but never truly land on any one tangible instance to make a lasting impression beyond that of confusion. Rather than satirizing British Colonialism in the Victorian Era and inviting the audience to embrace that darkened less-than-PC moment in The Empire's history, Churchill isolates, parodies to the point of mockery, and debases the very identities to which she attempts to give voice.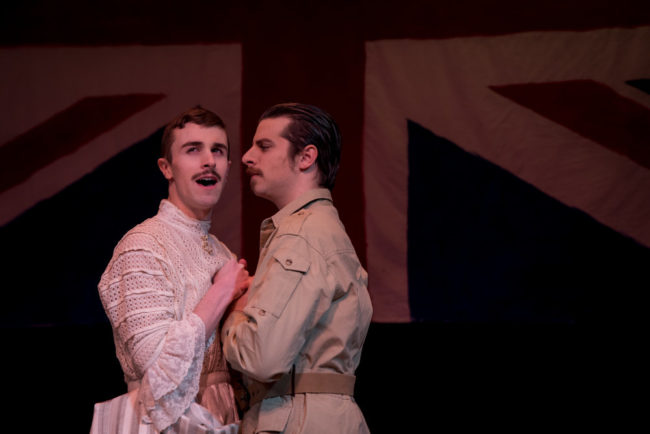 Churchill's work lacks focus as well, and by the time she's hopped into the second act, the entire story feels so irrelevant, and yet so desperately needed to make any sense out of what's actually happening that it just becomes frustrating to watch. Setting the first act in the 1880's with the second act a century later, despite only having 25 literal years having passed for the characters isn't clever or bridging some sort of generational gap, it's absurd, pointless, and somewhat lazy. Ranting further upon all of the insults, complications, and confusing factors in the play— all of which end up feeling pedantic, overzealous, and ultimately preachy— would be a disservice to those featured in the labor of the stagecraft.
Despite the script, the cast— featuring Matthew Lindsay Payne, Tavish Forsyth, Nick Fruit, Barbara Madison Hauck, Kristina Szilagyi, Kathryne Daniels, and Jonas David Grey— does a superb job of creating believable characters, even if their characters don't necessarily make much sense in the bizarre story that Churchill has created. Nick Fruit, for example, who plays the role of Joshua— a black servant— in the first act and Gerry— a gay lover— in the second, creates highly complex nuances, largely with the use of animated facial expressions, to give his character a forwardness of mind and a presence of reality.
Both Matthew Lindsay Payne and Barbara Madison Hauck play young children, with Payne playing young Cathy in the second act and Hauck playing little Edward in the first act. Their ability to embody the youthful exuberance of boundless energy and enthusiasm as well as the obdurate tantrums and hissy-fits that accompany such youthful characters is astonishing. Hauck's Edward is full of childish outbursts and the way she handles those moments is sublime. Both performers play grown-up characters as well, with Hauck playing Betty in the second act and Payne playing Clive in the first act. This is where their performances differ drastically. While Hauck's Betty is nervous, subdued and timid— a woman alone and deeply uncertain of everything, except for how to gush over tiny children— Payne's Clive is the stereotypical epitome of a British soldier in the colonial era, complete with exasperative barking when he intends to make a point. These two performers, along with the rest of the cast, toe the fine line of stereotype versus archetype, caricaturizing gender, age, class, and race along the way.
Kathryne Daniels gets the added challenge of playing a third character— doubling up both Ellen and Mrs. Saunders in the first act before playing Lin in the second. The dichotomy between her two first act characters is impressive enough, not to mention how she manages to spin a completely unique incarnation into her second-act individual. Most of the characters in the second act come from the first act, with 25 years' growth behind them. But this isn't the case for Daniels' Lynn, but she rises to the challenge more than adequately. Jonas David Grey is faced with the same challenge, and although he does not play two different characters in the first act, he might as well for the way his Harry Bagley is created. Grey fully embraces the revolting qualities of the Harry Bagley character, struggling to align them with a deeper humanity that is built into the character's core. Grey's Martin, the second-act character, is subdued and pitiable by comparison.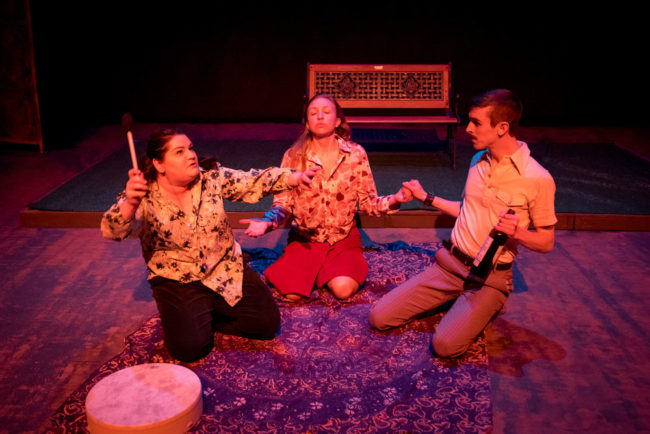 Tavish Forsyth, who plays Betty in the first act and Edward in the second, gives a rousing portrayal in both roles, despite the Edward character being mousy and completely unmemorable except for in the fighting scenes with Gerry. Forsyth's approach to Betty revives some of the satire that Churchill was hoping to express in the text, the fluffy vocal affectation aids this context tremendously. Kristina Szilagyi, whose first act character is nearly as dismissive as the character of Victoria (played by a doll) is in that same first act, proves to be a remarkable, actual Victoria in the second act. The timid and uncertain creature that is Victoria is guided through a full character arc in Szilagyi's capable hands, making that character's story ultimately rewarding— despite the way the show turns out.
The performers are giving a great stab— in the dark at who knows what thanks to Caryl Churchill— but they're creating clear characters, if nothing else, and that in itself is remarkable when there are multitudes of inconsistent layers in play for a script like Cloud9. Get tickets now— as you'll likely need to see it twice to have any hope of fully taking something meaningful away from it— and see what it is these actors can do with Churchill's work.  
Running Time: 2 hours and 20 minutes with one intermission
Cloud 9 plays through February 4, 2018 with Iron Crow Theatre in residence at Baltimore Theatre Project— 45 W. Preston Street in Baltimore, MD. For tickets call the box office at (410) 752-8558 or purchase them online.