A second marriage to a new wife is perfectly acceptable and almost expected when your first wife dies young. It might even go along swimmingly, even if from time to time your late first wife surfaces in conversation. But things tend to go grievously awry when said dearly departed surfaces in her ghostly fatigues right in the center of your drawing room. In the zany high-brow comedy of wit and repartee, Noël Coward's Blithe Spirit is conjured to the main stage of Annapolis Shakespeare Company to kick-start the back end of their 2017/2018 season. It's a scream! Directed by Sally Boyett, this quaint comedy of words and things wondrous strange is delightful paced, pleasantly performed, and crafted with a great deal of care to ensure a humorous classical afternoon or evening at the theatre.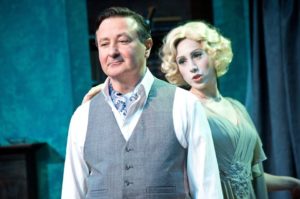 Visually the set is quite striking. Scenic Designer Gaby Castillo has fabricated a cozy front room— drawing room or parlor— for the Condomine household. Her use of rich, inviting aquamarine-soaked walls hints at both class and taste, while her layout of the furnishings displays elegance and grace. This matches well the fashions of the time— circa 1941 England— as expressed by Costume Designer Sandra Spence. The extravagant couture pieces fitted on Ruth Condomine are an affair of their own worth praising, so too are the decadent jewels and lavish dresses seen on the visiting Mrs. Bradman. The overall costume approach for Madame Arcati, given that she's a psychic medium who communes with the dead and rides her bicycle everywhere, are somewhat of a letdown, appearing dull and ordinary rather than mellow or eccentric. Spence makes up for this error in judgement with the astonishing ghoulish looks achieved on Elvira— in both her death gown and her undead makeup. The effect that Spence has put in place when creating ghostly apparitions— through the lone use of gray fabric, pale yet iridescent makeup, and bleached wigs— is one of the most impressive things accomplished from the creative team in this production.
The room goes all but blue and the fireplace glows a ghastly green whenever ghosts are present. Lighting Designer Adam Mendelson has deftly handled this special effect along with the lighting gimmick used to make the séance spooky. Falling in line with Mendelson's work is Director Sally Boyett, doubling up as the show's Sound Designer. While Boyett does an impressive job of including life-like sounds, there is a large missed opportunity in the sound department for this production. There are no glasses being physically broken on the stage, but their plastic replicas hit the floor quite frequently, and although the sound effect of shattering or breaking glass isn't necessary, its absence is noticeable because of how thoroughly articulate Boyett's other sound design elements are. This lack of glass-shattering (and the strangely modern and deeply feminine faux-leather designer handbag serving as the 1940's house doctor medical bag) are the only two minute things that are out of sync with an otherwise impressive design for the show.
Boyett keeps the lengthy show clipping along; she keeps the dialogue moving. This is especially true of the witty and at times biting banter and repartee between Ruth and Charles. As their rows build in excitement and fury, so too does the pace and exchange rate with which they lobby injury and insult. All that is polished with the Voice and Dialect Coaching tricks of Nancy Krebs, who keeps the classier English sounds pristine despite the speed at which they are frequently delivered. Krebs also coaxes a rough, lower-class servant's sound out of Edith (Natasha Preston, who's portrayal of the nervous housemaid is a bit overdone, feeling forced in a great many places and out of sync with the earnest neutrality of the rest of the show.)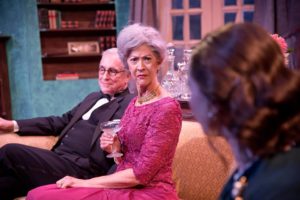 Dr. and Mrs. Bradman (Nancy Blum and Phil Bufithis, respectively) are welcoming supportive characters. Though Coward hasn't given them much depth, both Blum and Bufithis find subtle ways of creating a resilient spark in these stack support characters that make them intriguing. Blum and Bufithis bicker, though in a far shallower manner, in true Coward style, keeping their little quips sharp with a playful sting. Both carry the air of socialite about them, sophisticated in their cadence and patois as well as the way in which they physically carry themselves.
Kurt Elftmann, as the smug Charles Condomine, has a masterful handle on the dry wit and sarcasms that Noël Coward is known for penning into his male characters. Sharp on delivery, quick to return the volleys of volatile chemistry between his character and Ruth's, Elftmann makes for an engaging and amusing Charles. There are times, however, when his Charles feels capped, peaking at a level of expression that refuses to allow him to actualize the character's full emotional depth. This is minor and occurs infrequently, but happened enough that it was worth a slight mention.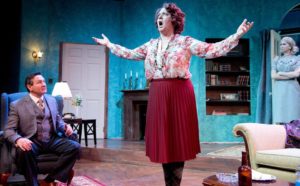 Barbara Pinolini possesses all the theatricality required to do the larger-than-life character of Madame Arcati a great deal of justice. With a melodic lilt, that carries heavily and creates a humorous juxtaposition against the general volume at which she speaks, Pinolini delivers great swathes of her text with smashing melodramatic aplomb. There is substance to her presence, despite the character itself being a great load of nonsense. Pinolini is most amusing when she awakes suddenly after her trances, and all of her cheekier lines are delivered with a liberal dose of self-importance.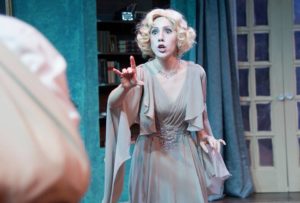 Ruth Condomine (Jessica Hannah Fraser) rules the roost of the Condomine household as far as the plot is concerned. It makes for a deliriously good plot twist when the late Elvira Condomine (Kay Kerimian) ventures back to the land of the living from the beyond to meddle in the muddle that is the new marriage. Both Fraser and Kerimian are extraordinary performers, managing to delicately balance the banality of a woman in Coward's era against their own ferocity and tenacity, which gives these females a vibrant and lively existence. Fraser in particular holds a commanding stage presence, actively engaging in bouts of hysteria with Elftmann's Charles. She often serves as the driving force in their quarrels even when Charles' dialogue is heavier and more laborious than Ruth's. Kerimian is an extraordinarily spirited performer, filled with an otherworldly giddiness that is well suited for this type of ingénue role.
With three strong females dominating the production, and an impressive series of special effects, there's no good reason to miss out on this production of one of Coward's classics. Catch Blithe Spirit before it crosses back to other side at the end of February.
Running Time: 2 hours and 35 minutes with two intermissions
Blithe Spirit plays through February 25, 2018 on the Main Stage of Annapolis Shakespeare Company— 1804 West Street Suite 200 in Annapolis, MD. For tickets call the box office at (410) 415-3513 or purchase them online.