Of all the days in all the year that I'm familiar with— there's several very important ones leading up to— December the 25th! Correct! And those important days are any days between now and December 17, 2017 wherein The Children's Playhouse of Maryland has a performance of their holiday musical, Scrooge. Directed by Liz Boyer Hunnicutt with Musical Direction by Charlotte Evans and Choreography by Amanda Poxon, this classic and musical spin on Charles Dickens' A Christmas Carol will put you in the holiday spirit for certain with all of its spry and spirited youngsters skipping and spinning about!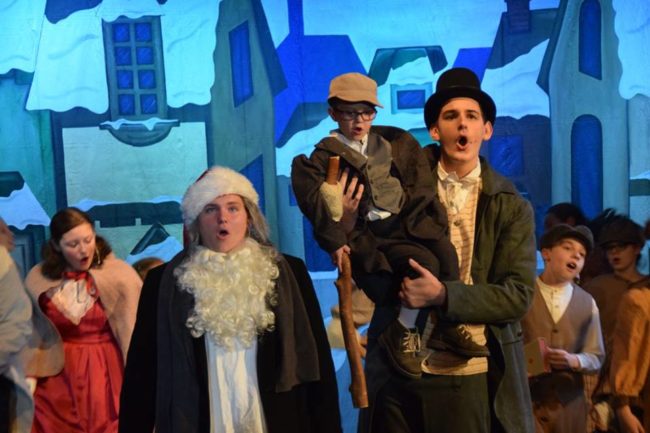 True to the story, with a few jolly jaunts of jives and jigs here and there, Director Liz Boyer Hunnicutt, Musical Director Charlotte Evans, and Choreographer Amanda Poxon work the magic of Christmas to really inspire that feeling of peace on earth and good will toward all men with this particular production of Scrooge. Poxon's choreography in particular is particularly festive, especially when it comes to all the merriment featured during "December the 25th." There is much joy happening both here and in "Thank You Very Much", a number led in song and dance by the mirthful and jubilant Tom Jenkins (Dylan Morrison.) Doubling up as Fezziwig, Morrison gets more than one chance to show off his vocal and dancing talents, which are featured in both the aforementioned numbers as well as "I Like Life", a song performed with the vivacious Ghost of Christmas Present (Ryann Nicole Reich) and The Dancers (Ethan Holler, Dylan Morrison, Emily Davis, Erin Acerno, Olive DeVille, and Elliott Whitman.)
But the dancers aren't the only spirited youngsters giving it their all during this festive show. All of the little Urchins (Sammy Jungwirth, Katie Doyle, Molly Parker— those three also double up as Cratchit children— and Erin Acerno, Evelyn Acerno, Maeve Acerno, Nora Acerno, Michael Bell, Dulanie Blankenship, Madison Blankenship, Meredith Einhorn, Lailah Jackson, and Gracie Roberts) put their spit shine into "Father Christmas", and get quite rowdy having a good time with this number. Although The Knit Woman (Mercedes Masila), Mrs. Dilbert (Ella Galoni), The Charwoman (Elliott Whitman) and Old Joe (Mara Jade Beaumier) don't have a song per say, their characters are quite memorable during the scenes during the 'Future Christmas' moments that are meant to haunt Scrooge. So too are the memorable Gentlemen (Byrnn Cigna and Delanei McLeaurin) when they come humbly seeking charity for the poor in the early scenes.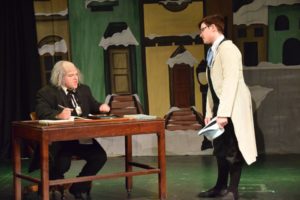 Filled with the Christmas spirit, Ethan Holler takes up the role of nephew Fred, and his lovely wife Mary (Isabella Macdonald) have a roaring good time with their games during the "Christmas Present" scene, while Holler holds his own against the mean-spirited curmudgeon early on. Sharing in Fred's eager Christmas spirit is the dauntless Bob Cratchit (Brian Kraft) and his ever so precious son Tiny Tim (Colton Roberts.) The entire Cratchit family (Bella Comotto, Sammy Jungwirth, Katie Doyle, Molly Parker), including Mrs. Cratchit (Ava Correlli) find themselves to be most giving and charitable when it comes to the nature of the holiday, despite Mrs. Cratchit and her real feelings towards Mr. Scrooge.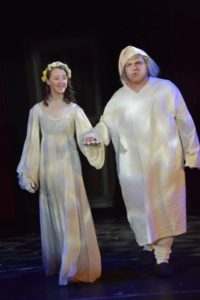 Scrooge is the musical version of A Christmas Carol and A Christmas Carol is the original Christmas ghost story. There are four exceptional spirits featured in this production. Though Jacqueline Hicks never says a word as The Ghost of Christmas Future, her stoic silence and pointing gestures are haunting in their own chilling right. Ryann Nicole Reich leads Scrooge and the gang through "I Like Life" with a lively panache while it's Brooke Henshaw, as the Ghost of Christmas Past, who spearheads the journey into Scrooge's past and shares the duet "A Better Life" with him. Herein we once again encounter young Ethan Holler, this time not as nephew Fred but as young man Ebenezer, and his then-love Isabel (Summer Reed.) Full of sweet sentiment, both Holler and Reed do a splendid job performing the love duet "We'll Build a World of Love."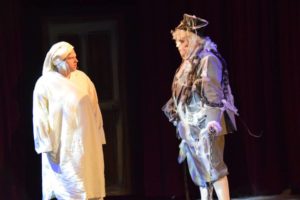 The haunting and booming ghost of Jacob Marley (Alex DeWald) is a sight and sound to behold (with extra compliments to Diane M. Smith for all of the spooky lighting effects she provides for his ghostly arrival!) Terrifying in his stage presence, bombastic of big voice when addressing Scrooge, DeWald is the harbinger of all the aforementioned ghosts and his costume and makeup look truly spectacular. Playing the titular grouch with a robust constitution, Matthew Trulli dons the top hat (and later the night cap) with all the pinched facials and grumpiness one might expect of Scrooge. With a deep solid sound for his big number, "I Hate People", and a completely astonishingly transformed sound for "I'll Begin Again", Trulli puts his vocal chops to the test and passes with all the flying colors of Christmas.
Truly a delight to see so many talented young performers having a proper go at the musical version of the Dickensian classic, Scrooge is the holiday selection for everyone this festive Christmas season. But don't wait to get your tickets as many performance dates have already sold out!
Running Time: Approximately 1 hour and 40 minutes with one intermission
Scrooge plays through December 17, 2017 at the Children's Playhouse of Maryland in the Lecture Hall of the Administration Building at the Community College of Baltimore County Essex Campus— 7201 Rossville Boulevard in Baltimore, MD. For tickets call the box office at (443) 840-2426 or purchase them online.