Everybody get up! Everybody jump! Everybody bump everybody in the rump! That's right, you cavalcade of theatergoing weirdos! Red Branch Theatre Company likes to MOVE IT, MOVE IT! They like to MOVE IT, MOVE IT! They like to MOVE IT, MOVE IT! They like to— MOVE IT! And their production of Madagascar: A Musical Adventure is moving its way right onto the stage as their holiday offering this December. When dozens of other theatres in and around the metropolitan areas of Washington DC and Baltimore are offering up Dickens twisted every which way, this company is sending theatergoers on a tropical vacation with lions, and lemurs, and a hippo?!? Directed by Jenny Male with Musical Direction by Dustin Merrell, this zany little children-friendly musical, directly adapted from the Dreamworks film, has all the jungle fever you'll need to heat up this chilly holiday season!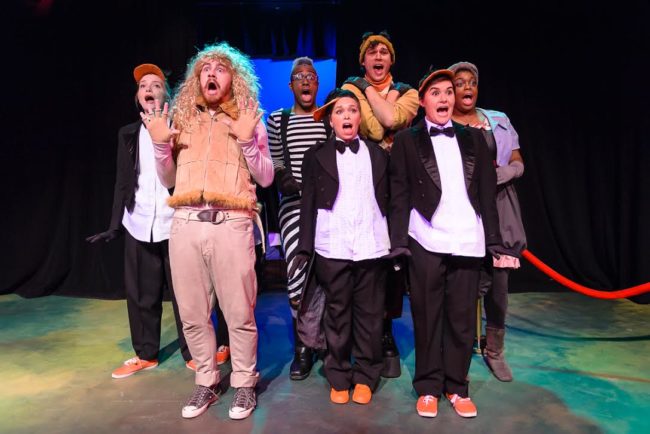 Live theatre is exactly that; live and unpredictable at the best of times. At this particular Saturday evening performance, there were some large technical difficulties that the theatre did their best to work around. At a professional level these seems unfortunate, but even Broadway theatres undergo mishaps like lights that simply will not go off or microphones that simply will not stay on. That said, the performance was fairly strong all things considered and the youths in the audience— the target audience of the performance— appeared to enjoy themselves immensely.
The production has a few shortcomings, outside of their technical issues, mainly in the haphazard nature and overall lack of choreography. Although the musical itself doesn't appear to lend itself to much dancing— and to be perfectly clear the big party dance number "I Like to Move It" is a wild and frantic jumble of jungle excellence led by Rick Westerkamp, but we'll get to him later— there are moments where the choreographic trio of Angeleaza Anderson, Sarah Luckadoo, and Jenny Male miss opportunities to get their various cast members in motion. To their credit, both the aforementioned "I Like to Move It" and the jazzy quartet— featuring the Penguin Ensemble in guise— during "Steak!" are engaging and exciting.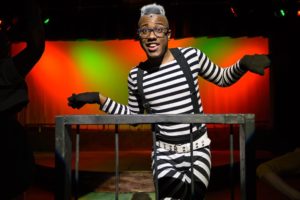 The show's other major issue is with Bryan Thompson as Marty the Zebra. Despite his glowing exuberance and sheer excitement to go to the wild, Thompson's singing voice leaves something to be desired as it is neither strong nor consistent. At this performance Thompson struggled with pitch as well, in addition to being the unfortunate victim of a shoddy microphone connection. Though singing is Thompson's strong suit, he does make the character loveable, relatable, and intriguing— especially when it comes to racing around the stage. When he pals around with Alex (Ben Ribler) during their duet, "Best Friends" it's a chummy, feel-good time that keeps the audience smiling at the unlikely pair of pals.
Ribler, as King of the Central Park Zoo, is at times difficult to hear, but has a much more consistent singing sound and really puts a lot of powerful intention behind his moments of outburst, particularly in "Steak!" Gloria (Taylor Washington) and Melman (Danny Bertaux) are along for the ride, much like their characters are in the film. Washington has a powerful voice that resonates well during her various solo lines throughout the show, though she has no feature song to speak of. Washington carries a strong attitude, which is comically in sync with the character. Bertaux, who also has no feature song, relies heavily on his facial expressions and his awkward physicality to portray the hypochondriac giraffe character.
These four jungle beasts turned captive characters are given an urban makeover, compliments of Costume Designer Jackie Rebok. Rather than investing in full-on animal costumes, Rebok takes a New York City fashionista approach and alludes to their animal expressions in the sartorial selections of the show. This a subtle and fun way to engage the audiences' imaginations throughout the performance, and is particularly useful when it comes to both the Lemurs and the Penguins, with massive goggle-glasses and orange beak-baseball caps, respectively. Fitting into the wildness of the jungle and the urban nature of New York City's Central Park Zoo, these costume choices match Helen Garcia-Alton's lighting design as well as giving a vibrant life to each of the characters.
Comic trouble arrives in the form of four fiasco-causing Penguins: Private (Angeleaza Anderson), Skipper (Liliana Evans), Rico (Sarah Luckadoo), and Kowalkski (Molly Mayne.) These four females double-up as Lemurs and other things throughout the performance but their most notable and memorable roles are that of the aforementioned penguins. Whether its breaking out of the zoo, hijacking the boat, or just generally causing mayhem, this quartet of animated expressive performers add to the humorous nature of the show tremendously.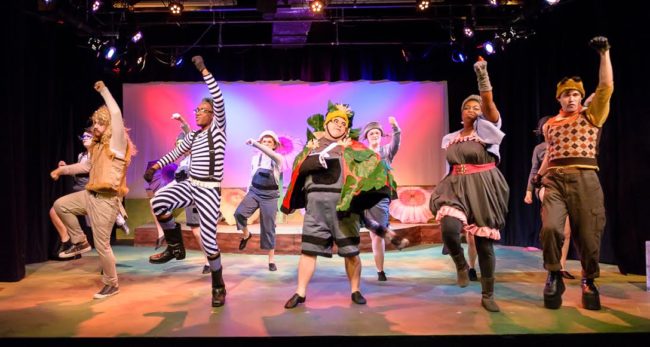 Show-stealing comic king Rick Westerkamp is running away with the show on his very shiny Lemur-King cape! Playing the larger-than-life King Julian, king of the Lemurs, there is something so insanely fierce and fabulous about his portrayal that it defies description! Everything from the look to the moves, the affected voice, to the way Westerkamp carries himself screams "center of attention" and fits the bill to perfection for the way King Julian is meant to be. A total fruitcake owning the nonsense that leads into "I Like to Move It", Westerkamp is on fire when it comes to being a larger-than-life sensation in this role. Funky, fierce, and unafraid to move it-move it, Westerkamp is king of the lemurs, king of the show, and out to rule the night with his zany interpretation of King Julian, which is caught halfway between a fabulous diva, a Minion, and a fervent jungle ferret. A total scream, Westerkamp elevates the good times had in Madagascar: A Musical Adventure to unforetold heights and is second to none in this production.
So by order of King Julian, you better MOVE IT MOVE IT and get your tickets to see Rick Westerkamp and the cast of Madagascar: A Musical Adventure at Red Branch Theatre Company; it's the perfect holiday show for all ages.  
Running Time: Approximately 1 hour and 20 minutes with one intermission
Madagascar: A Musical Adventure plays through December 23, 2017 at Red Branch Theatre Company at the Drama Learning Center— 9130 Red Branch Road in Columbia, MD. For tickets call the box office at (410) 997-9352 or purchase them online.