Tis the season to stuff your face be it with chestnuts roasting on the open fire, grandma's pumpkin pie or the Heavy Hors D'Oeuvres that The Interrobang Theatre Company his throwing down this holiday season! In its third incarnation, The Interrobang Theatre Company is proud to present Heavy Hors D'Oeuvres 3: Interrobang's Holiday Dinner. But don't be fooled, this isn't your ordinary Christmas comedy or holiday hilarity, it's actually some delicious bite-sized semi-dramas that all come together for one intriguing local playwright sampler this time of year. With each of the three micro-plays being offered up by a different playwright and director, it's an impressive feat to see how smoothly they flow in and out of one another, all of which are centered around a dinner table.
Production Manager Katie Hileman, who doubles up as one of the directors featured in the evening's triple-bill, oversees the transitions of the performances with praiseworthy precision. The four actors move through these scene changes in a subdued red-light (compliments of Lighting Designer Daniel Weissglass), backed by the original compositions of Matt Pagan. Moving like meticulous cogs in a well-oiled machine, this transitory motion becomes a side-show in its own right, binding the three plays together into one fluid evening of evocative entertainment.
The Ides of May by Laura Fuentes
While most think of the ides of March, playwright Laura Fuentes takes a play on words with her title, having a stab at the worries and wonders that is Mother's Day. Directed by Corey Hennessey, this potentially poignant piece of theatre has much to offer, that is unfortunately drowned out by Hennessey's use of Sound Designer Max Garner's sitcom-style laugh tracks and various other sound effects. Fuentes' words and the actor's usage and delivery are strong enough on their own, creating moments of humor and moments of sincerity without the hokey (and at times awkwardly placed) laugh-track cues. Hennessey's use of Garner's effects here cheapen the depth and emotion that Fuentes has created and that the three performers have cultivated.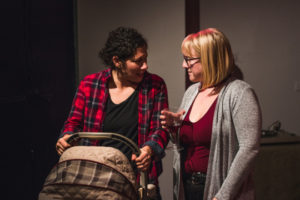 This directorial choice aside the piece is an impressive one, addressing the real issue of children and whether or not having them changes your life entirely and how being with them can change how you feel about the matter. Maranda Kosten, who plays the interloper to the well-established and rather cutesy couple— played by Caitlin Rife and Ramon Burris— delivers a masterful sense of desperation, a true woman on the edge driven there by the routine nightmares of being a new and single mother. Kosten, whose facial expressions are delivered in earnest, grounds the play in its striking reality, which is a surprising juxtaposition to the humorous levity established early on by Burris and Rife's characters.
Three by Natalie Piegari
Everyone handles their grief differently. Playwright Natalie Piegari captures that effectively and quite strikingly in her short play Three. The family dynamic is immediately exposed around the Thanksgiving 'after-dinner' table where the pie has been broken out and the tensions are running thick. It's immediately revealed to the audience that a picture-perfect family of four is now a tragically truncated three. The way Piegari plays with structure here is intriguing; the playwright introduces the deceased character, the daughter Chloe played with expert energy by Caitlin Rife, as an omnipotent individual whose direct address with the audience indirectly relieves much of the tension occurring among the other characters. Again Composer Matt Pagan's stellar musical magic comes into play here as Rife's monologue/soliloquy is delicately underscored with a somber yet serene tinkling of notes. Daniel Weissglass' lighting is also worth noting as the stage-scene is plunged into a gray after-lighting whenever Rife's character is addressing the house.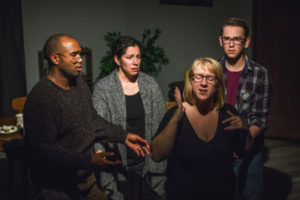 Director Cara Elaine Hinh does an exceptional job of balancing the tension and levity in this play, keeping the audience as emotionally invested and riled up in Piegari's characters as the characters' are in their own story. Sean McComas, playing Liam, delivers the stereotypical fury and rage stages of grief while Maranda Kosten, playing the maternal Hannah, provides the subtler yet familiar stage of denial that often accompanies the loss of a loved one. Ramon Burris, playing Oliver the father, works readily as the peacekeeper and displays a felicitous calm when it comes to portraying the acceptance phase of the grief cycle. All around the portrayals are strong, particularly by the bubbly Caitlin Rife, whose approach to Chloe is as sweetly humorous as it is sincerely sentimental.
Three by Rich Espey
Every family has one and this family of plays has Rich Espey's Three. Directed by Katie Hileman, this oddly eccentric piece stands out for multiple reasons, and deviates somewhat from the sort of work Espey has produced as of late. Uncertain of whether it's meant to be a parody or just an extraordinarily bizarre way of approaching familial sacrifice at the holiday, Espey's play delves into a great deal of nonsense and gibberish language, but that doesn't keep the overall intention of the play from shining through: family's are weird and when you date somebody, you get their weird family with them. The star of this particular play is, of course, Lucy Bond making her stage debut as Scout. (Lucy is a super cute dog of some sort or another.) Stealing the audiences' hearts and attention spans for her 60-second stage spotlight, Lucy Bond is a delightful audition to the performance as it's particularly nice to include a live animal when it becomes such a central focus of the show.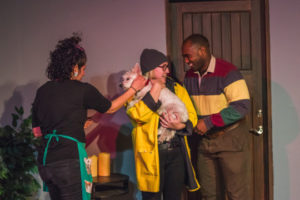 Maranda Kosten, playing Mona, and Sean McComas, playing Grampus, are wild, with McComas being physically outrageous and fully committed to the bizarre and eccentric 'quirks' that accompany his larger than life and insanely absurd character. Both Kosten and McComas do a terrific job of living within the confines of the strange reality that Espey has created for this play. Caitlin Rife, playing the outsider Chloe, holds her own against the trio of weirdos, with the third in the family being Lucas, played by Ramon Burris. Rife is the 'normie' of the bunch but manages to give the character of Shanna a surprising amount of depth in such a short period of time.
Ultimately the evening is a fantastic opportunity for playwrights of the Baltimore locale to sample out new projects. It's a brilliant way for theatergoers in Charm City to experience new and intriguing works. Heavy Hors D'Oeuvres 3: Interrobang's Holiday Dinner is thankfully not your average holiday show, but it has a little something in there for you if you're willing to give it a taste! s
Running Time: Approximately 60 minutes with no intermission
Heavy Hors D'Oeuvres 3: Interrobang's Holiday Dinner plays through December 17, 2017 with The Interrobang Theatre Company at The Strand Theater Company— 5426 Harford Road in the Hamilton neighborhood of Baltimore, MD. Tickets are available for purchase at the door or in advance online.