I want an Official Red Ryder Carbine-Action Two-Hundred-Shot Range Model Air Rifle with a compass in the stock and this thing that tells time! NO WAY, KID! YOU'LL SHOOT YOUR EYE OUT! So instead Santa's going to bring you tickets to see A Christmas Story at The Maryland Ensemble Theatre this year! Hey, it beats Lincoln Logs or Tinker Toys! Directed by Gené Fouché this non-musical stage adaptation of the classic Turner Entertainment Co., motion picture is almost as good as the original silver screen gem. With all of the iconic lines, memorable characters, and important lessons about how to get exactly what you want for Christmas, this holiday show is a quick trip off the Dickensian path and into a blast from the 1980's past!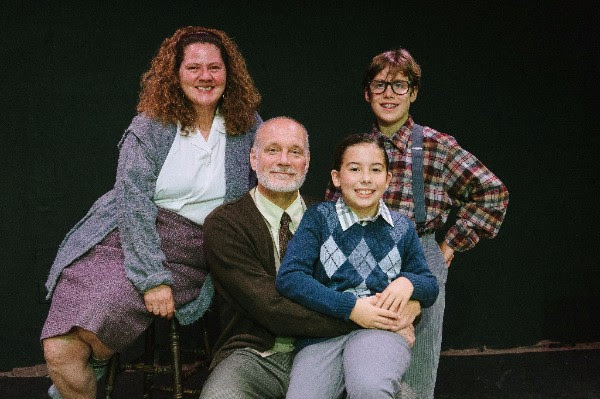 There's a deceptively simple set, which I say with caution because I don't wish to insult Scenic Designer Matt Vance. While the Parker Family household kitchen— and Ralphie's little bedroom off to the side— are quaint, cozy, and everything a 1940's house in Indiana ought to be, it's Vance's sneaky turn-table that is most impressive and clever! With a simple man-powered whirl, the basic kitchen goes away to reveal— well, whatever scene needs to be shown next, be it the school room, Santa's wonderland inside the department store, and every place else they use in the show. Vance, works with Lighting Designer Carey Rausch to achieve the perfect combination of cinematic moments throughout the production, capturing those iconic scenes from the movie and transposing them onto the stage with an understanding of both spirit and sentiment from the original work and the new one being created in this production.
Props to Properties Master Rachel Smith because that Official Red Ryder Carbine-Action Two-Hundred-Shot Range Model Air Rifle with a compass in the stock and this thing that tells time is the real McCoy! Complete with the Red Ryder autograph carved into the stock (a detail that only gets mentioned once or twice) this thing is the quintessential prop to making this show a glorious success! Tag-teaming with Costume Designer Cody Gilliam, the show's iconic and memorable aesthetic comes to vibrant life on the MET stage with everything from the pink bunny pajamas to the too-puffy snow-coat for Randy and a series of 1940's inspired outfits in-between!
The show itself is both quaint and charming, almost a verbatim translation of the movie, which seems almost unfathomable with the all the raging excitement over the musical stage version (which distracts the masses with it's razzle-dazzling 'Leg-Lamp-Kick-Line'). Director Gené Fouché makes a curious casting choice when it comes to Kevin Cole as Ralphie Parker as an adult. Though Cole's acting skills are up to snuff, it is obvious he's on the younger scale of life than what both the movie and musical version establish for this character. In this way, Fouché sets her production apart from the two staple stories that have created this non-musical stage version. Her blocking and overall use of Cole is intriguing but ultimately serves the production well. There are moments where Cole's narrative presence, which is strong, reminiscent, and sentimental, permeates the scene and others where it hovers outside of it as if watching a video replay of his childhood memories. This balance that Fouché finds in utilizing the character of Ralphie Parker as an adult is what ultimately keeps the story rolling forward.
Fouché deserves praise for the overall pacing of the show as well as the way the set is utilized. Making the most of Vance's turntable, she keeps things rolling smoothly in the intimate play space. Fight Choreographer Tad Janes adds an authentic helping of Christmas violence to the production, particularly where bully Scut Farkas (Wilson Seltzer) is concerned. Seltzer, who perfectly embodies the bullying baddie when it comes to bashing up on the younger and dorkier kids in the production, makes Janes' fight choreography look effortless and natural. The same can be said in the throw-down between Seltzer and young Ralphie Parker (Sawyer Makl.)
As the main youth, Sawyer Makl does an excellent job of whining and plotting and being desperate when it comes to the one and only thing he really wants for Christmas: Official Red Ryder Carbine-Action Two-Hundred-Shot Range Model Air Rifle with a compass in the stock and this thing that tells time. Upstaged by the extraordinarily whiny Randy (Searlait Hoyt), Makl does manage to get the audiences' attentions throughout many of the scenes. Hoyt, who makes and adorable and hilarious Randy, is an absolutely scream when it comes to all the whining fits and crying bouts that accompany the character. Other impressive children in the production include the fierce Helen Weathers, played by the ferocious Grace Thomas, the dippy Esther Jane Alberry, plays by the winsome Natalia Alvarado, and the precocious and punchy Flick and Schwartz, played respectively by Beau Scott and Daniel Puckett. Both Scott and Puckett are full of gumption and really make their bits stand out when it comes to being kids in A Christmas Story.
Modeling her character after the movie, Laura Stark does a fine job of embodying the role of Mother. Tim Seltzer does an equally impressive job handling 'The Old Man', especially when it comes to his strings of profanity— which are jumbled up nonsense sounds often shouted from off-stage. Both Stark and Seltzer have a fine working chemistry that really feels genuine, creating that quirky yet loving holiday atmosphere that happens to good families at Christmas time. Stark and Seltzer, as well as Lia Seltzer— playing Miss Shields— all take turns being exasperatingly hammy in the 'fantasy-dream' sequences of the production, where their acting goes over the top of the North Pole and into the glossy, glorified realm of caricature performance. This happens in small smatterings throughout the show, just as it does in the movie, and is the perfect addition of hilarity to the performance overall.


If you're really good, and get your tickets to see A Christmas Story at the Maryland Ensemble Theatre this Christmas, Santa Claus might just bring you that Official Red Ryder Carbine-Action Two-Hundred-Shot Range Model Air Rifle with a compass in the stock and this thing that tells time that you've been asking for. Or maybe not, because— YOU'LL SHOOT YOUR EYE OUT!
Running Time: Approximately 2 hours and 10 minutes with one intermission
A Christmas Story plays through December 23, 2017 on the Main Stage of the Maryland Ensemble Theatre in the Historic FSK Hotel building— 31 W. Patrick street in downtown historic Frederick, MD. For tickets call the box office at (301) 694-4744 or purchase them online.
 I want an Official Red Ryder Carbine-Action Two-Hundred-Shot Range Model Air Rifle!