Ding dong merrily on high! The murder bells are ringing!
I saw three bodies come sailing in— at Christmas time! At Christmas time!
Deck the halls with bowels and bodies— fa-la-la-la-la! La-la-la-la!!!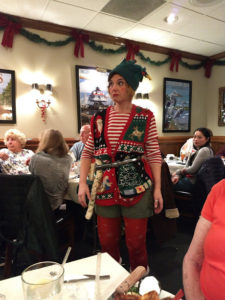 It's that time of year when the murder mysteries start, it's that time, I fear, when we say "Deadly Christmas!" And nobody does death better than Do or Die Productions! Revealing a brand-spanking new murder mystery for the 2017 Christmas season, written by Cybele Pomeroy, Blue Christmas will have you seeing red before it's all said and done! Taking place at the South Pole— which is about as far as you can think to be when it comes to Santa Claus, his elves and the whole Christmas spirit— all us elves find ourselves at "The Cheer Well." Don't you know about The Cheer Well? Well, of course you don't, if you're not an elf, that is. And actually, I could probably be getting myself into HUGE trouble right this very minute just for mentioning it! But— I mean— you're all elves, right? No humans reading this? Okay, good. I digress. The Cheer Well, as we all know, is the mecca of Christmas spirit. Where else did you think we got all the energy and holiday spirit we needed to carry off a successful Christmas every year? Located at The South Pole, The Cheer Well supplies everything that elves need to make Christmas merry and bright for all the humans everywhere!
But something's not quite right. The Cheer Well isn't putting out the necessary amount of cheer required to keep production up at The North Pole on schedule. Good old Holly Thornbush, the Head Securitelf of The North Pole, has this inkling that it's because Katrinka Claus, Santa's Sister and thusly Antie-Claus, has been turning down The Cheer Well because she only believes in boring and practical presents for the holiday season. So naturally, Holly has summoned up Santa to make a quick trip down to the other pole and sort the whole thing out. But things never go quite according to plan once the big man gets involved and there's even been a rumor that a HUMAN was spotted deep in elf-territory! Madness and mayhem ensure, naturally, and of course— somebody….someelf…someone…ends up— murdered!
 The Usual Suspects
Katrinka Claus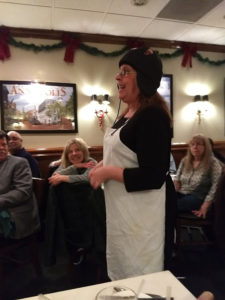 Katrinka Claus isn't as Anti-Claus as her misguided spirits might lead on. Played by the infamous Ceej Crowe, there's a touch of the simple going on in this character. Between the way she physically traps the character into penguin-like movements— and her confusing of spanks and spanx— there's no stopping the absurdity that accompanies Crowe into the role. But make no mistake, she's not as dumb as the misconceptualized character might lead on either. There's a mean streak wider than a candy cane stripe running through her, but only when it comes to her daughter, Holly Thornbush. There's some strongly brewed animosity bubbling up between them so it makes it rather difficult to maintain the proper cheery spirit of Christmas when they're anywhere but polar poles apart.
Santa Claus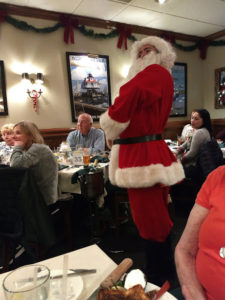 The jolly elf himself might look the tiniest bit different being played by Talis Tighe, but only because Tighe is about 100 years too young and 100 pounds too light. Despite Tighe's youthful exuberance and svelt figure, they fill out the role of Santa Claus divinely. Quick on their feet, sharp and smart as a tack when it comes to handling audience cheek, and extraordinarily jolly, Tighe is remarkable as the spirit of Christmas incarnate. They never lose their temper, they give everyone— including Katrinka— the benefit of the doubt, and they are remarkable at keeping Holly Thornbush's temper in check. There's something truly novel about the way that Tighe brings this invigorating and refreshing light to the Santa Claus character— and if you want presents for Christmas you better believe they're the real deal!
Bookself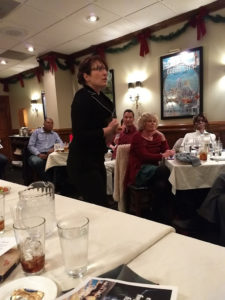 With a predominant Patty-Simcox (a la Grease) style lisp and the nerdiest of nerdy dispositions, Bookself, played by the talented Erin Tarpley, will melt her way into your heart with giddy glee. There is an indescribably energy bubbling out Tarpley's portrayal, so much so that you would think that she herself was the very source of The Cheer Well. Unafraid to go about with her own little investigation of things during the extremely interactive portion of the show, Tarpley can turn on a snowflake when it comes to her mood and attitude. If she thinks for one second that you're a suspicious character, or have any reason to make her out to be a suspicious character, watch out— she'll snap you in half like a twiggy little icicle!
Elfish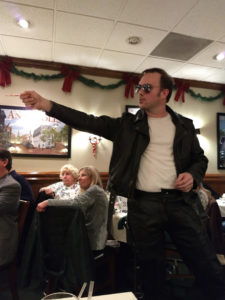 Well, a bless a-my soul— what's wrong with me— I think I'm seeing something that I shouldn't see— my eyes are fixed, and can't be tricked— they're in love— uh! They're all shook up! Shook up over John Kelso playing Elfish. He ain't nothing but a hound dog, but my God does he cut a good Elvish-ish Elfish. With his accent perfected and his perfect patois, there might just be something to that theory that Elvis is alive and well— or at the very least being channeled through Kelso. Smooth with the ladies, slick with the scenes, and seriously a hunka-hunka burning love, Kelso masters the role that was all but written to boost him to the role of scene-stealer. And wait til you hear him sing, you won't be stuck staying at the heartbreak hotel no more.
Holly Thornbush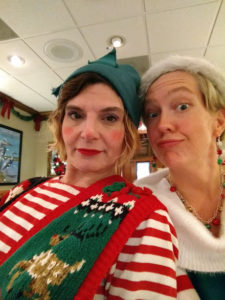 A rambunctious pipsqueak, Cybele Pomeroy tackles the role of Holly Thornbush right down to the ground and back. Because elves grow down, shrinking as they age, Pomeroy is explicably shorter than last year's predecessor to the role. (Holly Thornbush is a recurring holiday character, seemingly regardless of the holiday show, and in this particular show it's hilarious to see Pomeroy have a go at the character, who is oft played by seasoned veteran Pat McPartlin.) With a hot-pot temper that Santa Claus can just bust barely control, Pomeroy really gets her digs and kicks in every chance she gets. Full of gumption and gusto, she battle-charges her way through scenes and makes for a hilarious head Securitelf.
Taylor Maydde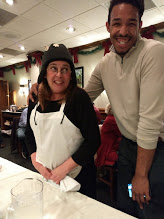 Welcoming first-time Do-Or-Dier Emmanuel Vickers to the gauntlet of interactive murder mystery performance, the role of Taylor Maydde is a custom fit for the fabulously flamboyant performance given by Vickers. There isn't a lot to be said for particulars, other than his facial expressions are to die for, and his body language is out of this world. There's a great deal of praise to be had in certain scenes, particularly as the performance draws to its conclusion.
Conclusion
Another excellent murder committed, another excellent plot unwound. Pomeroy is clever with the way she doles out the script, giving nearly perfect motives to every character involved, though some are far more clear and present than others. With a cute and hilarious wrap on the ending, this murder mystery is packaged as the perfect present for the holidays.  
Blue Christmas played four performances in December of 2017.
For upcoming performances of Do or Die Productions, please visit their website.