God bless us, everyone!
And in Whoville, they say, the Grinch's small heart grew three sizes that day.
You'll shoot your eye out.
Nope, nope, nope. Not at Silver Spring Stage this Christmas. You won't find Bob Cratchit or Tiny Tim and Mister Scrooge, and you won't find the Grinch and Cindy Lou Who. And you won't find Ralphie Parker and his Official Red Ryder Carbine-Action Two-Hundred-Shot Range Model Air Rifle with a compass in the stock and this thing that tells time, which is just as well because you'd shoot your eye out! But what you will find at Silver Spring Stage this holiday season is a much underappreciated holiday story that really puts the true meaning of Christmas into perspective for everyone. Directed by Andrea Spitz, and featuring 26 young performers, Silver Spring Stage is pleased to present The Best Christmas Pageant Ever! And it might just qualify as the best Christmas show ever, at least in this 2017 Christmas season!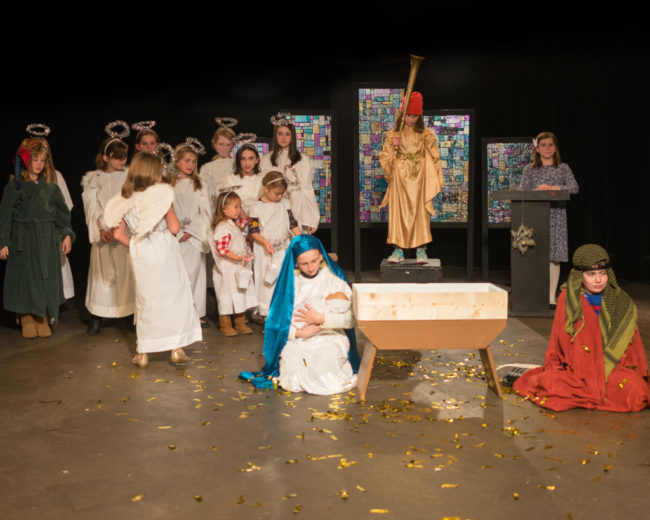 The show is not your run of the mill Dickensian transformation play, nor is it some highly loved film classic adapted for the stage, but rather its own story— penned by playwright Barbara Robinson— which brings together a whole world of curious characters. Set in an indeterminate town of a particular religious persuasion, the happenings in the show itself are not so different from the world around us. A group of ornery and ill-behaved youngsters live in the same community as all of the well-behaved children, but are not really a part of that community. Somehow— through some mistaken information about snacks— the six hooligan children— in the play The Herdmans— end up at Sunday school on the morning that the Christmas Pageant is being cast. A series of comical trials and tribulations arise in this heartfelt family-friendly Christmas performance, the ultimate reward of which is the true togetherness and sense of community that is finally achieved by show's end.
Director Andrea Spitz should be hailed and praised with all the Christmas cheer in town for the expedient job that she does at moving the play along. Not only do the scenes clip along, one atop the other, in a speedy but perfectly smooth cadence, but the actors— everyone from older adult down to the very youngest of the young children— fit into the places at the exact moment. It is no easy feat directing and producing a show with so many youth performers, especially with several who appear to be quite young, but Spitz makes it look like a breeze, as if all of the community children were schooled in the Broadway Academy for stage behavior. Spitz even manages to get cherubic sounds from them during the meta-performance of the pageant, creating a caroling sound from the choir of children.
Putting forth as much effort as Director Andrea Spitz, Costume Designer Harlene Leahy perfectly captures the cobbled-together nature of the makeshift costumes of a Christmas pageant at a local church. Her intentional hodgepodge of bed sheets and too-big bath robes is perfect for the various 'angels' and 'shepherds' meant to be wearing their mother's white bedsheets and father's bathrobes in the church show. Spitz ensures the zany secular side of holiday style in Mrs. McCarthy's character with the traditional 'ugly Christmas sweater', whilst keeping the Bradley family dressed in relatively 'normal' outfits for the season.
The aforementioned Mrs. McCarthy (played adeptly and with smart comic timing by Pauline Griller-Mitchell), along with Mrs. Clark (Tamra Mendelson), and Mrs. Slocum (Rosemary DiPietro) make for the perfect trio of judging adults, all of whom are certain that poor Grace Bradley will utterly fail to produce a quality Christmas Pageant as it's her first year doing it, especially now that she's let the Herdmans in! Mrs. Armstrong (voiced over by Marianne Myers) is an <mostly> unseen antagonizing force that drives Grace forward, even when things start to fall apart.
While there are several dozen young performers, the snotty and entitled Alice Wendleken (Mia Parker Levings) stands out among the "goodies" at Sunday school. So too does Elmer Hopkins (John Greenleaf), the reverend's son. Greenleaf's character is far more the class clown while Levings' character is angling more for teacher's pet. Both are strong character performers at their tender young age and both give memorable stage experiences for everyone watching. This is also true of Michael Greenleaf, playing young Charlie Bradley, the ornery yet precociously precious little brother of Beth, the story's narrative force and presence. Young Michael Greenleaf does an exceptional job of piping into the conversation with the funniest sayings exactly when a break in tension is needed.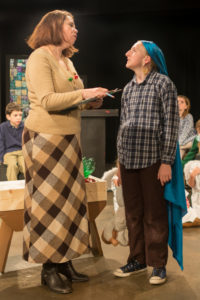 Brendan Murray, who plays the father of the Bradley family, easily takes this throw-away character and transforms him into a convivial and slightly humorous man with sage and sound wisdom ready to be dispensed at a moment's notice. His facial expressions are poignant and well suited for those moments when the character needs to garner a laugh from the audience but has no words with which to do so. He plays extraordinarily well against Grace (Kelli Boyd), doing a terrific job of keeping her character balanced when the situation gets sticky.
Boyd, who is the primary "in-scene" character, while Tori Newby, as Beth Bradley, is the primary narrator, works to herd the children— all of them including the Herdmans— into a non-disastrous Christmas Pageant experience, though she's got her work cut out for her. Though Boyd and Newby rarely share a scene one-on-one, the pair take turns shouldering the onus the production and both do a wonderful job of carrying it to fruition successfully. Newby, as the younger Bradley female, has a congenial narrative presence about her, flavoring each of her narrative asides with just a hint of teenage sarcasm for good measure.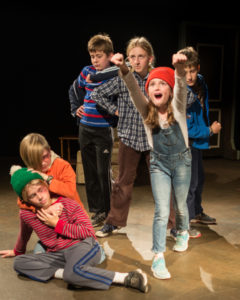 Baby angels crying in the street, shepherds climbing the fire truck, cigar smoke in the lady's bathroom— why it must be the Herdmans at church! Six ornery menaces— Noah Davenport, Lottie Doughty, Zachary Singer, Christopher G. H. Moga, Ian Murray, and Alice Levings playing Ralph, Imogene, Leroy, Claude, Ollie, and Gladys respectively— overtake the whole thing and practically terrorize Christmas. Though Davenport's Herdman is the oldest, the true leader of the pack is really Doughty's Imogene, and she does a splendid job at terrifying and bullying everyone. But the scene-stealing Herdman of note is Alice Levings' Gladys. Playing The Angel of the Lord in the Christmas Pageant, Levings is a scream in the role, quite literally as she boldly belts like an angry urchin the good tidings of great joy, complete with Christmas ham!
They promise you won't shoot your eye out, and you won't have to worry about carving the roast beast, or all of those ungodly late night spiritual visits in triplicate. Silver Spring Stage has a perfectly pleasant and family friendly Christmas show that will teach you a thing or two on their stage this December, and it's the only production of The Best Christmas Pageant Ever around for miles. Take advantage of this rare holiday gem at this festive season of the year and get out and buy your tickets!   
Running Time: Approximately 55 minutes with no intermission
The Best Christmas Pageant Ever plays through December 17, 2017 at Silver Spring Stage located in the Woodmoor Shopping Center— 10145 Colesville Road in Silver Spring, MD. For tickets call the box office at 301-593-6036 or purchase them online.