It's that time of year when the world falls in love and every song you hear seems to say… buy this toy for Christmas! Purchase that thing for Christmas! Spend, spend, spend for holiday cheer! Armed to the teeth with the true spirit of Christmas and holiday bliss, Toby's the Dinner Theatre of Columbia is fully prepared to combat Christmas commercialism and slay seasonal cynicism with their superb production of Meredith Willson's Miracle on 34th Street. Directed by Shawn Kettering with Musical Direction by Douglas Lawler and Choreography by Mark Minnick, this charming, cheerful, Christmas show is the perfect balm to any wounded spirit bringing joy and laughter and togetherness just in time for Christmas. A remarkably light-hearted, heartwarming, and overall enjoyable engagement of an evening, the Toby's family welcomes you to partake in their miracle happening right here in Columbia, you don't even have to venture to New York City!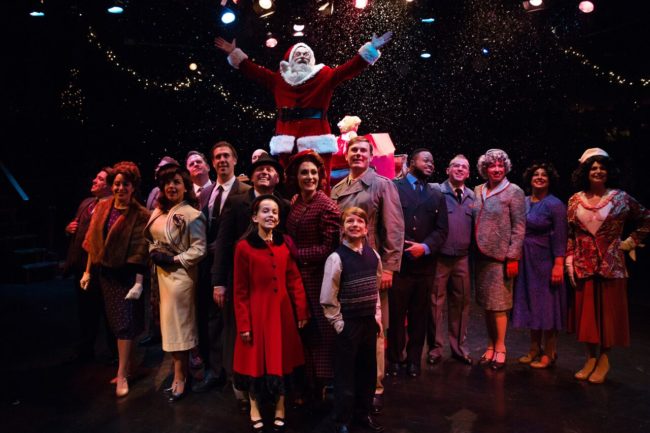 The house production team— Lynn Joslin on lights, David A. Hopkins on scenery and Lawrence B. Munsey on costumes— has created the perfect holiday aesthetic for the perfect holiday show. This triumvirate of designers has layered in the classic appearance of 1940's New York City, from everything to the backlit Big Apple skyline to the street lampposts and big department store signs. Joslin's work in particular stands a smidge above the rest as so many of the moving pieces of scenery also light up, and there are unique gobos in place— particularly the one shaped like golden presents in use during the "Toy Ballet" sequence. Ultimately the visual standard of the piece constructed by this hardworking trio (with assists from Properties Designer and Set Dressing Coordinator Amy Kaplan and Wig Designer Tommy Malek) primes the audience for the sensational performances given by the actors in the show.
Seasonally spirited, the production itself is just right for families everywhere. Jovial joy is contagious all through the cast as they step with lively movements all through choreographer Mark Minnick's festive dance routines. A great many of Minnick's routines feature simple steps, with box-trots and cake-walks, honoring the nostalgic time from which the story comes. Whether its Santa skipping with merriment in his fancy footwork all throughout the scene or the various toys dancing about for the parade and the "Toy Ballet" scene, Minnick ensures that the choreography is crisp and clean, not unlike a true Macy's day parade where the movements captivate the attention of everyone watching. Above all there is spirited fun in the dance routines that Minnick puts forth, particularly the chair-dancing featured in "She Hadda Go Back" and the zany crisscross patterns featured in "Plastic Alligator."
Spirits are bright and gay soaring with exuberant energy all throughout the ensemble, both with the young children performers and adults alike! At this performance the children's ensemble featured Jonah Hale, Lily Ulman, Hannah Dash, and Jackson Smith, with Miss Dash playing the part of the little Dutch girl Henrika, who sings sweetly with Santa when seated upon his lap, and Smith playing the golly-gosh honest-engine little Thomas Mara Jr., who is just too cute for words when put on the stand during the courtroom scene in the second act. All of the children are all smiles all throughout the performance, giving the audience a taste of childhood glee at Christmas time.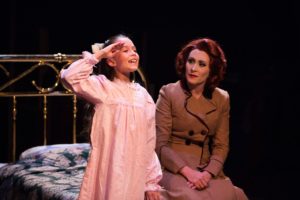 That's one swell kid, that Camden Lippert, playing Susan Walker (and alternating the role with Lilianna Robinson throughout the run of the show) with gumption and spunk. Lippert, who toes the fine line of balance between bratty and precocious keeps the sprightly character sensible and dismissive right up until the magic of Christmas gets under her skin and transforms her viewpoint. With dulcet singing tones that blend beautifully in duet with Doris Walker, "Arm in Arm", during her number with Kris Kringle, "Expect Things to Happen", and when she sings "My Wish" with Fred Gaily, Lippert shines as the child-star of the show, capturing all of the delightful details that accompany a child's character through a Christmas miracle such as the one that occurs in this production.
With an ensemble packed full of extraordinary talent, there are character roles aplenty just bursting at the seams to be noticed, in an inclusive and appropriate fashion of course, all throughout this holiday production. There's the sickeningly sweet Miss Crookshank (Santina Maiolatesi) and her irrepressible New York City doll accent, the smooth-talking Mr. Gimbel (David James, who later appears as the bubbly Tammany O'Halloran), the slightly pinched and stuffy Judge Martin Group (David Bosley-Reynolds) from the good old state of Kansas, and the highly-strung, tightly-wound, jittery wreck Mr. Sawyer (David Jennings.) Each of these character performers has their moment, but it's Jennings' Sawyer with his heightened expressions of nervous twitching and reedy vocal affectation that he imbues to the character that makes his 20-seconds of fame most memorable.
No one likes a Scrooge or a Grinch at Christmas time (except of course in their respective musicals) and poor Justin Calhoun is labored with the task of playing "the baddie" in this performance. Though the prosecuting attorney Thomas Mara isn't a villain per say, his curmudgeonly attitude towards Santa Claus is draped around him like a nefarious black cape. Providing the perfectly bristling foil to the cheerful team attempting to prove that there is a Santa Claus and that the man just over there (that Robert Biedermann 125 fellow) is in fact him, Calhoun uses his vividly expressive facial muscles in the most warped and contorted manner to fully express his point of discontent. Grumbly, grouchy, and filled with a stern severity that could frighten the smile off of anyone's face, Calhoun is the honest grump of Christmas (though is singing and smiling as a well-disguised ensemble member in early numbers during the performance!)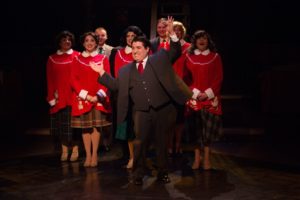 Comic calamity arrives in the form of 7,000 plastic alligators ordered by mistake thanks to the clumsy and somewhat silly Marvin Shellhammer (Tommy Malek.) Filled with a flair for the season, Malek uses his fabulously animated facial features— in particular his eyes— to really hype up some of the more comedic scenes that his character has, within the constructs of the performance. Balancing Shellhammer in the Miracle on 34th Street reality, Malek puts his warm tenor tones to work during "Plastic Alligator" and leads all of the Macys' clerks through a chipper and cheerful tune that will have you tapping your toes all through the number. It's Malek's interactions with R.H. Macy (Russell Sunday) that really instigate the humor that his character delivers, particularly every time he plucks Mr. Macy's last nerve. Their exchange during the courtroom scene, which ultimately leads into "That Man Over There"— one of the most bold and boisterously engaging numbers of the second act— clarifies the setup of this situation divinely.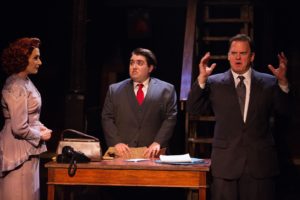 Sunday, as the booming persona of R.H. Macy is second to none with his comic timing, carefully delivered punchlines, and overall sensible approach to the character. With a robust voice that is both hearty and warm, he tackles "That Man Over There" with great gusto, giving it all of the holiday chutzpah needed to be a true success. Opening the show with "Big Ca-Lown Balloons", Sunday presents a smooth and jazzy spin to the showy number, warming the audience to both his voice and his character's personality before he goes barking off the deep end as so many top department store owners are wont to do at the Christmas season.
Christmas time is the time of year when the most unlikely people are brought together by that holiday magic, in this case it's dear doubting Doris Walker (Heather Beck) and funny, friendly Fred Gaily (Jeffrey Shankle.) Both Beck and Shankle are no strangers to the roles of Doris Walker and Fred Gaily, though both approach the characters as if this were their first time courting them. Beck brings to the table a severely closed-off austere woman who cannot be bothered with the nonsense of Christmas, fairytales like Santa Claus or anything along those lines, she's a busy Macy's executive, you see. But there is a softness, a natural maternal instinct that kicks in whenever Beck encounters the daughter character of Susan Walker (in alternating roles played by Camden Lippert and Lilianna Robinson.) Although the dynamic of Doris and Susan's relationship is not a traditional mother-daughter bond, there is a tenderness present in Beck when she addresses little Susan and when she sings with her. The most profound transformation of the show is delivered by Beck's character, in addition to her classic style of singing which is fondly reminiscent of the female crooning sorts of the 1940's, and it is a true miracle to watch her character discover, accept, and finally believe in the miracles and magic of Christmas.
Shankle, as the sprightly Fred Gaily, does his part to help break down the walls of Beck's guarded Doris character. With a charming voice that floats easily through "My Wish" and "Look, Little Girl" (among other numbers), Shankle is charismatic with just a hint of cheek, perfect for the era in which the story is set. Quick on his feet, perpetually smiling, even when things aren't exactly going his way, and good with the comedy, there is a lot to be said for his performance. Convivial of heart, character, and song, whether its sharing scenes with Santa Claus, little Susan Walker or her witchy mother Doris, Shankle finds all the right moments to make his character exist in earnest.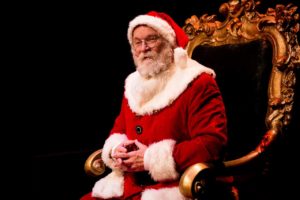 That man over there is Santa Claus, I know, I know, I know! Robert Biedermann 125 is Santa Claus, I know, I know, I know! There's no denying from his fluffy full authentic whiskers right down to the twinkle in his merry eyes that Biedermann is the true spirit of Christmas incarnate. A bit more svelte and slender than your average Santa, but twice as jolly and infinitely more spirited, Biedermann exudes the miraculous feeling that only Christmas can bring inside the minds and hearts of folk during the holiday season from the moment he steps onto the stage.
We all know by now that you've heard of the French Nation, and the great American nation, but it's time to embrace the 'imagi-nation' with the fun-loving folks at Toby's Dinner Theatre this Christmas season as they put forth their finest, most-spirited efforts to provide everything that Christmas is all in one spectacular show. Don't wait to purchase your tickets as over 90% of all remaining performance dates are completely sold out.
Running Time: Approximately 2 hours and 30 minutes with one intermission
Miracle on 34th Street plays through January 7, 2018 at Toby's the Dinner Theatre of Columbia— 5900 Symphony Woods Road in Columbia, MD. For tickets please call (410) 730-8311 or purchase them online.