It is the time of year for joy, love, and holiday traditions. One tradition that many people hold dear is a yearly outing to see A Christmas Carol, they pick from numerous theatres all playing the famous production and get their yearly fix of the British miser who changes his ways. It has been a long time since a new adaptation of the famous tale has come around, however at a small theatre in Annapolis that is exactly what has happened. Sally Boyett and Donald Hicken have adapted Charles Dickens famous story and present to you the World Premiere of their adaptation of A Christmas Carol at Annapolis Shakespeare Company. The adaptation itself stays true to Dickens original work and uses an ensemble that flows through numerous roles to tell the story. Boyett and Hicken have flawlessly told their story and make it a great choice for your yearly Scrooge fix.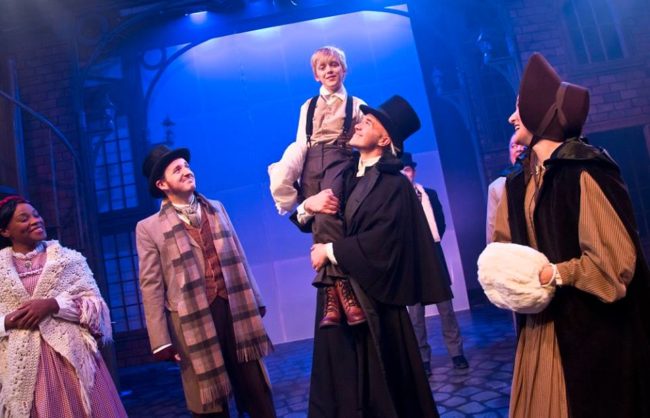 The atmosphere begins the moment you enter the theatre and head to your seat. There is the sound of Victorian music being played and a light fog filling the air. Salydon Boyken has done remarkable work as the scenic designer, the set leaves no doubt where you are in the world. Gray brick walls, gas street lamps, and a cobblestone floor immediately take you to Victorian London. Boyken also uses a spiral staircase to allow for a second level that adds great visual dynamic. To add to the set Projections Designer Joshua McKerrow has used the backdrop, that is bordered by a silhouette of rooftops, to showcase images and video to add to each scene. McKerrow has used mostly paintings that are by period artists, but also video for special effects such as the memorable door knocker transformation and a ghostly vision. To add to the scenery and projections Adam Mendleson creates the mood of the space as Lighting Designer. Each change in lights evokes new feeling and lets you know instantly what the mood is in the new location in each scene. With such a beautiful set to perform on it would do no good for the actors to come out poorly dressed, which is where Sandra Spence comes in as costume designer. She has clad the ensemble in beautiful Victorian pieces that allow them to move from one character to the next with just the addition or removal of one or two pieces of their costumes. The costumes of the spirits are especially noteworthy! Past is exquisite in a white gown and silver (lighted!) crown, Present is traditional in a long robe of gold and green, and Yet to Come is ominous in a long black cloak hiding his face.
Sally Boyett not only helped adapt the show, but was also Choreographer and Sound Designer! Her traditional dances added a layer of fun to the show and each performer seemed comfortable, joyous even, as they moved through the steps of the dances. As for sound, well, from the chains of Marley entering the show to the eerie underscoring of the final ghostly visitor Boyett has found just the right sound for each moment, she clearly has a great passion for this piece! Nancy Krebs has added dimension to the actors voices as their Voice and Dialect Coach. That's right, don't expect one standard accent for this show! Each class has their own dialect and the pronunciation of the words is very distinctly Victorian, an addition that is rarely seen in area productions!
Donald Hicken, the second half of the adaptation team and the director, has done a magnificent job breathing life into the performance. His actors navigate the stage well and each one flows naturally into each of their different characters.
The show is an ensemble piece, with each actor taking one "big" role and a series of smaller ones. Brian Keith MacDonald is the only actor who plays one role, which is natural as he is the man himself, Ebenezer Scrooge. While seemingly a young choice for the role MacDonald is a force to be reckoned with in the role. His rage at the beginning of the show is in great contrast to his reform and joy at the end that leaves him dancing. Throughout the show his fear, nostalgia, and sadness pop up allowing his vulnerability to peak through the cracks of a hardened shell.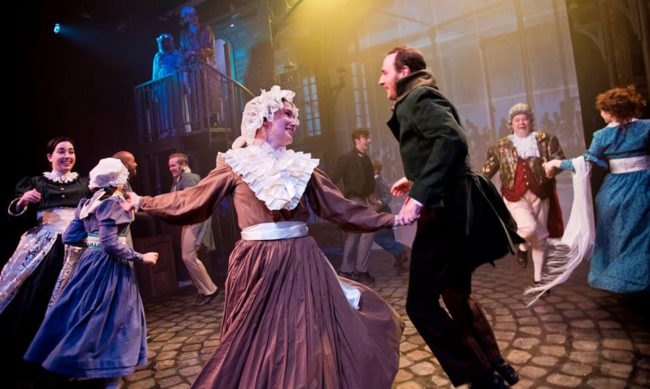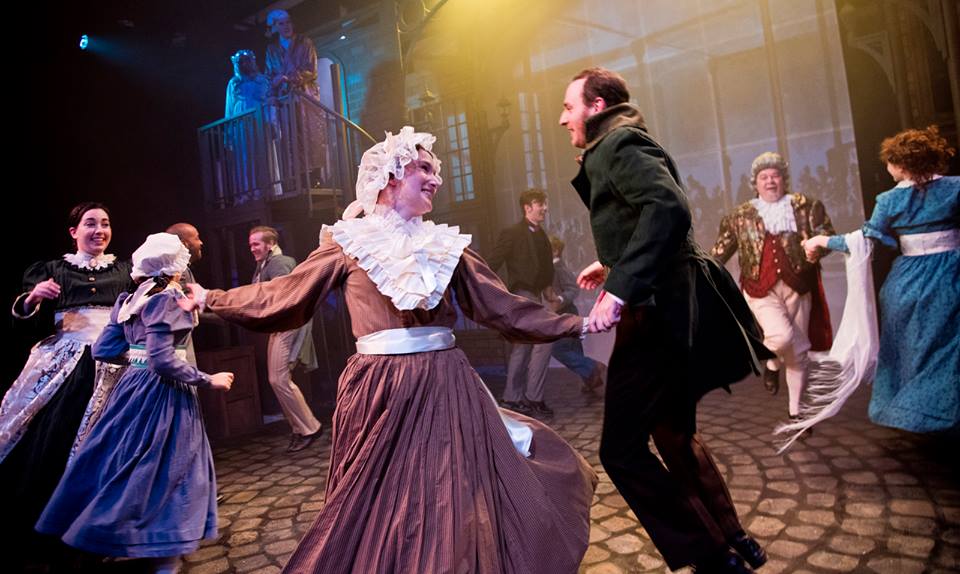 William Dennison takes on the role of Bob Cratchit, he portrays a quiet clerk who is steadfast in his want to spend Christmas with his family. He is optimistic and the epitome of a storybook father, his happiness is broken when speaking of his sons health and kind words a moment which Dennison allows to take over his voice and physicality beautifully. As his wife Mrs. Cratchit actress Laura Rocklyn brings the warmth of a mother just trying to do the best for her family and trying to make the holidays special. Though she has a moment of strength and anger at the mention of Scrooge, she quickly slips back into her warm nature.
Joseph D'Angelo takes on the role of Tiny Tim. D'Angelo is everything you could possibly want out of Tiny Tim. Kind, innocent, and cute as a button! You will feel your heart wrench watching him shuffle along the stage with his crutch and smile as you hear his signature "God Bless Us Every One". Dexter Hamlett takes on the role of Jacob Marley, he is remorseful and haunting (no, not just because he's a ghost). Hamlett portrays a man who truly regrets the life he led and wants to save his old business partner. He is well cast in the role and creates a very memorable performance.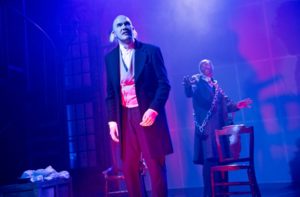 Of course there are many other remarkable performances throughout this ensemble! There is not a weak performance in the bunch. With so much to do during the Christmas season some things fall through the cracks, seeing this performance should not be one of them! It is a beautiful and classic retelling of an age old story. It will leave you full of love and hope, as well as walking around saying "Bah, Humbug!" for days! Get your tickets now, because once word gets out this one is sure to sell out!
Running Time: 1 hour and 45 minutes with one intermission
A Christmas Carol plays through December 31, 2017 on the Main Stage of Annapolis Shakespeare Company— 1804 West Street Suite 200 in Annapolis, MD. For tickets call the box office at (410) 415-3513 or purchase them online.