Welcome one. Welcome all! Welcome to the monster's ball! See it here— beckoning and shimmering! All agleam— glistening and glimmering! In Charm City where every fantasy is set free…the Baltimore sun rising by the sea and showing us the beauty underneath Andrew Lloyd Webber's much anticipated sequel to Broadway's most haunting love story. After negative reviews in its West End debut, and a rigorous overhaul in the Australia, Webber's masterpiece is here to dazzle the audience. The mesmerizing miracle of Love Never Dies lands in the first week of October at The Hippodrome Theatre, kicking off the 2017/2018 Carefirst Hippodrome Broadway Series. Truly a monster's ball, as all of the beloved characters from Phantom of the Opera have devolved into darkened creatures of the night, this remarkably astonishing work will please both Phantom fans and theatre enthusiasts alike.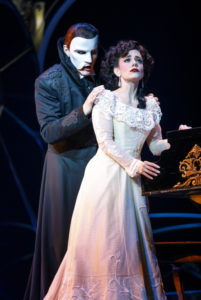 Spectacularly spellbinding, this dazzling new production draws you in with the ephemerally haunting strains of familiar memory. Andrew Lloyd Webber's dazzling score is ripe, wafting to waiting ears, laced ever so subtly with the iconic music of Phantom of the Opera while evolving into its own musical. Ten long years have passed since the beloved and wretched denizens of the Paris Opera House were last encountered, and if you're willing to suspend your disbelief in true theatrical fashion and accept that there was a world completely unbeknownst to us happening in that decade's difference, then you are ready to follow along with Webber and Librettist Ben Elton's (with Glenn Slater and Frederick Forsyth) new tale. A foreknowledge of Phantom of the Opera is useful but not entirely necessary as the musical does stand on its own outside of its predecessor, though is more enjoyable for those having experienced the original as there are many callbacks of haunting nostalgia, both in lyric, score, and line.
Embracing Love Never Dies for what it is, a continuation of Broadway's most haunting love story, audiences delve deeply into the sordid affairs of The Phantom of the Opera— now identifying as Mister V, and relocated to Coney Island where he has attempted to capitalize on the world of the Freak Show— Christine de Chagny <nee Daaé>— world famous and mother to Gustave— and Raoul, Vicomte de Chagny— a woeful roustabout whose gambling debts and drinking habits have ruined the pristine memory of him once held in popular opinion. Follow the labyrinth of their twisted tale alongside the ever desperate Meg Giry, and her brooding and foreboding mother, Madame Giry, both now in the Phantom's employ at Coney Island, as well as a series of newcomers, including the trio of horrific henchmen: Fleck, Gangle, and Squelch, performers in Phantasma.  
Webber has picked the right timeframe and location to explore his darker tendencies. With the visionary assistance of Costume and Set Designer Gabriela Tylesova and Lighting Designer Nick Schlieper, the revolting beauty beneath Coney Island in its hay-day and all that encompasses is electrified to life. Tylesova captures the essence of the eerie, particularly with the derelict yet ominous half mask that glides into place, overarching the set whenever we've stepped into the main space of Coney Island. The twisted turning roller coaster track is as delightfully distorted as it is breath-taking, doubling up symbolically for all the twists and turns upon which the audience is about to embark. Schlieper uses the blackened canvas across the backdrop to illuminate the notion of the topsy-turvy carnivalesque atmosphere of Coney Island, sensationalizing the experience every time a dizzying number— like "The Coney Island Waltz"— gets underway. Tylesova, Schlieper, and Webber work together to create a grotesquely beautiful masterpiece of movement; they've fabricated a fantastical phantasm, a carousel that never stops turning, much like the consequences of life.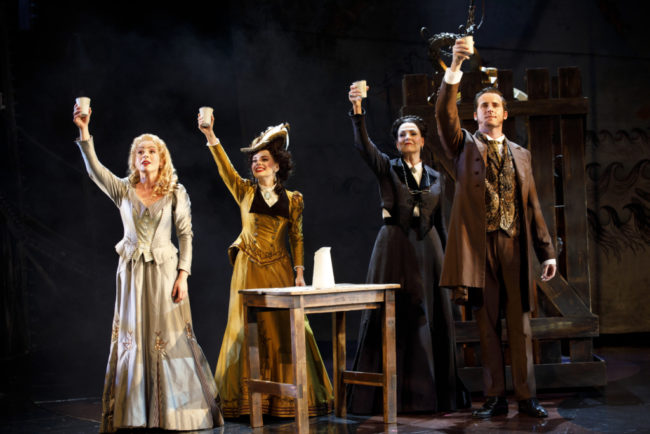 Tylesova's sartorial selection for the production flirts with echoes of the original Phantom of the Opera costume design work, showcasing most of the eye-catching outfits among the performers inside the Phantom's Phantasma. Recapturing the iconic look of The Phantom, with his long cape and white mask, Tylesova approaches the core characters' costumes from a place that best echoes their past while aligning with their present situation. The peacock affair, which Christine wears to perform the titular song, "Love Never Dies", is ravishing, and well suited for both the actress and the number in which it is featured. Assisted in her endeavors by Backstage Artistry, responsible for Wig and Hair Design, Tylesova does an impressive job handling the swimming costumes, especially the six breakaway layers featured on Meg during "Bathing Beauty", a number which out of context would appear to come so far out of left field it might as well be from a different show entirely.
The show itself is narratively strong. There is an intriguing tale with a lot of the elements— surprise, mystery, desperation, need— from Phantom of the Opera to captivate the audience once more, but also newer afflictions to these characters to discover. There is a deeply flawed humanity that explored in great detail among these well-recognized faces, that of Meg Giry, Raoul de Chagny, and Madame Giry being the most intriguing as they were previously painted as static but functional characters from the show's predecessor. There are new discoveries, old flames, and everything in-between imaginable, all set against the hypnotic spectacle of Coney Island.
Young Gustave (at this performance Casey J. Lyons) is a critical component around which a major plot point revolves. Lyons dulcet male soprano sound is otherworldly, not unlike the original "Music of the Night." When he sings for the Phantom, leading out of "Beautiful" and into "The Beauty Underneath" its jarring in a spine-tingling and breathtaking manner. The delicate innocence that Lyons imbues into the portrayal of Gustave is also quite striking. Hearing the way his voice partners and pairs with Christine during duets like "Look With Your Heart" and "Mother Please, I'm Scared", incites a tenderness toward the character even if his initial reactions to the Phantom are quite ghastly.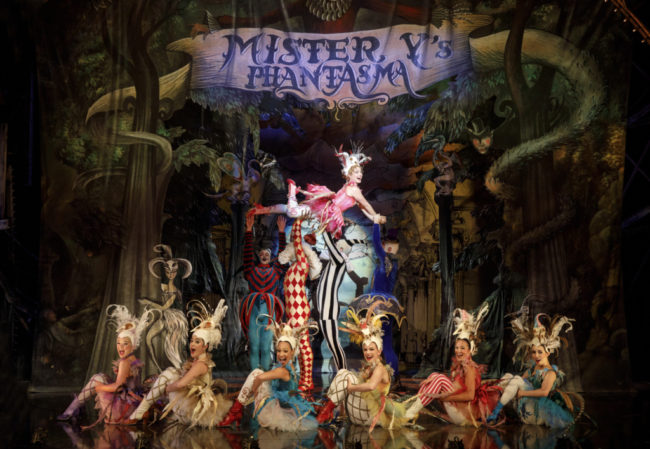 With more vocally prominent features than their characters received in Phantom of the Opera, Meg Giry (Mary Michael Patterson) and Madame Giry (Karen Mason) put a great deal of their storyline forward through vocal expression. Mason, playing the rigid and austere Madame, has an unyielding sound that bellows through "Ten Long Years", a shocking way to conclude the first act of the show. When paired in a moving quartet— "Dear Old Friend"— which bares striking musical resemblance to "Notes…/Prima Donna" from Phantom— with Patterson's Meg, Raoul, and Christine, there is something pungently unpleasant about her disposition, which reminds audiences of how bitter her character is and has always been.
Patterson, as the dippy little dancer girl Meg, is the star of the show, nearly, almost. Bouncing about in her swimming costumes for "Bathing Beauty" she wins the hearts of everyone with her silly smile and bubbly vocalizations. (A nod of praise would not go amiss here to Choreographer Graeme Murphy Ao.) Despite this lovely number, and her effervescent enthusiasm during "Only For You", the true performance that Patterson gives which is worth noting occurs during the final moments of the production, leading up to the drastically shocking conclusion. Her performance in those moments is gripping and emotionally eviscerating.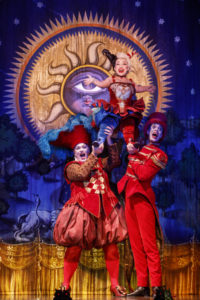 Squelch (Richard Koons), Gangle (Stephen Petrovich), and Fleck (Katrina Kemp) are the faces of the beauty underneath. Serving as henchmen and hosts to the horrors that await inside this new Phantom's opera— Phantasma— this trio of curious clowns is likely to spin you on your head. Looking mischievous and interesting, they set the show spinning, quite literally, during "The Coney Island Waltz" and are most fascinating to watch, particularly in the way they execute movement when entreating individuals to Phantasma. Petrovich, as the lanky stick that moves with a wobble as if he were made of stretching bands without bones, is a wonderful Gangle, gyring about the stage with a most menacing snarling smile. Katrina Kemp, as the ferociously fancy Fleck, is equally entertaining to watch, particularly when she heads up the most jaw-dropping piece of scenery: a steam-punk inspired carriage that wheels about without horse.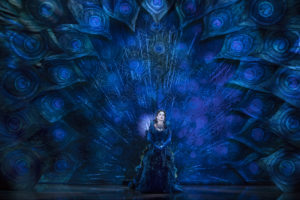 Twisted every way, Love Never Dies introduces us to a darker, less composed version of Raoul (Sean Thompson) the Vicomte de Chagny, than previously experienced. Thompson addresses the disheveled and decomposing character with grit and panache, at first arrogant and strident in his entire attitude toward arriving on Coney Island. Vocally pristine, particularly when facing off in the daunting and deliriously engaging "Devil Take the Hindmost." Changing his emotional tune, Thompson unearths a sincerity in Raoul for "Before the Performance" in an attempt to remind Christine of how pure his feelings for her once were. Paired up against the incomparably talented Meghan Picerno as Christine, Thompson creates a dynamic and somewhat caustic performance that really sparks a catalyst of intricate explosions in this production.
Having previously played Christine in a Broadway production of The Phantom of the Opera allows Picerno to readily address the character's rich history, fitting her exceptionally well into the precise moment where the character finds herself now. Picerno's voice is stellar, a soaring operatic soprano that lends itself to the quality of music Webber has set forth the Prima Donna's next leg of the journey. Melting into the tender moments with Gustave, like during "Look With Your Heart", there is a tender and maternal side of Christine that Picerno presents to the audience that is sublime. "Beneath a Moonless Sky" and "Once Upon Another Time", two striking duets performed with The Phantom (Gardar Thor Cortes), become harrowingly emotional songs where Picerno outpours Christine's heart. But the true show-stopping 11 o'clock number, "Love Never Dies" is her moment of magnificence; this haunting melody will linger with you from the moment she sings it fully (in her lavish peacock gown) straight through the show's conclusion and long after, becoming the new "Music of the Night."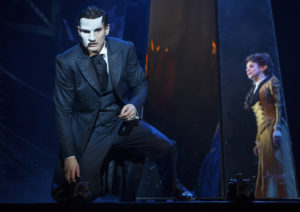 Devil take the hindmost, and Gardar Thor Cortes takes it all as the face and voice of The Phantom. Charismatic, charming, deceptively twisted, Cortes masterfully delivers the soul-searing agony that accompanies the character through "'Til I Hear You Sing", a song that sounds as if it were ripped directly from the original The Phantom of the Opera. Still as haunting and mesmerizing as ever, though now even more thoroughly complex and complicated, Cortes' Phantom is praiseworthy far beyond what words could do justice. "The Beauty Underneath" is an evocative and blindsiding number, with a very heavy rocker score attached to it, the plunges the depths of the Phantom's soul and Cortes handles this as well as he does those more ballad-like in their compositional nature. Phenomenal and wearing the Phantom's mask as a badge of honor, Cortes has created a name for himself in this new Phantom's opera.
You won't have ten long years to wait, Love Never Dies is here now. But it's only here through October 8, so grab your ticket to the Monster's Ball and see the beauty underneath all of the shining, flashy spectacle.
Running Time: Approximately 2 hours and 30 minutes with one intermission
Love Never Dies plays through October 8, 2017 at the France-Merrick Performing Arts Center— 12 N. Eutaw Street in the Bromo Seltzer Arts District of Baltimore, MD. For tickets call the box office at (410) 752-7444 or purchase them purchase tickets online.