The movie-turned musical has become a prevalent trend in today's world, but The Bridges of Madison County is unlike most musicals in the same family; it breaks the mold and offers the audience an emotional, rich story filled with phenomenal music. Based on Robert James Waller's 1992 novel, which was adapted into the 1995 film starring Meryl Streep and Clint Eastwood, The Bridges of Madison County is a rich, profound love story that transcends the page, stage, and screen. The Bridges of Madison County, with a book written by Marsha Norman (The Secret Garden, The Color Purple) and music and lyrics by Jason Robert Brown (The Last Five Years, Parade, Songs for a New World), was the winner of the 2014 Tony Award for Best Musical Score and Best Orchestration.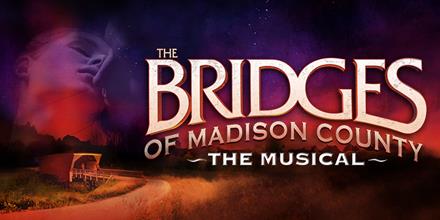 The story starts with a focus on Francesca, an Italian war survivor and Iowa house wife, who is seemingly happy with her simple life at the start of the show. The ensuing love story starts when Robert, a National Geographic photographer, drives up to Francesca's farmhouse to ask for directions to one of Madison County's covered bridges that is off the beaten path. Because Francesca's husband, Bud, and children, Michael and Carolyn, have left to stay at the state fair for a few days, the two have the time and opportunity to learn about each other and fall in love. This type of story and style of musical are demanding to attempt and succeed at, but Dundalk Community Theatre has created an elegant, gorgeous, and focused production that is full of remarkable voices, stellar acting, and truly beautiful moments.
The technical aspects of this show are a sometimes a mixed bag, but the lights and set are wonderful additions to a strong production. Mark W. Smith serves triple duty as the Scenic, Lighting, and Sound Designer, and his contributions to the show serve the production very well. His creative, minimal-yet-effective set design allows for very quick transitions and beautiful scenery as he brings scenes like the Iowa State Fair, The Johnson farm home, and the gorgeous Roseman Bridge alive on stage. The 1960's were effectively brought alive on the DCT stage thanks to both Mark W. Smith and Properties Manager, Amy Vickers, with functioning, retro-refrigerators, stoves, cameras, and floral wallpaper. Stage Manager TraceyAnn Tokar Smith and the run crew should be recognized for near-flawless set changes that kept the story and scenes flowing throughout the night.
Smith's careful lighting choices aid scene transitions, and include special effects like train lights and working lamps on stage to add to the ambiance. He creates truly beautiful scenes throughout the show while mixing appropriate color, texture, and lighting to enhance the emotional atmosphere on stage. Sound issues were the only problems present for an otherwise strong production. One hopes that either CCBC Dundalk or DCT can find a way for the amplified performers to be clearly heard; it was obvious that the performers on stage were clearly dictating and articulating, but it was difficult to understand lyrics in sung passages due to the muddy sound coming from the speakers and some balance issues where the ensemble overpowered the soloists. Hearing every word from the performer is essential in a show like The Bridges of Madison County because of Jason Robert Brown's almost recitative-like passages that divulge a lot of what the characters are thinking and feeling in a short amount of time.
Todd Pearthree deserves high praise as the production's director. The production as a whole is incredibly successful, and it is only enhanced by Pearthree's work in staging and with his actors. Pearthree's staging is clever and thoughtful, and its success starts at the beginning of the show during the song "To Build a Home," where Pearthree creates efficient, yet telling, vignettes to give the exposition of Francesca Johnson's life choices in a short amount of time. Pearthree's movement and careful planning with this show and its requirements are evident throughout this production. Glenette Schumaker serves as the production's Musical Director and pit conductor, and she has done a fantastic job with the voices and instruments in this show. The orchestra is integral to telling this story as most of this show is sung rather than spoken, and the pit orchestra is spot-on and dynamic from start to end. Schumaker's work with the strong ensemble of singers and dancers is on display in their singing numbers like "To Build a Home" and "You're Never Alone" where they sing in perfect harmony and with a very well-blended sound.
There are wonderful performances throughout the show, and Francesca's family, comprised of her husband Bud, son Michael, and daughter Carolyn, is portrayed by three strong performers. Jeff Burch gives a strong, honest performance as Richard "Bud" Johnson, Francesca's husband. His talents are on display from the very beginning, but his vocals and acting prowess are prominently displayed during the song "Something From a Dream." The audience is treated to a clear view of the deep affection and love Bud has for his wife in this number. Both William Bryant and Emily Signor give wonderful performances as the Johnson children, Michael and Carolyn. They are both funny and moving throughout their scenes, and their integral parts in the songs "Home Before You Know It" and "You're Never Alone," along with their father, make sure the audience does not forget these vital characters in the Francesca and Robert love story. All three of these actors deserve high praise for their performances as they are remarkable and believable in their portrayal of this close-knit and caring, yet imperfect, family.
Tiffany Walker Porta Burrows and Ken Ewing give stand-out performances as the Johnson's neighbors, Marge and Charlie. They are endearing and genuine, and they offer a needed dose of light humor throughout the show. Both hold their own vocally, and their scenes are delightful and heart-felt as the relationship the two have is honestly portrayed. Ariel Edler, as Robert's ex-wife, Marian, and Jackie Rebok, as the singer at the State Fair, both add to the surplus of enjoyable vocal performances this production has to offer. Lillian Blank displays her dancing ability throughout the show both in the ensemble and as Francesca's sister, Chiara.
Though this production features strong performances throughout, the stand-out performances of Nancy Asendorf and Tom Burns as Francesca and Robert are remarkable. Nancy Asendorf gives a vocally and emotionally moving performance as the show's lead, Francesca Johnson. Her voice soars to that of an operatic soprano through songs like "Almost Real," and it contrasts nicely with her softer, more emotional moments as well. Asendorf's heart-felt performance draws the audience in immediately and doesn't let it go until the curtain call. Tom Burns, as photographer Robert Kincaid, is passionate, charming, and convincing as he meets and falls for Francesca. His impressive vocals are effortless and powerful throughout the show, and his final number "It All Fades Away" is a truly memorable moment in the performance.
Dundalk Community Theatre's production is filled with some of the strongest vocal and acting performances this area has to offer. One must simply see DCT's production of The Bridges of Madison County to witness this wealth of talent on one stage in a truly beautiful, moving, story.
The Bridges of Madison County plays through November 5, 2017 at Dundalk Community Theatrr at CCBC Dundalk— 7200 Sollers Point Rd. in Baltimore, MD. For tickets call the box office at (410) 285-9667 or purchase them online