Ding Dong! Hello! My name is Elder Gunther and I would like to share with you— the most amazing musical. Ding Dong! Hello! My name is Elder Bloom; it's a musical about America a long, long time ago— dating all the way back to 2011! It has so many awesome parts you won't believe how much this musical can change your life! Ding Dong! Hello— we're all going to die someday, but if you see this musical, we can fully guarantee, that this musical will change your life— why it's the— The Book of Mormon! Directly from Broadway after unprecedented successes at the Tony's, now on its second National Tour, the highly satirical musical comedy, divined from the enigmatic brains of Trey Parker, Robert Lopez, and Matt Stone pulls into Washington D.C. at The John F. Kennedy Center for Performing Arts for a limited four-week engagement! And there are still a few tickets left!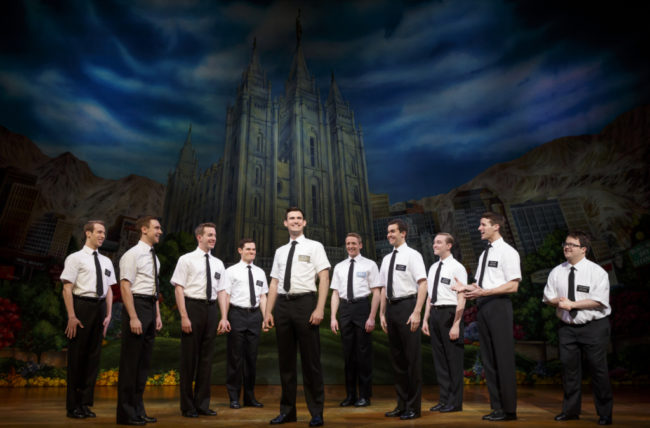 With Music, Book, and Lyrics, comprise, composed, and concocted by Parker, Lopez, and Stone, the musical itself reads like the raunchiest, filthiest, most offensive episode of South Park turned live in the history of histories. It offends everyone to the point of being so offensive that it becomes genuinely hysterical. Directed by Casey Nicholaw and Trey Parker, this extremely energetic and talented cast takes this wickedly raunchy musical and carries it to a heavenly level of excellence, making it a must-see for the limited time in which it appears in the nation's capital.
Aesthetically the show is stellar; there is nothing to complain about, not even in the slightest. Scenic Designer Scott Pask frames the stage with a giant glowing Mormon Tabernacle, enhanced with blinking lights to match each major musical number (added by Lighting Designer Brian MacDevitt.) Pask's other fantastical set elements enable the easy transport from the comforts of the LDS Church Missionary Training Center to the perils of deconstructed Uganda in the blink of an eye. The authentic vibe of the deserted wasteland is again augmented by MacDevitt's illuminating tricks. MacDevitt and Pask work hand in hand during a bunch of the major musical numbers to amp up the energy and enthusiasm, getting lights blinking throughout the set in time with the music, adding just the right amount of spectacle to the show to make it truly sensational.
They say a lot of different things about what makes a musical a success story when it comes to Broadway. In this case, Casey Nicholaw's brilliant and labor-intensive choreography— which borrows moves and dance styles from every major musical dance style seen on Broadway in recent and historic years— is one of the solid gold factors that make this show a success. Numbers like "Spooky Mormon Hell Dream" go all out in the choreographic and costume department (a huge nod to Costume Designer Ann Roth for all of her brilliant and breathtaking sartorial selections featured all throughout the production but especially in this musical number) to give the audience the true razzle-dazzle Broadway experience. High octane intensity pulses through every group dance number but there is also a refined finesse and polished panache that accompanies these indefatigable dance routines, which supercharges the energy for the rest of the show. Nicholaw's phenomenal choreography is best witnessed in "Turn It Off", which features tapping, true old-school Broadway moves, and a jaw-dropping costume change that has the audience roaring. "All American Prophet" and "Man Up" are just two more examples of Nicholaw's flawlessly invigorating choreography; the man's moves motivate the show tenfold and make it the ultimate Broadway musical experience.
Doing all of the intense movements that Nicholaw throws into place over the course of the performance, the ensemble of this current tour of The Book of Mormon are blessed with an exceptional energy from heavenly father up above! Fueled with a frenetic fire that just blazes, whether they're chanting and stomping in an almost tantric-inspired and savage physicality through "Hasa Diga Eebowai" or bouncing with unstoppably saccharine glee all through "Hello", this ensemble has got it going on to say the least. There are so many extraordinary moments all throughout the production, particularly once the show moves into the village in Uganda, that you won't be able to tear your eyes away from everything that's happening, even if it is racy, raunchy, and uproariously offensive.
Featured performers among the ensemble well worth praising include The Doctor (Johnny Brantley III), who is made infamous for his absurd bellowing of the iconic line "I've got maggots in my scrotum", Mafala (Sterling Jarvis), who is the tough village leader and father to Nabulungi, and the ferociously heinous General (Oge Agulué), who is terrifying and yet simultaneously hilarious (in what is meant to be a black parody of warlord generals in sub-Saharan Africa.) Though Agulué never has a singing solo of his own, until "Hello (Reprise)", his bombastic presence will ensure that he won't soon be forgotten. Jarvis, who starts off the widely recognized "Hasa Diga Eebowai" and carries it fully with a rich voice and strikingly dissonant cheer, is a great character performer for this and several other numbers in which he is featured.
Ron Bohmer, who wears at least three named character hats, meticulously tackles the older character man track with ease. Playing the booming disembodied voice of the Missionary, Elder Price's Dad, Joseph Smith, and the Mission President, Bohmer has his work cut out for him. Though his most memorable role is likely to be Joseph Smith— between "All American Prophet" where he gets to participate in all of the ridiculous rocker dancing that is happening in this number, and "Making Things Up Again" where his silent scenery chewing is hysterical— Bohmer holds his own in the other roles as well, making him a powerfully well-rounded character man.
Scene stealing, sparkle-showing, sassy, fierce, and fabulous are all the words that get lauded onto Elder McKinley (PJ Adzima), even if he has to squash all of those things down deep inside of him. With a spry vocal warmth that just springs into action for his big number, "Turn It Off", Adzima is an honest hoot rolling into this routine. With a sassy sashay that glows through the blackouts, Adzima is fierce and fabulous, strutting his stuff all through this high-humored parody style number and his tap skills, jazz hands, and overall dancing abilities are divine. Over the top in a scene-stealing fashion, Adzima takes the cake in this number, all but stopping the show with his fabulous glee and joy, which is so gloriously gay chipper and cheerful that he's all but flying off the stage by the end of the routine.  
Nabisco. Neutrogena. Nicki Minaj. They never get poor Nabulungi (Kim Exum)'s name right, but hope springs eternal in her eyes, her physicality, and her sublime voice so it doesn't really matter what you call her. Bubbling with a beautiful desperate joy and clinging to hope in "Sal Tlay Ka Siti", Exum's stunning voice is awash in earnest emotions, a rare and honest moment in this absurdly insane farcically charged parody-satire. With a powerful and pure vocal sustain in this number, and a harrowing echo with a completely different emotional sentiment in "Hasa Diga Eebowai (Reprise)", Exum puts the audience under her charming and coquettish spell. But it's the ridiculously over-the-top interactions she shares with Elder Cunningham (Conner Peirson) in the lead-up to and then all through "Baptize Me" that really has the audience rolling in the aisles. This number features more of Exum's sublime voice, but in a humorous vein, and the raunchily innocent dance moves that pop out of both her and Peirson are to die for.
Spastic, charged like a chipmunk on crack, and ridiculously hilarious, Conner Peirson as Elder Cunningham packs a walloping punch of poignant humor that will not quit. Peirson delivers a surprising depth to the character in addition to balancing all of his quirks and hilarious moments, earning several 'aww's' of pity from the audience during more somber and solemn moments that his character faces. When it's Peirson's turn to man-up for the number "Man Up", he steps up, mans up, and slays that number making it his absolute bitch. With powerhouse vocals that roar through the number and dance moves that would rouse Michael Jackson from the dead just to watch, Peirson owns this portion of the show and really gives it to the audience hardcore.
Paired off perfectly with the rather salty, albeit unintentionally, Elder Price (Kevin Clay), Peirson's Elder Cunningham is the delightfully clingy mess that serves their unbalanced relationship to perfection. When Clay starts belting his way through "You and Me (But Mostly Me)"— a song which defies gravity in its musical sense— Peirson adds the perfect amount of shadowed background harmonies and blends, really letting the hilarious notion of Clay's character hogging the spotlight shine through (because nobody in all of Mormondom is ever gonna bring him down.) Their sweet and adorable lullaby type duet, "I Am Here For You", which is predominantly led by Peirson, is truly telling of how friendship can be established even in the most unlikely of pairings, and this sentiment is well and truly echoed again in the song's reprise. Even when their character's friendship falls apart the pair are perfectly paired and work the ever-changing dynamic of that with honesty that fits into the lunacy of the show's working satire.
Kevin Clay, as the go-get-em-tiger Elder Price really shines in his character's diva moments, like the featured solo sections of "You and Me (But Mostly Me)", where he wails away those top tenor notes and belts his face off, fueling the song with all of the uncontrollable emotional urges welling up inside of him. Practically flying off the stage and directly into the house with combustible excitement, Clay gets "All American Prophet" rolling with such enthusiastic energy that it's being touched by several holy spirits all at once and needs a hint of divine intervention just to settle it down at the end of its run. Channeling that Donny Osmond flare for this number, Clay goes at the number full force and doesn't back down, really making a good and proper show of it and his sensational vocal abilities. Despite being a dick, Clay's character finds moments of great redemption and salvation, which are heard in all their heavenly beauty during "Orlando" and "You and Me (But Mostly Me) Reprise", which teaches the true message of the show: it doesn't matter what you believe, so long as you believe in one another and stick together.
This musical— will change your life! Ding Dong! So don't wait to go out and see it! Slam the door— on your way out to see The Book of Mormon at The John F. Kennedy Center for the Performing Arts!
Running Time: Approximately 2 hours and 30 minutes with one intermission
The Book of Mormon plays through November 19, 2017 on the Opera House Stage at The John F. Kennedy Center for the Performing Arts— 2700 F Street NW in the heart of Washington, DC. Patrons interested in tickets are encouraged to check the box office for last-minute availability and can do so by calling (202) 467-4600 or by checking online.