Adventures are supposed to be dangerous and exciting, captivating and wondrous! Filled with never-ending adventures, Synetic Theater brings to the stage their very own adaptation of J.M. Barrie's iconic adventurous classic Peter Pan. Directed by Paata Tsikurishvili, with Co-Direction and Fight Choreography by Vato Tsikurishvili and Choreography by Irina Tsikurishvili, this stage production— The Adventures of Peter Pan adapted by Ed Monk and overseen by the Creative Team of Marley Giggey and Tori Bertocci— has fighting, flying, dancing, and wondrously strange magic to captivate all manner of audience members. There's daring pirates with sword fights, a crocodile, and most importantly Peter's Shadow!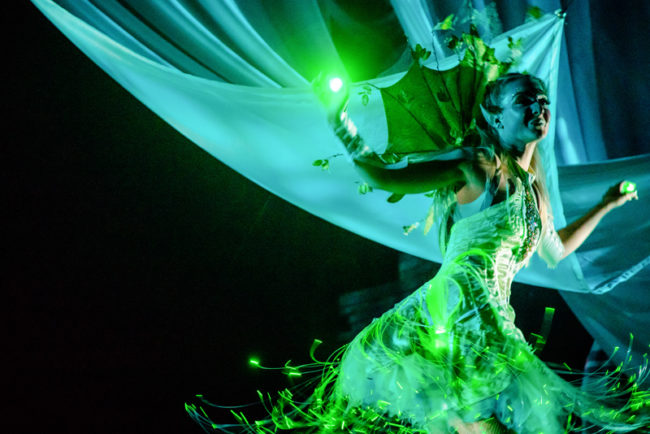 A step away from their usually non-verbal performances, Synetic Theater has embraced dialogue exchanges for this particularly production. That is not to dampen or lessen the visually stunning experience that accompanies The Adventures of Peter Pan, which is not only aesthetically striking but pure poetry in motion. Starting with an unusual approach to the traditional tale, audiences find Peter Pan (Alex Mills) mourning at the gravestone of his sister. (Who knew Peter Pan had a sister?) This is a tremendously clever spin on the tale as Peter's shed tears awaken the 'stone' statue resting behind the gravestone, transforming and transferring the spirit of his beloved sister into the sprightly faerie Tinkerbell (Ana Tsikurishvili.) It's hard to say what is more impressive when it comes to Miss Ana Tsikurishvili, her playful nature and fluid movements which mimic a true pixie-sprite or her marvelous costume, which lights up and glows at all the right moments. Tsikurishvili is as delightful as she is whimsical, flitting about with very expressive facial features and body language.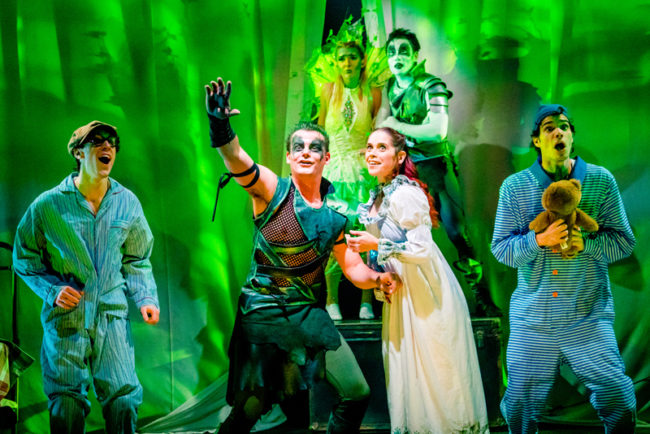 The set, a fabrication by Scenic Designer Daniel Pinha, is fit for this fantasy adventure, with scenes from Neverland and the foreboding pirate ship of Captain Hook, audiences are not left wanting when it comes to the aesthetic of the show. Melding these picturesque playground pieces, which are even more brilliant when the lost boys on their scooter-bikes come rolling into play, against the wild and wondrous costumes concocted by Costume Designer Kendra Rai creates a visually masterpiece, which encourages activating nd engaging the audience's imaginations for this performance. Even the adults in the house are able to take this perilous yet remarkable journey thanks to all of the brilliant visual stimuli provided by the house creative team working on the production.
But it's Choreographer Irina Tsikurishvili masterwork that sets the show apart from your ordinary fairytale. Combined with the work of Resident Composer Konstantine Lortkipanidze, Tsikurishvili's signature interpretive dance routines are what transform this staged telling of Peter Pan from an ordinary adaptation to an extraordinary and mesmerizing experience. This is particularly true when it comes to Peter's Shadow (Zana Gankhuyag) whose dance moves and ordinary movement mimics everything that Peter does and then some. Providing an aural smorgasbords of musical flavors to which Tsikurishvili can set her dance routines, Lortkipanidze's soundscape for the show is as versatile as it is intriguing. There are tranquil and serene sounds as well as adventurous and tumultuous ones, all of which culminate in this wildly inescapably delightful journey from beginning to end.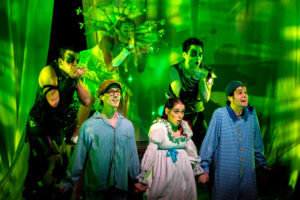 Quite British in their sound, and eager in their youthful exuberance, the Darling Children are the perfect addition to the production. John, Michael, and Wendy Darling— played by Thomas Beheler, Scott Whalen, and Kathy Gordon respectively— are as lively and sprightly spirited as Tinkerbell herself, though they be but mortal English children. Whalen in particular, who is so filled with enthusiasm and anticipation over going to Neverland that he appears to nearly pee his pants on stage in the nursery, these performers all share the same enthusiasm as "The Losts" which includes Nate Shelton, Anna Lynch, and Tootles, playing the named Nibs, Slightly, and Tootles, respectively. There is much merriment to be had in Neverland, whether you're one of the Losts or one of the Darlings, and it's all brought together by the enigmatic and effervescent Peter Pan (Alex Mills.)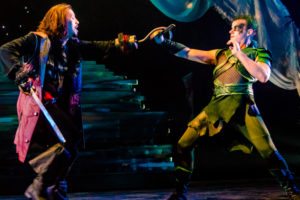 But what is a Pan without a nemesis? And who better a nemesis than the ruthless and daring Captain Hook (Ryan Sellers)? Flanked by his first mate, Smee (Nathan Weinberger, whose costume accessories make his tummy just too humorous for words) and a band of other rowdy such pirates, they have quite the daring set of adventures, which include precision sword fights with crackling and ember-shooting cutlasses (whose authentic SFX when clanged together really are quite superior and impressive to behold!) The grumbly pirates dance equally as well as the spirited Losts, and really everyone in Neverland, making the whole adventure a worth-while experience.
There is so much happening on the stage; mostly it is pure magic and sheer wonder, but also a story unfolding for your eyes and ears. Synetic Theater's The Adventures of Peter Pan is as whimsical as it is wondrous, as daring as it is delightful, and as perfect as it is passionate. Don't wait to get your tickets before this gem sails out and way for Neverland for good!
Running Time: Approximately 1 hour and 45 minutes with no intermission
The Adventures of Peter Pan plays through November 19, 2017 at Synetic Theater— in the Crystal City Shops at 1800 S. Bell Street in Arlington, VA. For tickets call the box office at (866) 811-4111 or purchase them online.