We live in a time in history where it is almost impossible to find a new take or a new viewpoint on anything, especially something as talked about and scrutinized as the Civil War. But this is Shiloh and if you have the opportunity to head to downtown Annapolis this fall that is exactly what you will get and you will even get some laughs along the way! In a small 360° theater just off State Circle, The Colonial Players are tackling a big subject whilst performing Doris Baizley's Shiloh Rules. Under the expert direction of Beth Terranova audiences are taken on a comedic and thought provoking journey through the world of Civil War reenacting and learn that not all of the wars battles were left in the past.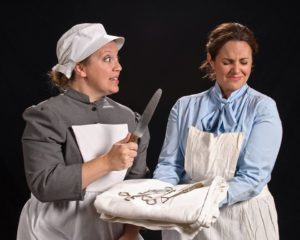 The moment you enter the theater and take your seat the feeling that you are in just a small area of a large park surrounds you. Director Beth Terranova also takes on the role of Set Designer, and with the help of Set Painting Designer Jane Wingard, she makes sure that her audiences feel like they have been transported to a small clearing in Shiloh National Military Park. With a simple, yet effective set consisting of real tree logs, tree roots that puff out perfectly timed fog, and beautiful backdrops by Wingard, it is not hard to imagine the world Baizley's characters inhabit. Adding to the environment sound designer Ben Cornwell does a stunning of job of adding to the immersive experience by having a constant soundtrack of nature sounds playing from the moment that you walk in to find your seat. The simple yet familiar sounds that Cornwell chooses to score the play truly enhances the experience, especially when added to Alex Brady's lighting choices that manage to capture not only the journey through the day but also the emotion.
Full of authenticity in its costumes for the reenactors and props that looks as though they have been pulled out of a museum, Shiloh Rules is a beautiful work of art from the design to the direction. If a show driven by pure female power is what you are looking for this season, then look no further. Director Beth Terranova has put a whole lot of heart into her interpretation of Shiloh Rules. Her actresses move beautifully through the humor and transition to heart wrenching moments of clarity then back again flawlessly. It is hard to direct a true ensemble show where no character seems to take precedence more than any of the others, but Terranova has managed to make each actress shine in what appears to be a perfectly cast performance.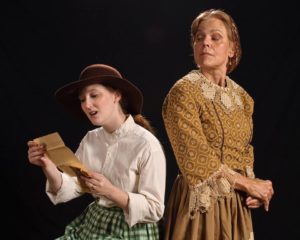 Carrie Brady brings spunk and dedication to LucyGale Scruggs a newcomer to the reenactment scene. Clearly itching for the action that only men get to see, both historically and because women have been banned from the fighting at the Shiloh reenactment, Brady takes a character that has the potential to be a one note tomboy eager to battle the mundaneness of everyday life and brings you along the ups and downs of realizing that perhaps it is best to leave the past where it is. There is very realistic honesty and hope in Brady's portrayal of Scruggs and her hope that the South can win the war still that it is not hard to picture being on the minds and faces of the young men who fought in the Battle of Shiloh.
Scruggs is the protégé of seasoned reenactor and her idol Cecilia Delauny Pettison, portrayed by Meg Venton. From the moment she enters the stage Venton brings to life a character that almost doesn't seem real; from her perfect posture to her hand twitches to her perfect southern lady composure you spend the play wondering if Pettison is just a dedicated reenactor or perhaps a true ghost of the Civil War come back to relive her demise. If you think you are going to make it away without tissues Venton has another thing coming for you, she has a very beautiful and heart wrenching moment dedicated to the unknown soldiers buried in the trench where the majority of the plays action takes place.
There are two sides to this battle, and while Carrie Brady and Meg Venton are strop opponents on the side of the south, the north does not disappoint with its retaliation. Meg Barton is a failing nursing student hoping to get extra credit, actress Laura Ivey keeps it real with her portrayal of Barton. Not expecting the battle to be nearly as bad as it was Ivey shows a character who while being scared because "even real girls get scared", when the time came to tend to the wounds of her fellow newcomer on the opposing side LucyGale Scruggs pulled it together to help someone in need. Dropping the need of the North vs South and realizing in a beautiful moment of clarity that it didn't matter, Ivey delivers a true performance that will keep you laughing with her reality checks to her mentor that at times are reminiscent of the witty remarks from televisions "The Gilmore Girls".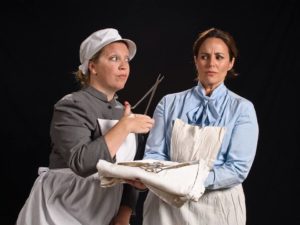 To help her along the way Meg Barton has her mentor Clara May Abbott, portrayed by Jamie Erin Miller. When the "Angel of Antietam" first enters the stage she is relentless in her quest to uphold the authenticity, however her excitement in sharing how she won her title of "Angel of Antietam" is contagious. Miller portrays a character who is envious of her rival Pettison because she believes that Pettison has "been" to 1862 something that Abbott wants for herself. Her optimism and excitement for the battle is beautifully contrasted by her "I was there" moment in Act 2. A moment that leaves her screaming for the fighting to stop and begging for her protégé to come back to reality. Miller delivers a flawless performance that flows from feeling to feeling taking you along the emotional journey that her character goes through in the matter of just a few hours, in the world of the play.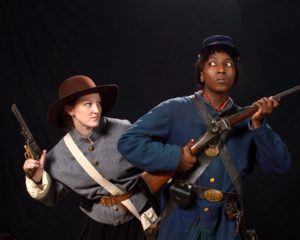 Originally starting on no one's side, except the side of her job and Shiloh Military Park itself, Ranger Wilson enters the show reminding the other women that what they are doing isn't real. Ashley Spooner delivers a memorable performance in her portrayal of the ranger who just wants the event to be over. From her start as uptight and angry to her final moments on stage grateful for the boy her "took up her side" and didn't come home, Spooner leaves you looking forward to every moment she takes her place on stage. While there is room for her character to be very angry and one note, Spooner delivers a performance that is anything but. Full of the highs and lows that come with being a black woman at a Civil War reenactment, where she is constantly delivering reality checks to all of the other characters it is Spooner who delivers the best heartfelt and modern relation to the history being acted out.
If you are looking for great comedic relief then the last member of this ensemble is where you will find it. Portraying the Widow Beckwith, the one character who has no side in all of this except her own, Shannon Benil will leave you in stitches from the moment she enters the play toting her contraband to the second she leaves with her hopes of creating a Donner Party reenactment. Her irreverent nature is perfectly tackled by Benil who it seems to take on the role without even breaking a sweat. Her most memorable scenes are the ones in which is shares the stage with Spooner, both women perfectly matched in their standoffs and both unwilling to budge. Benil is stunning and perfectly cast in her role and certainly commands the stage every time she is on it.
With powerful performances and stunning direction Colonial Player's Shiloh Rules is not something that should be missed when choosing shows to see this fall season.
Running Time: Approximately 90 minutes with one 15-minute intermission
Shiloh Rules plays through October 1, 2017 at The Colonial Players of Annapolis— 108 East Street in historic Annapolis, MD. For tickets call the box office at (410) 268-7373 or purchase them online.