Professor Plum in the ballroom with the knife! Or— wait, no, no, no. That's not right. It was Mrs. White in the library with the wrench! Or perhaps it was Mr. Green in the study with the rope! No! It was Artistic Synergy of Baltimore in the basement of Prince of Peace Lutheran Church with Clue: The Musical! Making his directorial debut, Nickolas Epps spearheads the zany board-game turned stage musical in the right direction, keeping the audience guessing along the entire time to find out just whodunit! With Book by Peter DePietro, Music by Galen Blum, Wayne Barker, & Vinnie Martucci, and Lyrics by Tom Chiodo, it's just like the board game sprang to life, pieces and all. All 18 cards— and 216 possibilities— are there. Are you sharp enough, smart enough, and thorough enough to follow the clues and keep up?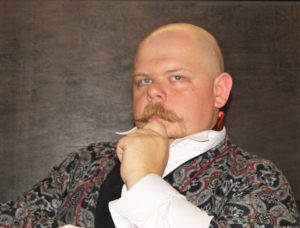 Director Nickolas Epps adds a fun element to the production by including a "Clue Sheet" in the back of the program for anyone who wishes to play along. Oversized cards, replicating those from the original Hasbro board game, are displayed and then shuffled at the top of the production. Audience members are selected and are asked to randomly pick cards, which go into the "confidential envelope." And yes, this part of the story changes every night, with Epps having written clues for Mr. Boddy to read throughout the performance so that you can come to the accurate, randomly chosen, murderous conclusion, if you pay attention! This live, unique element keeps the audience immersed in the thick of it and Epps is wise to include such a device as the music, book, and lyrics, aren't overly impressive on their own.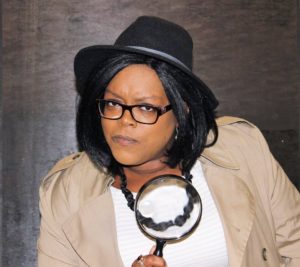 Trying to snazz up the show, because the quintet of DePietro, Blum, Barker, Martucci, and Chiodo just didn't give the musical enough punch and pizzazz, Choreographer Temple Fortson finds little moments to work her magic during larger group numbers. There's even a clunky and intentionally awkward tango routine to help spice up the "Seduction Deduction" number between Professor Plum and The Detective. The show itself is deeply flawed, riddled with pits of quiet, which makes it a challenge to keep on top of the pacing for Epps, Fortson, and Musical Director Jeff Baker. Even with Pianist Chrys Bell lending a sassy and seriously frosty attitude from her bench just beside the audience, there are moments where things stumble along, and the construction of the show itself is largely to blame.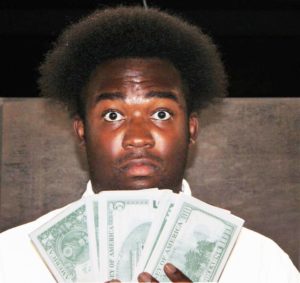 The aesthetic of the show, however, is top notch. Epps, teaming up with Fortson and Emma Hawthorn come together to make a simplistic yet corny and relatable backdrop for the show. They've enlarged the game board, featuring all the iconic rooms, and hung it across the back of the stage to imply that we're perpetually and permanently in Mr. Boddy's manor. Hawthorne, who doubles up as the Properties Mistress, really pays close attention to the knife, rope, lead pipe, revolver, candlestick, and the wrench. Maybe it was Hawthorne who done did it backstage with all the props!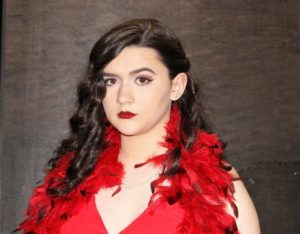 Costumes, a company effort, align to the imagination exactly the way you'd hope for the colorful board game of clue. Miss Scarlet's outfit is slinky, seductive, and bright red, complete with a feather boa to accentuate her attitude. Colonel Mustard wears that puke-induced yellow tweed, and plum several shades and various accessories of purple. It's Mrs. Peacock's costume— in specific that fabulously feathered fascinator atop her head— that takes the cake, really dazzling up her already vivaciously larger than life personality. And watch out for Mr. Green's threads as well; they're presented in an off-color fashion choice, making verdigris more the accent than the feature.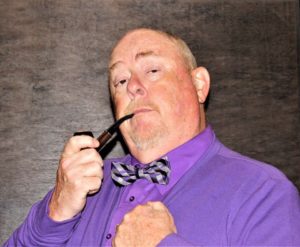 Voices are strong, personalities are stronger, and everyone's got a motive for murder! Excepting of course, The Detective (Stacey Cosden), and yes, we know, a detective?? Cosden, who plays up the curious and questionable elements of the detective type character, works her angle of the story well, considering her character doesn't arrive until the second act. Interacting the most with Professor Plum (Wayne Ivusich), and particularly during their number "Seduction Deduction", Cosden gets to showcase her vocal ability here, opposite of Ivusich and the whole number gives the audience a chuckle. Ivusich, who captures marvelously the nerdy and pedantic behavior and persona of the goodly professor, really fits the bill when it comes to dithering about as the somewhat useless man among the murderous six.
It's always the bloody staff, especially when they've got a bloody cockney accent a mile thick that sounds so put-on you almost have a laugh. Mrs. White (Ciahna Heck) lays on her working class English accent with such a heavy go that you almost can't believe your ears. This, however, is a brilliant tactical ploy on Heck's behalf, as it immediately makes you suspicious of her character, such an outrageous accent must surely mean she's trying to conceal her true identity! Her solo feature, "Life is a Bowl of Pits" is a real scream. Regrettably, her accent falls away when she sings, but Heck more than makes up for it with her powerful operatic high-soprano sound, really turning this comical relief number into something even more hilarious, pushed out like a proper aria.
Slick, sharp, and sincerely stupid, Mr. Green (Hasheem Brin) isn't exactly the brightest crayon in the box. Brin, who finds a natural delivery for the absurdly stupid lines that the character takes charge of, fits in as a wheeling and dealing hustler, with brains the size of the peas that color his wardrobe. Played opposite of Miss Scarlet (Olivia Winter), their duet "Everyday Devices" is also quite humorous, with Winter leading the number in all her soprano glory. Watch these two closely, you never know what they might be getting up to.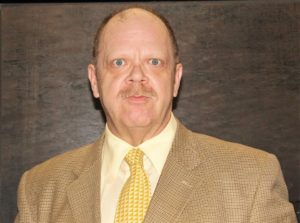 Would anyone like a hot dog to go with all the mustard— Colonel Mustard (Rick Long) that is? Barking and ornery, Long delivers a solid character choice, with cemented motives for murder. Though possessing no solos of his own, Long does have a robust voice which contributes nicely to the ensemble numbers like "Corridors and Halls", "She Hasn't Got a Clue", "Foul-Weather Friend", and "Don't' Blame Me." His voice can be heard clearly, not dissimilar from the rich boasting baritone of Mr. Boddy (James Gilbert) who serves as the narrative force throughout the evening's program. Gilbert, who has an incredible sustain at the end of "The Game" and in other well-marked places throughout the production, takes vocal expression to a whole new level with the power he puts behind his rich, and melodious sound. He's also quite cheeky, making little asides here and there at the audience, or often times to himself, which adds little titters of humor liberally throughout.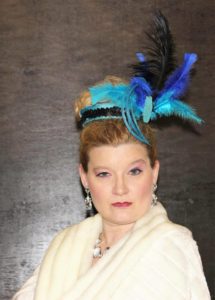 It was Mrs. Peacock (Ashley Gerhardt)! In the center of the stage! With the solo "Once A Widow!" Even if Gerhardt's character isn't the murderer on the night you see the show, she's definitely a guilty party when it comes to stealing the show! Lock her up! With a serious case of resting-rage-face, there's no way you won't suspect her as she all but flaunts the murders of her first five husbands. With enough punch and panache to knock out Godzilla, her entire persona dominates the stage every time she speaks. Gerhardt rules her solo, "Once A Widow" belting out with extreme vocal control, perfect pitch, and a ruthless connection to the song that sends shivers up the spine. Show-stealer, murderous vixen, and all-round fabulous performer, Gerhardt should be arrested on the spot!
So whodunit? Do you know? Will you know? Will you follow the clues? Will you solve Clue: The Musical alongside your fellow audience member? Or will you end up like Mr. Boddy and be a cold, lifeless body by the end of the night? Don't miss your chance to see this murder mystery musical in action! It's a real scream!
Running Time: Approximately 1 hour and 45 minutes with one intermission
Clue: The Musical plays through September 17, 2017 at Artistic Synergy in the basement of the Prince of Peace Lutheran Church— 8212 Philadelphia Road in Rosedale, MD. Tickets can be purchased by calling the box office at (410) 833-5181 or by purchasing them online.