You wanna sing the blues? Then you've gotta pay the dues! You gotta live, you gotta love, you gotta hurt, you gotta sing, and you gotta roll with it! Mosaic Theater Company of DC sure is rolling with it as they roll on into the start of Season 3 with the area premiere of The Devil's Music: The Life and Blues of Bessie Smith. Conceived and Directed by Joe Brancato, this wild and wicked tale extrapolates on the final moments inside the mind and music of The Empress of Blues, Bessie Smith, with her larger than life persona animated by solo performer and musical arranger Miche Braden. A powerful evening of nostalgia, deeply moving blues music, and a stunning performance given by Braden and the trio of instrumentalists on stage with her, The Devil's Music is a firecracker of a start to the company's third season.
The evening is placed inside a lavish parlor; the plush and cozy interior is dipped in shades of wood and wine, highlighted by mural style art work depicting party scenes of which Smith could have once taken part. Set Designer Brian Prather fabricates a sensation in the atmosphere, a velvet embrace that snuggles up sensually to the stage and envelops it with sultry warmth. Reflecting that notion in the show's illumination tactics, Lighting Designer Todd O. Wren floods the stage with side lighting in those rich hues of red and pink, often underscoring the wanton ways of Bessie Smith's life, particularly when she gets to singing some of her more tawdry tunes. Wren makes exceptional use of the hot white spotlight during critical moments of the performance, one of the more notable moments coming to mind when Anthony E. Nelson Jr., on sax, is wailing away a note against one of Miche Braden's incredible belted sustains somewhere between "Guess I Better Blame it on The Blues" and her bit about Ma Rainey.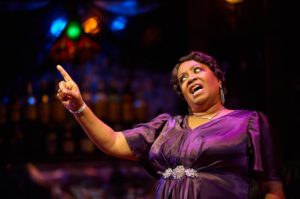 Having the live orchestral trio— Jim Hankins, as Pickle on Bass, Anthony E. Nelson Jr. on sax, and Gerard Gibbs on piano— as an integral and functional part of the live-stage show is a delightful treat to the audience. Appearing as Bessie Smith's band for the evening, this trio of talented musicians are each given moments to showcase their skill set, most often displayed through runaway solos on the bass, saxophone and piano respectively. They way that the trio plays around with the Bessie character, having developed a fond kinship with her, reflects years of working together and augments the level of intimacy displayed over the course of the performance. Nelson Jr., in particular, has a fiery working relationship with the Bessie character, cheekily playing all over the place and often getting sexually physical with her when he blows his horn her way.
Miche Braden embodies the Empress of Blues with an unforgiving and unrelenting thunder that shakes the whole house down. Bawdy, coarse and unrefined, Branden is a whole mess of something else and you'd better steer clear of her way. With that dog-tired sound of soul raising up through her voice every time she takes to pushing out a number— like the raunchy "Sugar in My Bowl" or "Sho' 'Nuff, Daddy", which gets the whole house singing and clapping along— Braden is Bessie Smith incarnate in emotional fortitude and robust personality if not in replicated sound as well. There is a grit to the way Braden approaches the character; she is unafraid to grab hold of that drunken edge and ride it raw straight through the brutal conclusion of the show, all the while busting out into the blues, song after song. Every note feels unadulterated and surges with passion, every mournful tune tearing up from someplace deep inside her soul.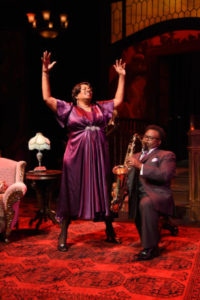 There are stunning moments of storytelling, hilarious moments of laughter, heavy moments of tears, and a whole wide world of emotional expression that Braden masterfully embodies and exudes over the 85 minutes wherein her character of Bessie Smith dominates the stage, taking up every breath of air in the space. Outfitted to perfection in a glossy amethyst evening gown, created by Costume Designer Patricia E. Doherty, Miche Braden as Bessie Smith is the evening's entertainment, no questions asked. Even when the harrowing truth comes pouring out and she melts her soul into "I Ain't Got Nobody"— bringing the audience to a tearful ovation— Braden is in total control of the evening's emotional path. Remarkably outstanding, Miche Braden and her trio of fine musicians are giving you a night at the theatre you will not forget!
Mosaic Theater Company of DC has erupted into the H-Street Corridor of North East DC and is blazing scorch marks with the first production of their third season. You'll be going to hell in a hand basket if you miss out on this fine fire-hot ruby of a show!
Running Time: Approximately 85 minutes no intermission
The Devil's Music: The Life and Blues of Bessie Smith plays through September 24, 2017 with Mosaic Theater Company of DC in the Theresa and Jane Lang Theatre of The Atlas Performing Arts Center— 1333 H Street NE in Washington, DC. For tickets call the box office at (202) 399- 7993 ext. 2 or purchase them online.