Guess what? In their heads— two co-directors had a crazy dream! Five narrators all summer long, was the dream of Mark Minnick and Toby Orenstein! No one knew exactly what that would mean! What to do— it was such a crazy dream! And strange as it seemed— that crazy, crazy dream, brought five women who interpret musical theatre with astonishing brilliance to the stage for the summertime run of Joseph and the Amazing Technicolor Dreamcoat. Stepping into the role of The Narrator as the fourth woman to play the show this summer, Cathy Mundy takes her place holding the almighty book and telling the almighty tale of Jacob, Joseph, the brothers, and every other fabulous thing that goes along with Andrew Lloyd Webber's marvelous mystical musical.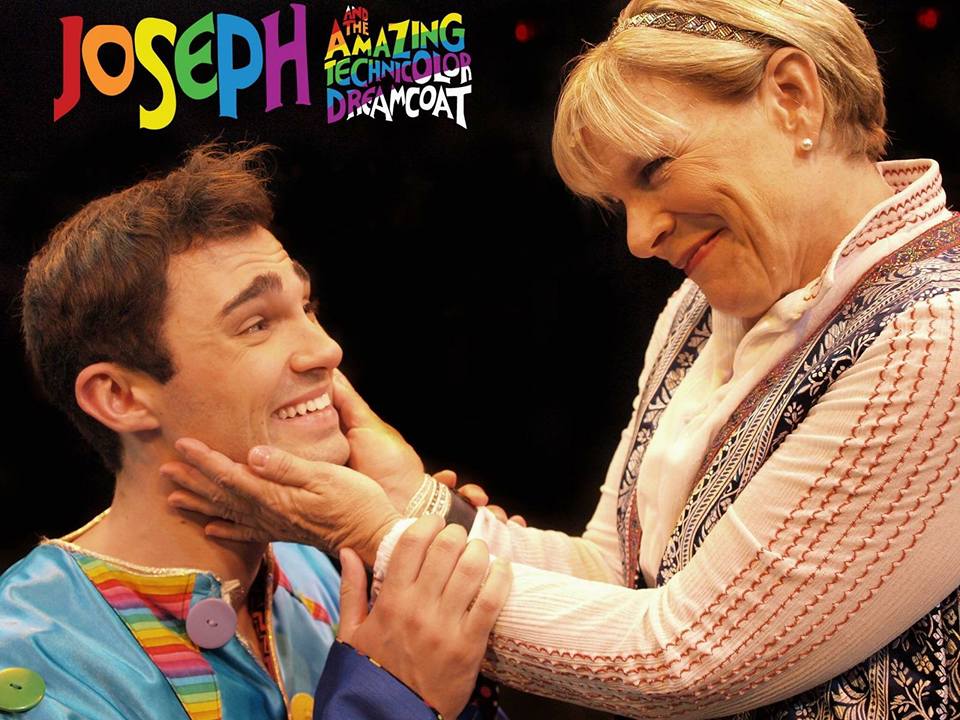 Mundy, whose history with the production is cherished at Toby's Dinner Theatre— as she performed the role of the narrator in the 1997 production, which was nominated for several Helen Hayes awards including "Outstanding Musical" and "Outstanding Leading Actress in a Musical"— and this reprisal, some twenty years later provides a rare opportunity for the actress to put a new perspective on the part. Approaching the role from a maternal standpoint, her well-seasoned and classic-sounding voice assures the audience that she's going to tell us the story from the "Mama knows best" perspective. This rare and delectable insight into the production is a true treat for newcomers and those more familiar with the story as it really draws focus to the nuances of what unfolds around her.
Mundy treats the narrator like the "Mother Supreme" of all the character, but Joseph and his wayward brothers in particular. There are these knowing glances that she often shares with Joseph (Wood Van Meter) that informs the audience and the character of her foreknowledge to what's happening around her. This is particularly useful when she's performing "Go, Go, Go, Joseph!" as there is something convivially honest about the way she conveys the message, "Hey, trust me, kiddo, you're going to be okay. No, I can't tell you how or why just yet, but trust me, because mama knows best." This a reoccurring theme throughout her performance and is incredibly reassuring to the way the plot develops, providing Van Meter with a unfathomably deep well of hope from which to feed his character's motivation.
Favoring Joseph, much as Jacob does, Mundy's Narrator shares dozens of little highly nuanced moments with him, in particularly the "ploy to have one over on the brothers when they finally arrive in Egypt." With a smug smirk, she assists Van Meter in his plot, handing out sacks and barking out accusations, fully in on the folly of the prank they're playing. But that striking moment when even mama's golden boy goes too far— when Van Meter's Joseph roars out the jailing sentence for young Benjamin— washes over her face and she backs away from the scene, too ashamed to confront her own, perfect son. Moments like this enrich her telling of the story tenfold, making it a rewarding and satisfying journey upon which to embark. Another such moment, again in the maternally protective vein, is when she witnesses the shenanigans and far too sultry and seductive dance between Joseph and Potiphar's Wife, her eyes dancing with revulsion as she tries not to actively watch what's happening to her poor, sweet boy. With a mama bear ferocity, she bursts into the song with her line, "letting out a mighty roar, Potiphar burst through the door" as if the wrath of hell itself were funneling out of her voice and would smite the wicked temptress where she stands. Again Mundy's expressive facial expressions ensnare the audience when this ferocious attack turns to a gasp stare of bewildered shock as Potiphar blames Joseph for the untoward antics, and once more Mundy melts out of the scene.
Fully understanding her vocal capabilities, she takes alternate melodies and harmonies in places that really enhance what Andrew Lloyd Webber has written and is not afraid to shy away from a robust belt or sustain when the moment calls for it. With a powerful voice that just knocks you over in moments of true passion, Cathy Mundy is really living each moment of this story, attached as the personal every-mother to each pulse and beat of the tale.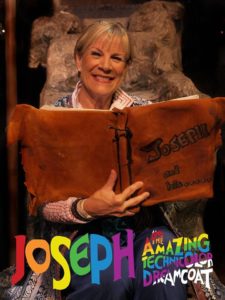 Watching the way she interacts with the other non-familiar characters is a hoot as well. There is a subtle flirtation between her and Potiphar (David Bosley-Reynolds) when they first encounter one another, but the interaction that is most entertaining is watching her with Pharaoh (at this performance Justin Calhoun.) Taking up the role of Pharaoh for the day, Calhoun is like watching Elvis in the early blossom of his successful career, with emphatically enthusiastic energy, a hardcore response to the fans— both on the stage and in the audience— and just enough confidence with that subtle hesitancy of stardom to make him feel authentic. Calhoun even drops down into the heady 'Elvis' voice for "Song of the King", which gives Mundy the perfect opportunity to relive a mother's heyday, going wild and crazy over this King of Rock-n-Roll-Egypt, with that hip attitude of "I was into this guy way before you thought he was cool."
A fabulous addition to the rotating carousel of narrators, Cathy Mundy brings honesty and sincerity to the story, telling it from a most loving, caring, and maternal vantage point. This sensational performance is not to be missed as it is highly rare to experience the narrator in this way.
Joseph and The Amazing Technicolor Dreamcoat plays through August 27, 2017 at at Toby's the Dinner Theatre of Columbia— 5900 Symphony Woods Road in Columbia, MD. For tickets please call (410) 730-8311 or purchase them online.
To read the original production review featuring Caroline Bowman as The Narrator, click here.
To read the write-up review featuring Janine Sunday as The Narrator, click here.
To read the write-up review featuring Coby Kay Callahan as The Narrator, click here.