Purchase your tickets, la la la! Queue up at the entrance, la la la! Unfold your program, la la la! Hi-ho the glamorous life! It's so much more than a weekend in the country if you're venturing to Signature Theatre's production of Stephen Sondheim's A Little Night Music. Opening the 2017/2018 with this simplistically elegant classic, Director Eric Schaeffer sets the 28th season in motion with a glorious performance of smiling nighttimes and sensual characters entangling themselves around and through one another all whilst dripped and draped in one of Sondheim's convoluted albeit romantic, plots. With Musical Direction by Jon Kalbfleisch and Choreography by Karma Camp, this carefully orchestrated carnival of curious creatures provides a breathtaking evening's entertainment as audience's absorb the dizzying carousel of the lives of those coming and going from the Armfeldt estate.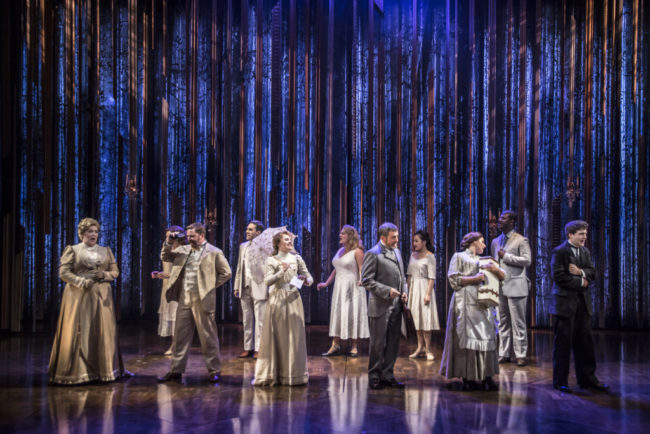 There is a wanton simplicity embedded in the show's aesthetic. Director Eric Schaeffer plays to the notion of modernity and minimalism, but only just so. While the monochromatic shades of white and cream dominate Costume Designer Robert Perdziola's sartorial selection for the show, there is a grace and elegant ease in the way the outfits outfit the cast, each speaking of their station and rank regardless of the absence of color. Though Perdziola is not without select shades of the rainbow when it is called for, particularly when notice need be paid to Desiree in her ravishing reds. Scenic Designer Paul Tate DePoo III adheres to the simplicity which Schaeffer has established in the aesthetic, keeping the furnishings basic, yet plentiful when necessary, and allowing the performers to fall into the foreground of the audiences' focus. Masterfully and deftly underscoring pivotal moments of emotion— whether in or out of song— Lighting Designer Colin K. Bills works meticulously with his light plot to provide an exacting illumination and series of shadows, creating perfect moments of pathos against strong performances.
Like most Sondheim musicals there isn't a choreograph so much as a fluid and rhythmic movement, wherein performers glide and float through scenes, around one another, and ever so delicately across the music as it moves beneath them. Choreographer Karma Camp has put a charming finesse on this process, enveloping the production in this silky smooth pattern of movement, making each step feel deliberate yet exquisite in its languid nature. Musical Director Jon Kalbfleisch deserves the utmost praise for the sublime harmonies he coaxes forth from The Liebeslieders. The mellifluous blends and sheer operatic glory crafted in this quintet during numbers like the "Overture" and "Remember?" are soul-searing to perfection in both their tonal quality and overall emotional expression. Notably worth outstanding praise among the quintet are Kevin McAllister as Mr. Lindquist and Quynh-My Luu as Mrs. Nordstrom, who are often paired together vocally, and whose blended pairing is sweet ambrosia upon the ear, particularly during "Remember?"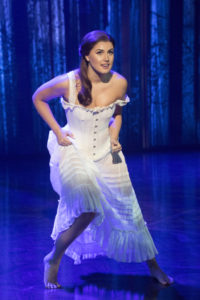 McAllister, who doubles up as the serving man Frid, is vocal perfection with his rich, velvety baritone-bass sound that echoes pristinely against Maria Rizzo's sassier sound, as she takes up the role of Petra. The pair exude a conflagration of unruly passion that would make a harlot blush, yet so perfectly matched are they once they pair off prior to Rizzo's magnificent solo, "The Miller's Son." Robust, rich, and reveling in the ferocity that drives this number, her coarse and tawdry nature bleeds blissfully into a flawless rendering of this song, putting heart, soul, and loads of lust into its every utterance. Rizzo all but steals the show every time she appears, whether it's playing humorously with Anne Egerman or mercilessly flirting with Henrik Egerman.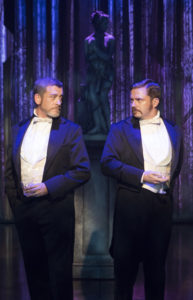 Equally as lusty as Rizzo's Petra, though far more bombastic of presence— both vocally and physically— Will Gartshore mounts the character of Count Carl-Magnus Malcolm and humps it into submission one ecstatic outburst after another. With rogue vocals that are bold and daring, yet well-suited for Sondheim's intricate score, Gartshore masterfully attacks "In Praise of Women" and makes his duet— "It Would Have Been Wonderful"— opposite Fredrik Egerman, an uproarious scream. Gartshore's boorish approach to the Carl-Magnus character makes Tracy Lynn Olivera's subtle deadpan sensibilities in Countess Charlotte Malcolm that much more humorous. Possessing razor-sharp comedic edge and impeccable comedic timing as well as a judicious understanding of how to dispense with such humors, Olivera twinkles like a freshly polished diamond in the supporting role. Despite her cheeky airs and biting remarks, all bound and laced with striking sarcasm, there is a haunting sincerity which Olivera exudes when singing her duet— "Every Day a Little Death"— with Anne Egerman.
Dopey, gooey, and every bit a frivolous ingénue, Nicki Elledge delivers Anne Egerman as the bit of extraneous fluff Sondheim intended her to be. With a delicate and delightful voice, Elledge swoops and soars through "Soon", a saccharine ballad that accompanies, in part, "Now" and "Later." Doting upon Fredrik whilst teasing Henrik, there's no telling just how syrupy Elledge can push the character. Falling readily into the emotional swings of the character, Elledge traverses a precarious path of moods, though much like Olivera, finds an honest and moving sincerity for accomplishing her part of the duet, "Every Day a Little Death." Oft found opposite of Sam Ludwig— playing poor Henrik Egerman— the teasing nature which Elledge presents to him appears to be the driving catalyst for Ludwig's character's perpetual glum nature.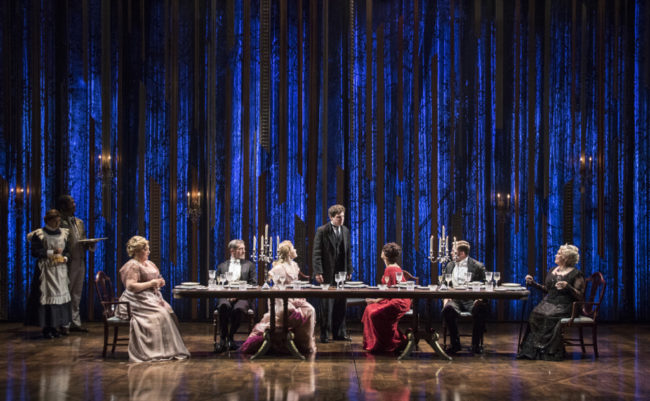 Ludwig is deceptive in his physicality, concentrating so intensely on the way his fingers cross the cello strings with bow in hand that one is readily convinced he's actually playing it live on stage. In addition to his disparaging miasma, which exudes from every imaginable surface of his being from facial expression to slumped shoulders, Ludwig commands a stellar voice when it comes his turn to sing. "Later", the third part of the trio of opening numbers beyond the "Overture" and "Night Waltz" is a fine display of his tenor range and his ability to properly emote into his music. Carefully stringing up the delicate balance of comedy and woe over his character's existence, Ludwig creates a feverish depth of unmitigated despair readily pitiable for all watching as the performance goes on.
Though the stars shine brightly all through the performance, there is a most memorable moment that outshines them all; the moment when Florence Lacey, whose Madame Leonora Armfeldt character has been wheelchair bound up to that point, graces the stage on her own two feet, fondly reminiscing with a bittersweet yearning during "Liaisons." Lacey transforms the number into so much more than a song, giving it both heart and soul as well as chutzpah and character. There is something visceral and deeply sad about the way she trails off, forgetting her place in time if only for a moment; the entire song is swept up in the pure reality of her emotion. A great deal of Lacey's scenes are shared with Anna Grace Nowalk, playing the young Fredrika Armfeldt, who is sweet and lovely in the minor role.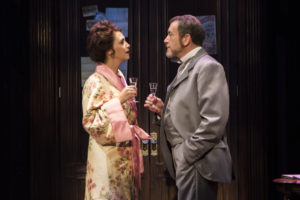 Charmingly lecherous, delectably dulcet, and exquisitely voiced, Bobby Smith plays Fredrik Egerman to perfection. Fussing humorous circles around Anne during "Now", with a patter to die for and vocal prowess that supersedes all others, Smith winds his character up only to fall flatly to sleep by the end of the number. Dashing and debonair, despite what's implied by his solo lead in "You Must Meet My Wife", Smith is elegant and extraordinary as Fredrik, waltzing each moment in Desiree's presence as if it were his very first and his very last. Boldly and brazenly holding his own against the Carl-Magnus character during "It Would Have Been Wonderful", Smith charges the song with a dirty humor whilst vocally maintaining the purity of Sondheim's score.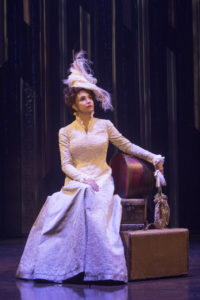 Seemingly at first a curious choice for Desiree Armfeldt, Holly Twyford quells all questions beyond a shadow of a doubt as to her ability to deliver the character in a most sensational and astonishing fashion. Though her singing voice is coarse and somewhat unpolished, this lends itself to the overall character that she has constructed in Desiree, and when she takes to "Send in the Clowns" there is something wholly soul-searing ebbing out of her singing voice that stirs the heart and draws tears to the eyes. Exacting in her comic timing, particularly during her spoken interruptions during "You Must Meet My Wife", Twyford is cheek personified in these moments. Charisma and class appear to have met their match with Twyford in the role; there is a conviviality to the way she approaches Desiree, aware of the actress airs that accompany the character but never allowing them to rage too far over the top. Twyford plays extraordinary scenes opposite of Bobby Smith, the chemistry between them palpable and brilliantly believable.
Isn't it bliss? Don't you approve? You ought to, and it certainly is…A Little Night Music, that is. Signature Theatre has offered up a resplendent performance to get their 28th season underway and you won't want to miss a weekend in the country, so hurry and get your tickets before they— like the memory of liaisons— vanish without a trace.
Running Time: 2 hours and 45 minutes with one intermission
A Little Night Music plays through October 8, 2017 in The Max Theatre at Signature Theatre— 4200 Campbell Avenue in Shirlington, VA. For tickets call the box office at (703) 820-9771 or purchase them online.