Cages or wings? Which do you prefer? Ask Stillpointe Theatre, it's clear that they prefer to soar over the Baltimore Theatre scene with their dazlious wings, showcasing their astonishing talent in their summer musical production of Jonathan Larson's Tick, Tick…BOOM! Directed by Grace Anastasiadis with Musical Direction by Stacey Antoine, this primer to Rent is delivered with precision, balance, and perfection to the eye, ear, and heart.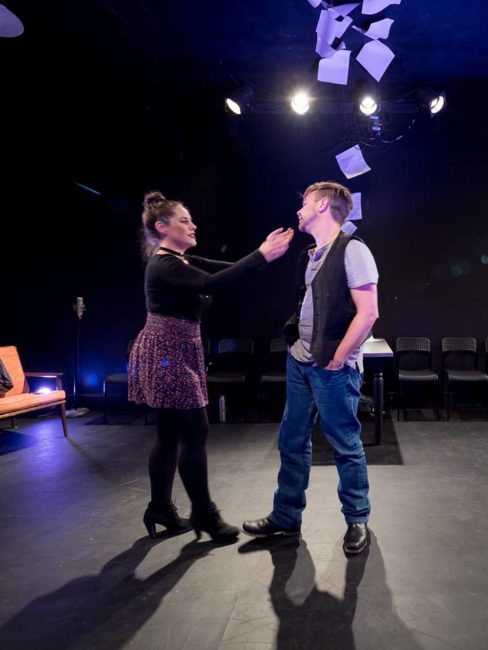 Tick. Tick. Tick. Step into the apartment. That's the set that Scenic Designer Ryan Haase has fabricated for the intimate and versatile black box space in which Stillpointe Theatre plays. Haase has symbolically scattered the chaos inside Jonathan's composer brain literally up the walls of the space. This grand sweeping arc of sheet music— both songs from the show and blank score pages— burst upward from the piano, sprawl up over the ceiling and shoot back down the opposing wall creating quite the visual spectacle and enhancing the notion of the meta-musical-within-the musical. Lighting Designer Janine Vreatt enhances this fantastical design approach by backlighting the sheets and for one incendiary moment of technical design genius— birthday wishes comes true when Jonathan blows out his candles (as seen in the arc of music and light.)
Tick, tick…BOOM! That green, green dress— though it lacks 20 buttons and has two straps— is more decadent than the song lets on. Costume Designer Kitt Crescenzo follows the lyrical instructions and ensures that dress is a deep shade of emerald velvet, making sure it's got an sensually alluring neckline so that it lives up to the hype as depicted in the song. Crescenzo keeps the costumes simplistic otherwise, with an accessory here or there to differentiate characters like "Rosa and Dad" from Michael and Susan who are playing them. This falls in line with the notion of storytelling that Director Grace Anastasiadis puts forward; the focus of the show is the story being told.
Tick. Tick. Tick. When you step into the space not only do you step into Jonathan's crummy little apartment in SoHo but you step into the cluttered creative clusterfuck that is his mind. Director Grace Anastasiadis makes this a point-of-contact musical; it isn't just a story being told but rather a journey being uncovered and related to us as it happens. Each of the actors has multiple little moments where they make deeply personal connections with the audience, all of whom are just inches away from the action at any given moment, through a look or a speech directed at them. It's quite striking. The production's only downfall is that despite the intimate spacing and partial masking of the live orchestra, Musical Director Stacey Antoine struggles to balance and control the volume of the live pit and this at times makes it challenging to hear the more subtly nuanced lyrics of certain songs throughout the show.
Tick, tick…BOOM! In addition to being the show's Scenic Artist— and having conveniently painted the words "Tick, Tick…" all over the floor— Ryan Haase takes to playing Michael in the performance. But before we explode into his radiant performance as Michael we have to talk about Haase's bit parts as the patrons in the brunch café in SoHo and Stephen Sondheim. Serving up serious salt, sass, and sinfully rude facial expressions while Jonathan sings "Sunday", Haase is the perfect reactionary actor in this scene. The same can be said for his portrayal of Stephen Sondheim, arriving with a death glare that never blinks and never wavers; it's intimidating! Tick. Tick. Tick. Enough about the parts he's not credited with and back to Haase's Michael. Warm, convivial, and full of heart, there is an honesty to the way he portrays the character, a sincerity to the way he carries Michael, singing and speaking as him. There is a palpable thrill of victory that Haase exudes during "No More" as if he can barely believe he has finally escape the crap life in SoHo that the song describes. Versatility knows no bounds where Haase is concerned as "Real Life" is transformed into this soul-searing song of questioning.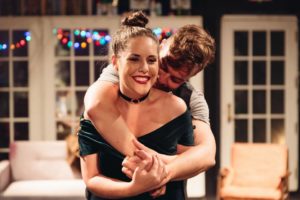 Part of what makes the production so smart is the way Anastasiadis stages Susan (Amber Wood) and Jon (Adam Cooley.) When they take on "Therapy" despite being two subways and a bus apart, Anastasiadis has them seated side by side on the couch, facing forward, until the confrontation comes to a head and they erupt at one another. The chemistry between them is volatile and well serving of the precarious dynamic of their uncertain relationship. Wood has a powerful voice and lays into her songs with vigor. The best moment in song that she has is when she takes up the meta-play role of Karessa and sings "Come to Your Senses." This is an astonishingly beautiful moment that captures the attention of everyone, including Stephen Sondheim.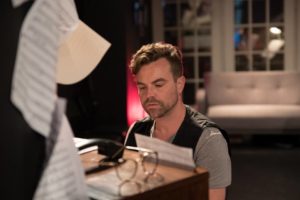 Tick, tick…BOOM! Adam Cooley explodes onto the stage. He's not a joke, he's not a planted cue, he simply is Jonathan and could easily be the original incarnation that Jonathan Larson intended for this character to be with how honestly he approaches the role. There is a sincerity that is laid thick with emotional severity in the way Cooley presents the character. Vocally sound, though at times drowned by the pit, Cooley is lively and present every step of the journey. The most brutal and pivotal moment in the production rests squarely on his shoulders; "Why" defines Cooley as Jonathan and it is stunning. There is a playfulness to his narrative and a brutal emotional tether to numbers like "Johnny Can't Decide" that make his performance exceptional.
Before the ticking stops, before the booms go off— you must see this stellar production of Tick, tick…BOOM! at Stillpointe Theatre. Reservations are strongly recommended as each show seats 22 audience members and several shows have already sold out.   
Running Time: Approximately 80 minutes with no intermission
Tick, Tick…BOOM! plays through August 12, 2017 at Stillpointe Theatre— 1825 N. Charles Street in the Station North Arts District of Baltimore, MD. Tickets can be purchase at the door or in advance online.