Directors Donald Hicken and Sally Boyett have created a sparkling Tempest under the stars at the Charles Carroll house in Annapolis. With a spreading tree dominating the scene and a shrub hedge covering the back stage, the hill slopes toward the river for Shakespeare's watery play. Bring a blanket or a lawn chair… and some bug spray and you're ready for Annapolis Shakespeare Company's The Tempest this July.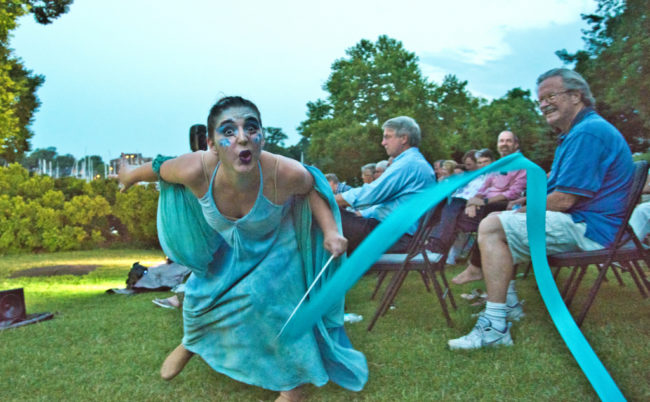 The early evening and the river bring a hint of cool weather to summer in Annapolis, as the sun sets and the stars come out. As the sunlight dims, up comes Adam Mendelson's gorgeous lighting. He doesn't have many lighting instruments to work with, but they provide not just plenty of light but a whole array of colors and special effects. The Tempest is perhaps Shakespeare's most cinematic play, especially its dramatic namesake storm, often given to an opera house's full range of effects. Mendelson brings the same drama to the great outdoors.
The tempest itself is provided by Ariel (Laura Rocklyn) and her Spirits (Jackie Madejski and Elizabeth Colandene). In their draping, aquamarine costumes by designer Sandra Spence, they flow through every scene. Cloth substitutes for water, in long flowing ribbons, as well as an ingenious cloth tide, which parts as the players wash up on the shore of Prospero's island. Ariel and the Spirits literally flow through every scene, choreographed by co-director Sally Boyett: continually in motion and continually providing a gyrating backdrop of ribbon, as well as the personification of Prospero's magic. Their arms must be quite sore by the end of a performance; the lovely effect is worth it.
Prospero (Brian Keith MacDonald) is the orchestrator of this storm, as he expounds to his daughter Miranda (Olivia Ercolano). The shipwreck has brought old enemies, in particular his treacherous brother Antonio (Bill Dennison) and the complicit King of Naples Alonso (Frank Mancino). But it's Alonso's son Ferdinand (Jurdan JC Payne) who catches Miranda's eye when they "meet cute". Ercolano's winsome smile and curious, innocent demeanor make a charming Miranda. Ercolano and Payne are darling together, if a little restrained: when Ferdinand offers his hand, and Miranda returns "mine, with my heart in it", the hands are literally at arms' length from each other.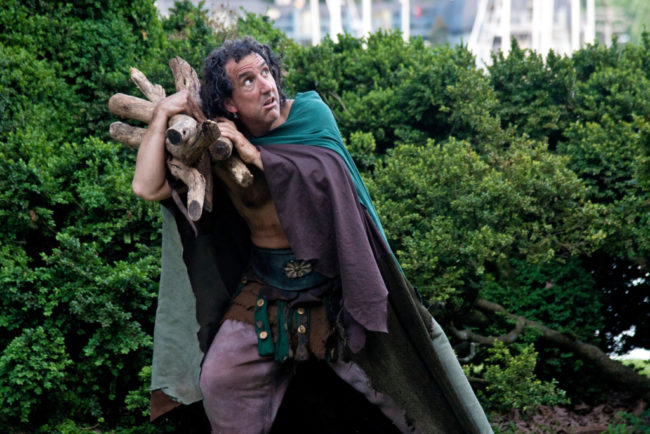 Alonso has a treacherous brother of his own, Sebastian (Steve Polite), who has washed up along with them. Polite is a gifted actor, hilariously cracking jokes at the expense of Alonso's virtuous advisor Gonzalo (Dexter Hamlett). Hamlett is so engaging that even his ridiculous utopianism is enthralling. Spence has dressed them all lavishly to suit the colonial-era venue.
There is yet one more plot line running through The Tempest, a screwball comedy starring Stephano (Tony Tsendeas) and Trinculo (Ian Charles). They meet Prospero's native servant Caliban, played by John Bellomo, truly "disordered in his manners as in his shape": flabby, dreadlocked, dirty, and hairy, with a decidedly unsavory demeanor towards Miranda. Tsendeas is a tremendous Stephano: bold and committed, drunkenly and hilariously cranking out Shakespearean sea chanties. The Tempest is Shakespeare's most musical play. Songs by Caliban and Ariel are spoken rather than sung, but the synthesizer underscoring (also by Boyett, wearing the sound designer's hat) lurks hauntingly in every scene.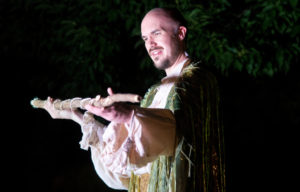 Outdoor settings tend to swallow up even the best trained actors' voices, but every actor in The Tempest is mic'ed, so every scene is perfectly clear. And these are all extremely well trained actors: vocal coach Nancy Krebs always teaches perfect technique. All of Annapolis Shakespeare Company's actors are always spot on in their readings, and Shakespeare's text always feels comfortable and natural. Brian Keith MacDonald's lovely voice ends the play with one of Shakespeare's most potent speeches, Shakespeare's own farewell to the theater. This would be a great play for first-timers to Shakespeare.
Running Time: Approximately 2 hours with one intermission
The Tempest plays through July 23, 2017 with the Annapolis Shakespeare Company in the Gardens of The Charles Carroll House— 107 Duke of Gloucester Street in historic Annapolis, MD. To purchase tickets call the box office at (410) 415-3513 or purchase them online.