Tis the bloody business which informs thus to mine eyes: a theatre company hath sprung up afresh in Reisterstown. But not just any theatre company, nay, but The Gypsy Wagon Theatre Company, whose full intention is to be mobile. At first appearing to be little more than a tin can on wheels, do not be deceived, this collapsible trailer-esque stage is purporting a tall order of theatrical design— when it comes to lighting especially— and currently presenting a mighty solid production of Shakespeare's very own Macbeth. Directed by Bob Frank, this theater-on-wheels (in the old English tradition called 'pageants') is nestled down in Hannah More Park for just two weekends. They'll be "out ye, damn-spotting" soon enough so you won't want to miss your rare opportunity to see affordable Shakespeare under the open air of the Baltimore County night skies.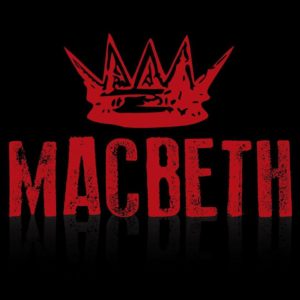 The set is non-existent, save for the glowing ambiance of upright citronella torches and a string of faerie lights that delineates that audience space and the trailer-stage from the rest of the open field area wherein they play, but fear not, you'll be hardly bereft at this lack of placement and décor. Staying true to period, Director Bob Frank relies upon the cast to coordinate outfits that fit the bill, again relying heavily on the notion that less is more. While some character, particularly Lady Macbeth, have a great many outfits— all appropriate to the original linear placement of Macbeth­— other characters remain in just one costume for the duration of the evening. This does not hinder the production in the least. In fact, taking a minimalistically simple approach allows the piece to be more readily accessible to the Shakespearean novice or newbie. Bob Frank hones in on this and works the basic notions of articulation and expression throughout the piece.
There are a few scenes that could use some of the witches' cauldron bubbles under their arses in regards to pacing but on the whole the play moves quite swiftly, coming in at a predictable two hours and 30 minutes including the intermission. Despite a few minor feedback issues with the microphone and PA system (which can be greatly reduced if patrons switch their cellular devices to OFF rather than just silent as such things like phones and smart-gadgets do cause interference), the overall sound of the production is quite good. The auditory battle, which rages on against the vehicular and ecological ambiance of Reisterstown Road, smacks of honor in Sound Technician Jessica Murray's direction. It is rather astonishing to see how well Murray tackles these ever-present background sounds so as to keep the audience engaged in the production. Murray also utilizes an old-fashioned thunder board to announce the Weird Sisters every time the enter a scene.
Equally impressive in this production is the work of Lighting Tech Megan Millane, who works over a series of visual cues with expediency and precision throughout the course of the performance. When Lady Macbeth is first incensed as her "Unsex Me" speech prowls onward, an eerie orange glow most foul bleeds up from behind her, creating a heinous and ominous background of foreboding. There's even a moment— when the assassins set upon Banquo— wherein the overhead lighting, which fills the roofed staging unit, glows an unsettling blue that could almost be mistaken for UV light. There are a surprising yet welcome number of lighting cues and effects that make their way into the performance, all of which help to enhance the bloody story as it unfolds.
Quick and to the point the dagger shall be when it comes to the title character; Bill Soucy as Macbeth, plainly put is ordinary. There is nothing overtly terrible about his performance, though nor does he stand out with anything strikingly original or memorable. Soucy takes a while to warm to the character, playing him with a meager sense of self awareness. By the play's end there is a familiar fury that drives him into the final battle, which comes sourced from the text itself. All in all, Soucy is an everyman-style Macbeth, with a general sense of how to extrapolate logical ideas out of Shakespeare's archaic textual composition.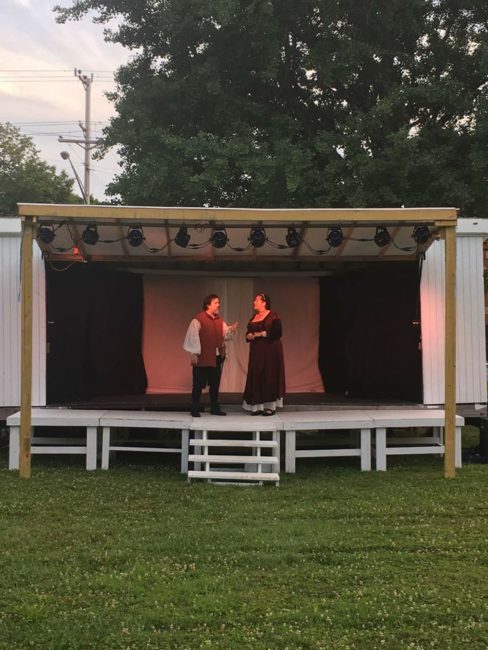 Lady Macbeth, on the other hand, is a churning inferno of tumultuous emotions that never seem to cease, even when she's gone afar from the stage for elongated lengths of time. Andrea Bush is a hell-storm ablaze when seizing the daggers from Macbeth's hands, belching and bellowing a harrowing brimstone that heaves up from a smoldering pit of carnality deep inside her. A purely unadulterated powerlust drives her initial scenes to the point of being nearly palpable. Bush's handle on Shakespearean text and the ability to translate the emotional subtext of the language not only into her words but into the intonation of her voice and the expressions of her facial features is remarkable. There is a brutal contrast between Lady Macbeth in the first act and Lady Macbeth in the second act; Bush delivers a striking rendition of "out ye, damn spot" from the frazzled shreds of her unwound wits. It's jaw-dropping.
Ever-present of mind and critically aware of his stage presence and how it relates to others, Andrew Wilkin takes up the role of Banquo (and later Siward) with great aplomb. Though the text he's given be brief, the emotional tempest that stirs within him is reflected readily in his vivid facial expressions. Immediately suspicious of Macbeth upon Duncan's demise, Wilkin's facial expressions grow increasingly more animated as the show progresses. When he arrives, uniquely as he does, during the banquet-dinner scene, the creepy grin upon his face resembles the iconic Jack Nicholson smile from The Shining. This approach to that scene is not only taunting but haunting and sends a ready-made shiver up Macbeth and the audience's spines.
Flawless of character work, with exceptional demarcations between each of his four roles, Nathan Rosen puts forth a quartet of performances well worth the price of admission even though each role is quite a minor character as far as the story itself is concerned. Both his Old Man and his Doctor character bare resemblance to one another but he shifts his voice for one while adjusting his gait on the other, making them clearly distinguishable from one another. As Duncan, he displays a radiantly fond kinship toward Macbeth, which puts the world's mind at ease when it comes to their encounters. But it's Rosen's Porter that takes the cake. Remaining true to text and playing the Porter half-drunk with sleep and half-drunk with hungover-drink, there is a highly amusing component to the way he conducts that intriguing, albeit brief, scene complete with crackling crusted over cockney in his throat.
Another briefly encountered supporting member of the ensemble arrives late in the game in the form of Hecate (Christina Ramsey Harris.) Though her role as both Hecate and Lady Macduff are both so quick if you blink you could miss them, Harris' vocal control is astonishing. With a strangely soothing cadence and yet indescribable ferocity of tongue, Harris puts the Weird Sisters in their place. She is frighteningly hypnotic in this role and almost snarky as Lady Macduff, especially when telling off her young Son (Patricia Brunker, who is priceless in this role and very sharply spoken in her role as Angus.) The aforementioned Weird Sisters— Deborah Carson, Jenny Hasselbusch, and Heidi Toll— are a trio of giddy giggling gorgons that can't seem to keep their tittering to a minimum. With Carson as their ring-leader, their very mischievous gnarled voices gnash at the nerves of those listening quite nicely.
With the trailer-stage just feet in front of you and action unfolding up and down the main aisle under the open night sky in addition to the performance of a lifetime being given by Lady Macbeth, there's hardly a good reason to be found when it comes to skipping this production of Macbeth. You won't want to skip it as it does the original text a decent justice. With just four more performances, take it from the Weird Sisters and go before something wicked this way comes!
Running Time: 2 hours and 30 minutes with one intermission
Macbeth plays through July 16, 2017 with The Gypsy Wagon Theatre Company at Hannah More Park— 12035 Reisterstown Road in Reisterstown, MD. Tickets are available for purchase at the door CASH ONLY— please note all performances are outdoors! Questions? Email: gypsywagontheatre@gmail.com