Ladies and Gentlemen, you are about to see a story of murder, greed, corruption, violence, exploitation, adultery, and treachery: all of those things that ArtsCentric holds near and dear to their hearts! Presenting for the first time an all African-American production of Kander and Ebb's Chicago, ArtsCentric is raising the bar of expectation— lucky Lindy never flew so high! Directed by Kevin S. McAllister with Musical Direction by Cedric D. Lyles and Choreography by Shalyce N. Hemby, this stellar and sensational production lives up to the show's most iconic production number simply because it is ALL. THAT. JAZZ.


After witnessing the astonishing production that Kevin S. McAllister has put forward it seems mind-blowing that ArtsCentric is the first company to produce an all African-American cast of Chicago, the production that ArtsCentric has set forth jives and gels to perfection beyond compare. Following the mission of the company by being a color-conscious organization committed to re-examining traditional roles in the arts, McAllister, Lyles, Hemby, and the creative team and cast have fitted Chicago to this culture and this culture to the show sublimely in a way that makes a color-conscious statement in the affirmative. Lyles and McAllister in particular work over scenes— like the courtroom trial— wherein a natural current of revival-style, soul-driven spiritualism just seizes Billy Flynn and transforms the scene into something incredible, which has previously been overlooked in more traditional castings of the production. Moments like this are littered throughout the performance and enhance the show tenfold, creating a spectacular viewing experience of the show.
While it is important to focus on the successes of an all African-American show, it's equally important to note that the show survives on the merit of its talent, direction, and design and not simply as a statement. McAllister delivers a breakneck pacing to every moment of the show, clipping scenes one atop the next so that every breath is accounted for. This heightened sense of urgency informs the show in its entirety and keeps the show running quickly without feeling rushed. This is an important component of any musical when it comes to the enjoyment factor and it is one that McAllister knows well, putting it into practice without hiccup or hitch.
We hear that Father Dip is gonna blow the blues, and while Cedric D. Lyles may be using his magical metacarpals to tickle the ivories in the key of Kander, he's giving us musical realness and all that jazz! Conducting a pit of just five with himself on the piano, Lyles energizes the live stage band while simultaneously keeping them balanced to prevent musical blowout over the performers. Yes, the performers are mic'd, yes the band is partially masked, but that doesn't diminish the effort on Lyles' part in such an intimate venue. In addition to his superb playing and flawless tempo shifts all across the score, Lyles has a moment or two where he interacts directly— or in plum pitiful Amos' case rather indirectly— with the cast becoming an integral part of the show's progression.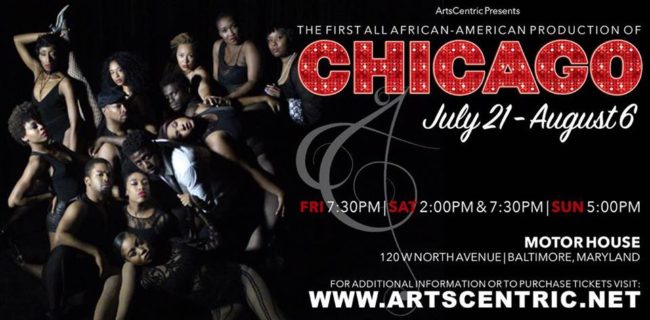 If you're truly going to paint the town— and all that jazz— you better do the smart thing and hire the town's resident scenic designer, Ryan Haase, who as of late is making quite the name for himself all over Station North. With signature sets that populate local companies like Stillpointe Theatre, Iron Crow Theatre, and now ArtsCentric's stages, it's no wonder there is a familiar and homey air to the set work featured here in this production. Haase understands the nuance of the era that McAllister is going for and works seamlessly with Lighting Designer Helen Garcia-Alton to capture the essence of mayhem, murder, chaos, and all of those other delectably sinful qualities that Chicago represents. Garcia-Alton's use of darkness and shadow play create striking moments— particularly when the ensemble clusters together like during the introduction to "All That Jazz" or in the haunting solo moment when Amos finishes "Mister Cellophane"— that resonate with breathtaking visual beauty throughout the production. If there's one complaint to be had it's that the projections Garcia-Alton creates against the flanking uprights Haase has set on either side of the main play space are at times obscure and the show would be just as impressive without them.
Trying to drum up words that do Choreographer Shalyce N. Hemby's dance work a smidgen of justice is an impossible task but the closest descriptor that comes readily to mind is intense. Perpetual motion and enthusiastic energy has got nothing on Hemby's choreographic skills, particularly when it comes to the quartet of fine fellas featured during "Roxie." The aforementioned Heinz Adjakwah, Patrick Casimir, Marcus Isaiah, and Joshua Muse takes turns strutting their stuff during that number, each one enticing Roxie with signature moves that includes everything from pelvic pops to outright acrobatics. But this routine is just one small snippet of Hemby's sensational capabilities when it comes to this show. Understanding the music of the show, Hemby matches the mood to her moves and it's nigh impossible to tell whether it's the music informing the dance or the dance informing the music. Sublime fluidity as mentioned occurs in "Cell Block Tango" and the opening iconic number "All That Jazz."
Speaking of the "Cell Block Tango" the Six Merry Murderesses are in their own right of a scintillating and seductive variety. We'll only touch on five of them here as Miss Velma Kelly is in a category all her own, but much like the overarching attention to detail which permeates the production in its entirety, each of these fine females finds a fantastical way to express their individuality. Pop (Kiara Nicole Davis) approaches her verse casually and even throws in a hint of deadpan to her delivery at the end. Squish (Kuniah Upshaw) pops her pelvis and layers the sauciness into her delivery while Six (Brianna Hollimon) gushes into the narrative of her story before letting her fury rage. Hunyak (Jalisa Williams) with her statuesque ballerina's body, uses her vividly animated facials to plead her case— and this comes into play beyond the song as her story carries on— and Lipschitz (Candace Foreman) all but flips out with cheeky sarcasm when delivering the punchline of her verse. And although Kitty (Denae' Fielder) isn't in "Cell Block Tango" her high-kicking rabble-rousing scene is as ferociously memorable as the aforementioned soloists featured in the sextet number.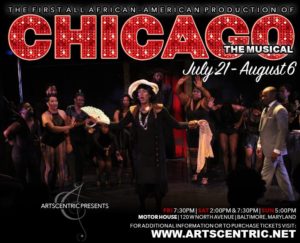 Stop the presses! BJ Daniels is all but stopping the show as Miss Mary Sunshine. Daniels is a hoot and a scream with his perfectly practiced falsetto. Dolling up the character into this overly theatricalized woman of a certain age, there is an undeniable humor, though tethered in honest roots, to his portrayal of the sad-sob reporter from the Evening Star. Watch the way he fans, swoons, and all but faints around Mr. Billy Flynn, and note further still the way he executes his body language every time he sashays onto the stage in character. "A Little Bit of Good", Daniels' signature number, is a riot because his falsetto is fierce and well suited for the situation.
Pamela Ward deserves a lot of 'tat' for all she's got to give to Matron Mama Morton. Robust of personality and unafraid to embrace the larger than life character, Ward whacks it out of the park with her attitude when it comes to addressing seedy characters like Billy Flynn and when it comes to dealing with the chickies inside her pen. With the perfect balance of slink to sass, brass to sincerity, Ward makes you want to do favors for her in hopes of working that reciprocity system she sings about during "When You're Good to Mama."
Plum pitiful Amos (Sylvern Groomes Jr.) is oh-so excitable when it comes to things like a potential baby and having his name remembered. Groomes' character may be of the supportive assist variety, he takes the role with great gravity and gives it depth beyond compare. The big number, by which all Amos' are held accountable, is a stunning success in Groomes' portrayal because of his raw honesty. Delivering "Mister Cellophane" in earnest, Groomes wins a lot of empathy, sympathy, and vocal support from the audience when he completes the number and again later when he tries to exit at the show's conclusion. With droopy facial expressions and a homely spirit, Groomes wallows delicately in the mire of his character's transparent existence, making him all the more memorable as a performer. He's also got a great sound for the number, including his perfect ability to balance the volume output of his singing, holding off until the last second to make his 12 seconds of belting absolutely worth it.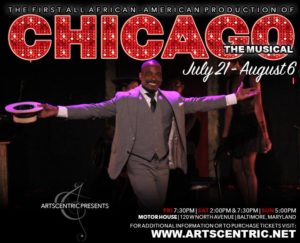 We want CJ. Give us CJ. C-J-F-A-U-L-K…that silver-tongued prince of the courtroom tackling the sleazy and unctuous Billy Flynn and boy does he oil the character up slicker than a slip-n-slide at an Independence day cookout! Garcia-Alton's slow-spinning roto-phone gobos come into play during Billy Flynn's "All I Care About is Love" adding seedy layers of sleaze to the way Faulk carries off the song. With a voice as decadent as molten velvet, saturating this song with serpentine salaciousness when it comes to love— of all types— Faulk charms the audience, hypnotizing them under his cheap charismatic spell. He puts the old razzle dazzle in the song of the same namesake, again working that slippery voice for all its worth and milking every moment of its success the way the character Billy Flynn most certainly would.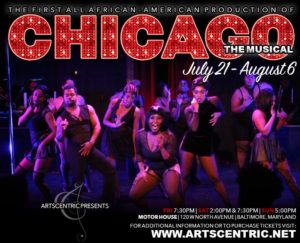 Look at little Vel, watch Jessica Bennett give 'em hell— when she takes the stage as Velma Kelly! A tiger in a cage, a vixen trapped inside her bonds, Bennett is busting out all across the stage with hot lava spurts of sensuality, seduction, and straight-up ferocity when it comes to portraying Velma Kelly. No one is going to mistake her for any sort of Broadway copycat as Bennett puts her own unique and saucy spin on the performance, really earning her place in the Baltimore hall of fame when it comes to stellar performances. With a belting voice that goes toe to toe with her co-star Roxie Hart— at times it's almost like a belting diva showdown to see who can put more of their voice out there harder— Bennett brings her A+ game to the table and satisfies the audience tremendously. Standout numbers include "All That Jazz" and her desperate and humorous approach to "I Can't Do It Alone." Watch her vividly animated facial features, especially when she rolls her eyes at Roxie and you're in for a smashing treat!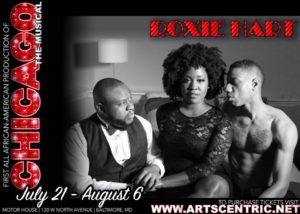 The name on everybody's lips is gonna be— Ashely Johnson-Moore! Who says that murder's not an art? Whoever they are clearly has not met Johnson-Moore because she slays when it comes to laying down the role of Roxie Hart. Starting with a bang— figuratively, literally, vocally, and every which way you can bang in a show like this— Johnson-Moore blows this role sky high and cements her place in the present-day Baltimore Beltress hall of fame. With punch, pizzazz, panache, and perfection, Johnson-Moore gives Roxie Hart the edge the character is desperately seeking, really fleshing out the dynamic layers that were written into the role. All but ready to combust with jubilation leading into her shameless self-promotional number, "Roxie", there is an unstoppable enthusiasm and eagerness that follows her throughout the show, growing exponentially until it erupts in a shower of glittering disappointment— just about the time Roxie realizes her true place in the grand scheme of the world. With ferocious vocals that takes each of Roxie's songs to task, Johnson-Moore doesn't shy away from the heart or soul of her performance, especially not when it comes to "Funny Honey." Sublimely animated when it comes to her facial features and her overall use of body language, Johnson-Moore earns her name up in lights for this production, hands down!
Hotcha! Whoopee! Jaaaaaazzzz. They've got it all. And you don't want to miss your chance to see it all, experience it all, and witness the first-ever all African-American production of Chicago at ArtsCentric this summer. So get your ticket and skidoo!
Running Time: 2 hours and 15 minutes with one intermission
Chicago plays through August 6, 2017 at ArtsCentric on the main stage of The Motor House— 120 W. North Avenue in the Station North Arts District of Baltimore, MD. Tickets are available for purchase at the door or in advance online.