What good is sitting alone in your room? Come hear the music play. Life is a cabaret, old chum! Come to the Cabaret! The Roundabout Theatre Company is pleased to give to you— and be sure to give it back when you're finished with it— Kander and Ebb's stunning Cabaret. Directed by BT McNicholl, this production is showing the nation's capital that life is beautiful, the girls are beautiful, even the orchestra— conducted by Kit Kat Band Leader Robert Cookman— is beautiful! So? What are you waiting for? Leave your troubles behind! And come to Cabaret.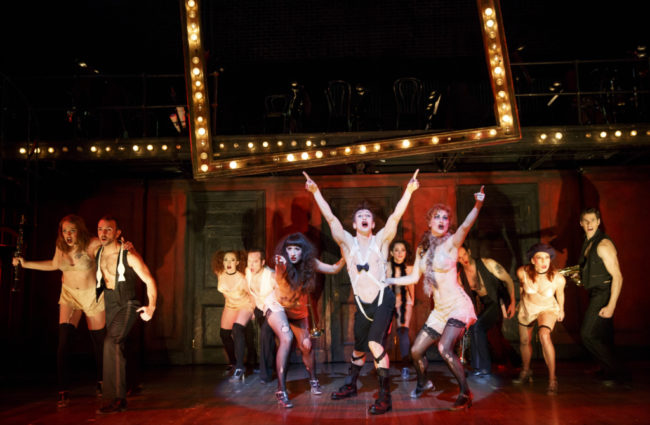 More astonishing than seems imaginable, The Roundabout Theatre Company pulls out all the stops on this thrilling theatrical experience. Inviting the audience into the repulsively beautiful underbelly of Berlin, and more specifically the Kit Kat Club and Nollendorfplatz, Scenic Designer Robert Brill keeps the iconic hallmarks of the production— the sliding eyehole central door, the windy metal staircases that flank either side of the stage, and the framed orchestra— perfectly intact, while leaving the rest to the imagination. Costume Designer William Ivey Long enhances this deliciously derelict experience by keeping the costumes of the Kit Kat club boys and girls tastefully tawdry, oozing with just the right hint of sensual sleaze. Rounding out the aesthetic approach to the show, Lighting Designers Peggy Eisenhauer and Mike Baldassari authenticate the experience of emotion with their tightly focused use of spotlight and colored light. Though simplistic, like the overall visual theme of the show, Eisenhauer and Baldassari know how to use a subtle shift in lighting— like during "Maybe This Time"— to draw the audience into the ephemeral imagination of the characters and snap them right back into the cold, harsh, brutal reality of the circumstances unfolding around them.
Revitalizing the original dance routines of Rob Marshall, Associate Choreographer Cynthia Onrubia puts a fierce and militaristic spin on the motion of the performance. This is a sharp and bold precision to the way the working girls of the Kit Kat club march their way through "Mein Herr" and "Don't Tell Mama" alongside Sally Bowles. This is a rich foreshadowing of the march that is to come at the end of the engagement party scene but not before the decadent rotating spiral of dancers— with the Emcee in guise— during "Kickline" at the top of the second act. Onrubia puts heavy doses of emotional distress onto the bodies of her dancers, exemplifying the toll that the "happy life in Berlin" is taking on them. This is a strikingly thematic reveal when it comes to the show's conclusion and is carefully woven into the tapestry of movement right from the show's beginning.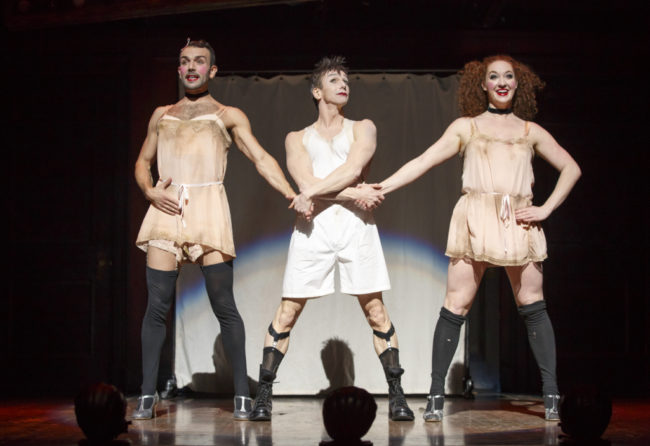 With robust talent throughout the Kit Kat Band and Boys & Girls, the audience is in for a salaciously savory treat. Try Texas (Kendal Hartse) all the way from America; Hartse's very quick gun-slinging motion is most memorable during her Emcee introduction. Or Victor (Andrew Hubacher) and Bobby (Joey Khoury), or is it Khoury and Hubacher? There's really only one way to tell them apart, you know— it's that Khoury and Chelsey Clark, playing the silly but seductive Lulu, laugh up life in the absurdly comedic number "Two Ladies." Giggling, tittering, and making merriment of a mischievous measure— particularly when it comes to the silhouette play behind the scrim— Khoury and Clark go to town with the number and leave their mark on the production.
You won't mistake Fräulein Kost (Alison Ewing) among the Kit Kat girls, mark my word. Her deadpan face— and intentionally haggard makeup— makes her easy to recognize during "Willkommen" and all of the Kit Kat Club numbers. Ewing has a salty personality, well suited for her sniping interactions with Fräulein Schneider, but her voice— though intentionally layered with grit— is stunning when she takes over "Married" near the end of the second act. This shows in sharp contrast to the mocking spirit with which she belts and bombasts her way through "Tomorrow Belong to Me (Reprise)" leaving the first act on a harrowing cliffhanging note.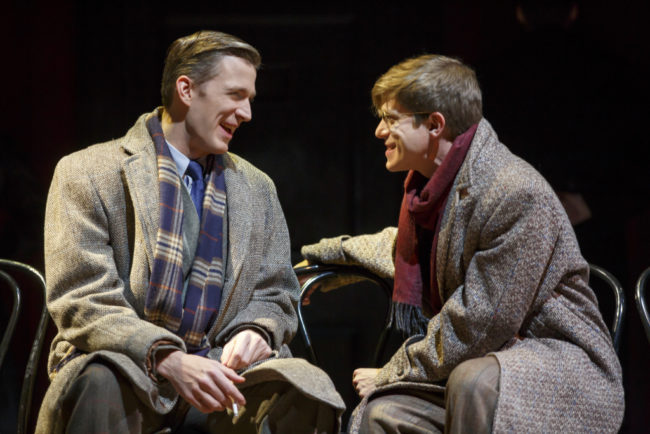 What is curious here is not the Nazi party that we all know is coming and rising to power in Berlin but rather how Director BT McNicholl shapes the character of Ernst Ludwig (Patrick Vaill.) With an almost overt approach to the character's closeted homosexuality, which plays divinely against the implied closeted homosexuality of Cliff (Benjamin Eakeley), there are a great many lines that Ernst delivers that are strikingly profound in this production. "Getting acquainted with one another" and the line his character says in regards to Cliff's being intimately familiar with Sally, "I think from you I am taking the wrong kind of lesson!" implies so much more with this direction in which McNicholl has guided Vaill's performance. Vaill, whose accent is spot on especially when it comes to his broken English, gives a rigorously invested performance and displays a robust voice when joining Alison Ewing in "Tomorrow Belongs to Me (Reprise)."
Benjamin Eakeley takes up the readily milquetoast role of Cliff and gives him an impressive spine. All of his emotions are raw and available, a surprisingly bold but well-received choice for the character. Though he isn't prone to much singing— that's simply how Kander and Ebb wrote the show— when Eakeley does sing, it sounds sincere. This too is true of Scott Robertson, playing the aged Herr Schultz. Though at first his voice sounds somewhat strained as he enters "It Couldn't Please Me More" and again at the top of "Married", upon a closer listen it is apparent that this supposed strain is put on to imply a hesitation in expressing feelings— as the song continues a hearty and robust sound rolls out of Robertson with solid pitch and intonation. His Yiddish accent is well matched against Fräulein Schneider (Mary Gordon Murray) and the coy flirtations he plays with her are delightful. Murray is exceptional in the role of the older German spinster with some rooms to let. With a voice to out-belt and out-carry them all, there are flagrant punches of stalwart panache in her rendition of "So What" in addition to the lovely sound that she creates. Connecting deeply to the emotional turmoil that her character is faced with, Murray makes Fräulein Schneider a fascinating component of the story and no longer just a supporting-plot character.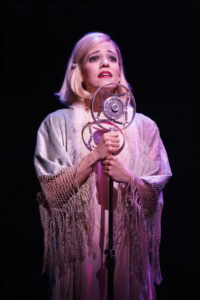 All the trouble really starts with this perfectly marvelous girl— Sally Bowles (Leigh Ann Larkin)— with her thrillingly scandalous life who somehow managed to dance her way onto the stage! Larkin is the epitome of an English tart-turned-diva with her charming accent, her larger-than-life personality, and her wildly expressive body language. McNicholl's direction comes into play with a heavy hand in regard to Sally Bowels; the cocaine use is all but advertised in glaring neon lights, which informs heavily the way her character reacts and responds to certain situations. Versatility knows no bounds when it comes to the way she portrays Sally; Larkin takes the seductively teasing school girl routine of "Don't Tell Mama" and flips it ass-over-teakettle in hardly a breath before turning out a sultry and hypnotically villainous rendition of "Mein Herr." Carrying the story arc of her character and the plight she faces with exceptional brilliance, Larkin does not disappoint in the role.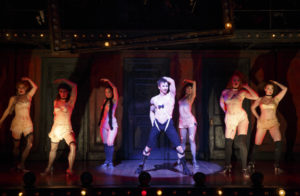 Meine Damen und Herren, Mesdames et Messieurs, Ladies and Gentlemen, he is your host— Jon Peterson! And host he does as the Emcee of Cabaret. With a decadent androgyny and boldly boisterous bisexuality running rampant through his character portrayal, there is something unspeakably real and indescribably beautiful about the way Peterson becomes the Emcee. Not trying to replicate Alan Cumming, not trying to reinvent the wheel with his portrayal, he is simply honest, simply present, and simply sensational. His voice, affected in a curious and questioning fashion, is well suited for numbers like "Money" and "If You Could See Her." Understanding how to balance the severity of the show with a high dose of humor, Peterson emotionally blindsides the audience with his transition into "I Don't Care Much" and by the show's conclusion, your spine is struck cold and tingles of a profound chill shoot through your body.
So… leave your troubles behind. In the Eisenhower Theatre we have no troubles here! So put down your knitting, the book, and the broom— and come hear the music play…because life is a cabaret, old chum, come see the Cabaret!
Running Time: Approximately 2 hours and 30 minutes
Cabaret plays through August 6, 2017 in the Eisenhower Theatre of The John F. Kennedy Center for Performing Arts— 2700 F Street NW in Washington, DC. For tickets call the box office at (202) 467-4600 or purchase them online.