You've seen all the stage shows there are to see
With musical fortitude and pride
But if there's something new you're craving
Try out the musical of Bonnie & Clyde.
Monumental Theatre Company is of the suggestion
That they ought to go and raise a little hell
So they've put together this here production
Of two famous outlaws we know well
Bringing to the DMV the professional premiere
For a little company that is quite the great stride
It's a limited run, so get yourself here
To see their musical production of Bonnie & Clyde.
I may not be as fancy of pen is Miss Bonnie Parker, but I've got a spark rearing in my keyboard waiting to tell you that the Monumental Theatre Company production of Bonnie & Clyde is just aces. It's stellar beyond compare. Directed by Ryan Maxwell with Musical Direction by Paige Rammelkamp, this edgy and zestful musical will chase away the summertime blues with its spirited musical numbers, vivacious cast, and titillating story!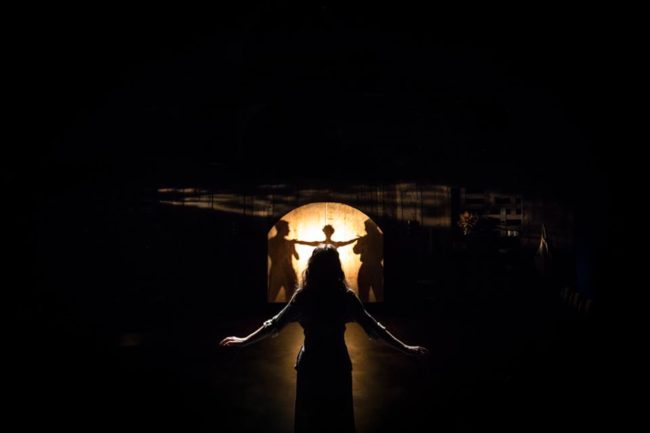 There is a rustic charm to Set Designer Jessica Cancino's scenic background. The wooden backspace is simple yet tasteful, honing in on a quaint yet gritty and humble beginning for the iconic legends of the story. Simplicity is key here; Cancino turns ordinary segments of fence into hood-popped motor cars with the help of a little imagination and a little goes a long way with her wooden fabrications. Working in tandem with Lighting Designer Rob Siler, Cancino carves out of niche for a large screen at the center of the scenery, which allows for stellar silhouette and shadow work. Properties Master Katherine Offutt is responsible for a few of the wondrous illusions seen in Siler's light work as the branches of trees and the cross are reflected in shadow during particular scenes.
Siler's silhouette work, which often involves a real-time actor behind the scrim in Cancino's set, is striking and compliments the live-action on stage exceptionally well. There are breathtaking moments, particularly when Young Bonnie (Hailey Ibberson) and Young Clyde (Camryn Shegogue) are performing their opening number, "Picture Show", where Siler's silhouette work takes the scene to an astonishing new level of sensationalism. Both Ibberson and Shegogue have strong voices with imaginative panache that bursts out of this number, enhanced and supported by the wicked wild silhouette work that Siler has created. Siler should also be praised for his use of tight focal lights as well as the prison bar gobos that splay across the floor whenever Clyde finds himself hanging in the hoosegow, especially as the former heightens already intensely dramatic moments tenfold.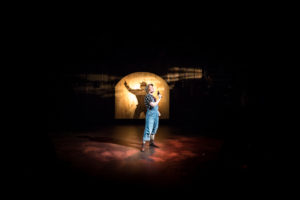 Spot on with sartorial selections, Costume Designer Ethan Henry captures the essence of depression-era Midwestern America, in particular the dust bowl and "Devil's Pack Porch" of West Dallas, Texas. Falling in-line with the notion of simplicity, Henry creates tasteful costumes that are well suited for the natures of each of the characters. Worn but clean and somewhat distressed floral dresses for the mothers, more stylish dresses for Bonnie and Blanche, it's these little nuances in Henry's design work that gives the production a polished aesthetic, especially when it comes to shaping couture with characters like the aforementioned Blanche and Young Bonnie.
Sound Designer Will Wacker gets a nod for the gunshots and chaos used at the beginning of the program, though later in the show the gunshots seem to fire live from the snare drum within the covered pit. Musical Director Paige Rammelkamp provides exceptional direction to the pit, keeping them evenly balanced with a low but audible volume so as to not overplay the performers— even though they're mic'd— and keeps a steady and consistent rhythm across the span of the show, moving quicker numbers with a lively tempo and slowing down when the mood calls for it. Thrown into that mix is the work of Choreographer Melrose Pyne, whose active routines are best found in "Made in America" and "God's Arms Are Always Open" with the latter being a spirited tent-revival style number with movements to match, and the former having an eerie and disturbing series of movements that accompany it to truly drive home the message of the song.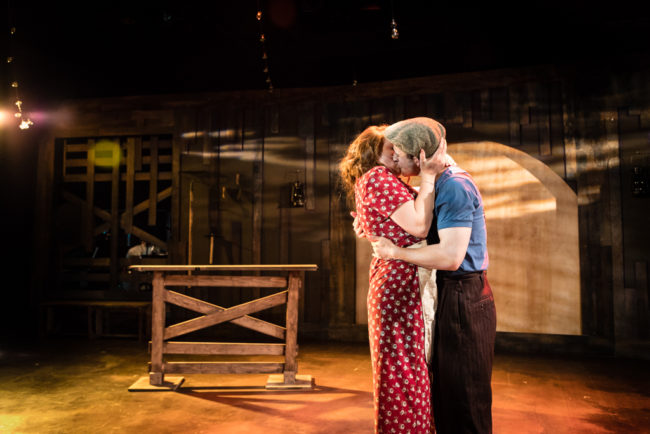 With a cast of just 14 people, even those relegated primarily to the ensemble take their share of the responsibility when it comes to telling this clever tale of America's hotshot gangsters put forth by Frank Wildhorn, Don Black, and Ivan Menchell (music, lyrics, and book respectively.) Chani Wereley, who starts as the cheeky Trish in Blanche's salon and migrates to the more formidable role of Frank Hammer a ruthless Texas Ranger, finds her niche comfortably in both roles while Ivan Carlo and Chris Daileader settle more subtly into playing the Sheriff and members of the law.
There's a disheartening sorrow that flitters through Emma Parker (Mary Beth Luckenbaugh), Cumie Barrow (Valerie Adams Rigsbee), and Henry Barrow (Tiziano D'Affuso.) All three performers showcase a great amount of heart when it comes to sympathizing with their wayward children— Luckenbaugh takes great pains in trying to communicate with Bonnie the right thing to do when it comes to Clyde Barrow. Rigsbee is fraught with desperation just wanting her baby Clyde not to be thrown hard away in the slammer during the sentencing scene. D'Affuso delivers a profound performance as Clyde's father, especially with his unyielding nerve to defend his son during "Made in America" and the interaction with Clyde that follows shortly thereafter.
Smooth of voice, desperate with emotion, and overall a silent but deadly pistol, Morgan Scott as Ted Hinton— the all-round American good boy of the law— is quite impressive. "You Can Do Better Than Him" is a solid duet, wherein Scott receives a chance to heartily showcase his vocal abilities, with the trio of harmonies at the end of this number settling with great tingles up the spine. The reprise of the number is equally moving and his compassion and drive for saving Bonnie is unwavering, constantly echoed in the way he talks and in the way he sings.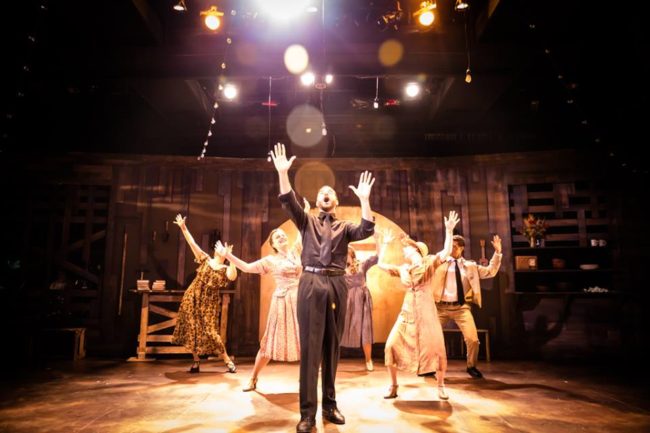 Where there's evil and sinners, there's bound to be a voice of the Lord trying to bring the lost sheep home to glory and in Bonnie & Clyde, that man is The Preacher (Jonathan M. Rizzardi.) With powerhouse vocals that blast a holy conflagration through "God's Arms Are Always Open", Rizzardi carries the torch of holiness all through the production, even with bitter sentiment when he opens the second act with his verse of "Made in America." With spirit and voice blazing, Rizzardi leads the ensemble through "God's Arms Are Always Open"— the original, as the Reprise takes a much different tone— and gets them revitalized and revived, full of faith, hope, and the good Lord's Kool-Aid.
Wayward but shooting for a clean spiritual bill, Buck Barrow (Ben Stoll) is no match for his rowdy faith-stubborn Christian wife, Blanche Barrow (Jana Bernard.) While Stoll is convivial, present, and even adorable in his flirtations with Bernard— and fraternally friendly with his brother Clyde— he simply can't hold a candle to all of the shenanigans Bernard is playing with. This aligns to the dynamic of the relationship between Buck and Blanche beautifully, cementing the fact that Blanche truly does wear the pants in the family. Stoll's Buck does have a full sound, a robust accompaniment to "Raise a Little Hell (Reprise)" and his hilarious antics during "You're Goin' Back to Jail" add an extra layer of hilarity to the number.
Jana Bernard is a scene-stealing, hotshot hoot of a character actor who has masterfully created Blanche Barrow to perfection. Bernard has twang, 'tude, and truth when it comes to her vibrant portrayal of Blanche, giving us the exacting sound of Texas Christian Belle both when she speaks and when she sings. Flawlessly carrying her vocal affectation into every song she sings, Bernard delights the audience with her sassy spitfire attitude and gets to the heart of every matter be it through humor or heavy emotions. "You're Goin' Back to Jail" is a hilarious hoot of a number where she puts her vocal pluck and punch on display giving the show the hot kick in the pants it needs and deserves in that moment. Showcasing versatility and a deeply serious side of her character, Bernard lays heavy into "You Love Who You Love", a duet shared with Bonnie, and again with her melancholy rendition of "That's What You Call A Dream" that is bittersweet and earnest.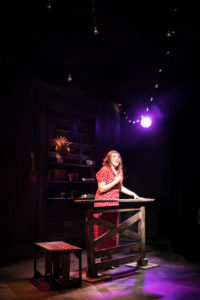 It must be great to be called the 'It Girl' and Rachel Barlaam is it. Taking on one half of the titular roles in this show— we'll give you a hint, she's Bonnie— Barlaam is a smash. With a wild spirit that can't be tamed, Barlaam tackles the role of Bonnie with rigorous effort, spinning her into the gun-toting, poetry-spinning outlaw that history was so fond of. "Too Late to Turn Back Now" is a breakout moment for Barlaam as we see her filter through a dozen emotions from the top of the number through to its conclusion. With a strong and heady voice, "Dyin' Ain't So Bad" becomes a haunting 11 o'clock number for the ravishing redhead that is not easily forgot. Her chemistry with Clyde is top notch; from their initial encounter through to the show's finale there isn't a moment where Barlaam puts anything less than pure connection into her interactions with Clyde.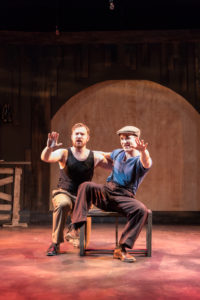 That Russell Silber's got it all mapped out as Clyde Barrow. He ain't got dreams— anyone can have dreams— he's got plans. Silber's plans involve being a phenomenal Clyde Barrow and channeling hardcore empathy into this rogue bad body that the nation idolized. There's a salt of the earth heavily present in his portrayal, grounding Clyde Barrow in the roots from where he came. This is balanced impeccably against this suave and charming shiny sleaze that accompanies the legend of Clyde and Silber does a fine job of honing in on both sides of the character. With an incredible voice that is not only versatile but packed full of powerful emotions there are intense moments, like "Raise a Little Hell" that echo with such striking sincerity— despite the humorous nature of the first rendition of the number— that it sends shivers down the spine. Never losing sight of the honesty at the core of Clyde, being a family man, having authentic regret when it comes to shooting his first victim, Silber creates an honest human being rather than a living legend or a stereotype out of this character. His voice is radiant and a perfect match for Bonnie, especially when they duet together in "Dyin' Ain't So Bad (Reprise)" and "The World Will Remember Us."
So now you've read all there is to read
Don't be nervous, don't sit home and hide
Make sure you go get your tickets to
Monumental's Bonnie & Clyde.
Running Time: 2 hours and 30 minutes with one intermission
Bonnie & Clyde The Musical plays through July 31, 2017 with Monumental Theatre Company in the Ainslie Arts Center of Episcopal High School— 3900 W. Braddock Road in Alexandria, VA. Tickets are available for purchase at the door or in advance online.