It has been 365 days— give or take a day here or there— since last the Courtyard of Reynolds Tavern was opened for their summer seasonal "Comedy in the Courtyard" series. And in those 525,600 minutes— give or take some minutes— William Shakespeare has written exactly zero news plays, absolutely no new sonnets, and penned no new roles of any sort! There are still 1,122 roles, 37 plays, and 154 sonnets to get through and there are still only three dudes to get through it! The Complete Works of William Shakespeare (Abridged) makes its triumphant return to "Comedy in the Courtyard" with Annapolis Shakespeare Company under new direction— John Bellomo, who had previously starred in the show— and with a new player in the ranks! It's still 97 minutes of hilarity but there are lots of new things going on and plenty to catch since you simply cannot catch it all the first time around!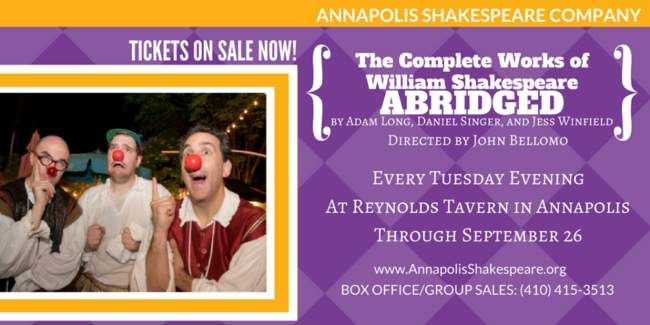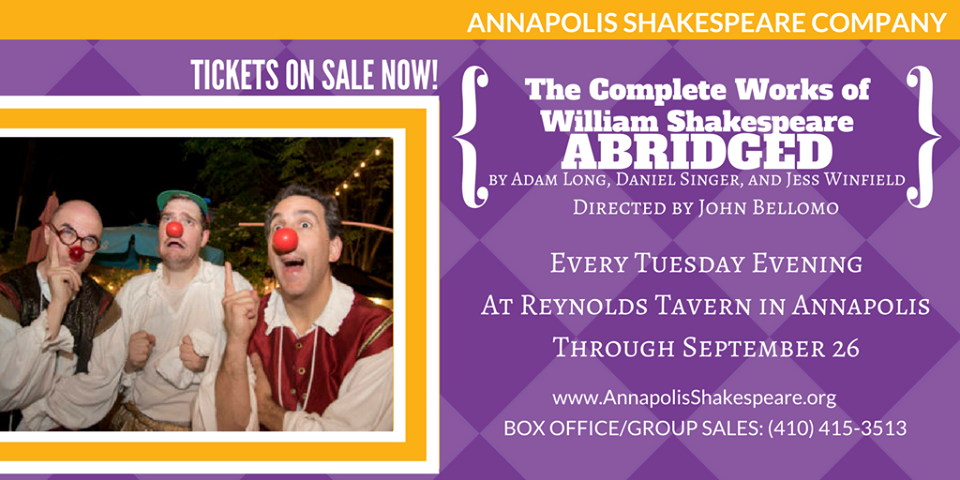 John Bellomo takes a step back from playing the historian type figure in the show and dons instead the director's cap. The pacing is rigorous, the references even more modernized and present-day relatable; Bellomo ensures that every comic gag, shtick-bit, and routine are milked to hilarious perfection for this slapstick, low-brow humorous approach to the Bard's unfathomably deep canon. Costume Designer Sandra Spence keeps the iconic sporty look about the trio of performers, giving them minimal costume accessories— including intentionally poor-quality wigs for Johnny Weissgerber's drag characters— to augment the hilarity of the show. Sound Designer Sally Boyett adds some snicker-worthy shenanigans to the production with well-timed and cleverly placed sound effects. On the whole, the production team gives these three talented performers all the rope they need to hang themselves with hilarity.
So let's meet the crew, shall we? There's the Pre-Eminent Shakespearean Scholar, Bill Dennison— who takes the audience immediately by storm in his scholarly getup not dissimilar to a hybrid of Sherlock and the 11th Doctor— and then there's the master of ceremonies, Brian Keith MacDonald, who ultimately ends up playing most of the non-Hamlet roles from Hamlet in the back half of the show. That just leaves Johnny Weissgerber, reprising his role from last season as "everyone else including the women." The trio works together with a keen understanding of how to play off one another, how to feed off each other's energies, and how to balance that playful banter and camaraderie with the high-octane pacing of the show.
Dennison, who is the official newcomer to the crew (though swung and understudied the show last season), fits right into the triangle as if he'd been playing with Weissgerber and MacDonald all along. Swiftly navigating his way through Titus Andronicus— as a cooking show— Dennison readily grasps the breakneck pace at which these scenic exchanges occur. Hustling along with the other two, Dennison make his mark on nearly every joke that comes his way and when it comes time for his mega meltdown— as Hamlet in the back-half of the show— he milks it for all its worth.
Brian Keith MacDonald, having flipped roles from last season's incarnation, clips along with the pacing and does his best to get a few ad-libbed modernized jokes into the show. There's even a line about "no time for pants' sandwiches" that is uttered but softly (not to be confused with "butt-love") and still gets a great deal of response from the audience. Serving as the comic assist to both Dennison and Weissgerber, MacDonald finds a strong foothold throughout the evening, particularly when it comes to his sword-clanging opposite of Dennison during the Hamlet duel scene.
Johnny Weissgerber is running away with the show. Between his hammy nature when dressing in drag for every female character ever and his convivially comedic spirit that just transcends the multiple onioned-and-parfaited layers of his performance, there is simply no stopping him. Taking the moment of the evening well in hand, wherein Weissgerber delivers a brief Julius Caesar speech much like the way The Public Theater is presently doing in New York— it's big, it's 'uge, it's making Caesar great again— he trumps everyone on the stage with his antics in that moment. Weissgerber will not give you dry, boring, vomitless Shakespeare, that's for certain!
Remember, all is well that finally ends. And this show will finally end on the 26th of September. But don't wait until then to get your tickets— get them now. See it now. Then you too can be a Pre-Eminent Shakespearean Scholar, or at the very least have a few gut-busting laughs over the course of one ridiculously entertaining evening.
Running Time: Approximately 1 hour and 40 minutes with one intermission
The Complete Works of William Shakespeare…Abridged plays Tuesday nights at 7:30pm through September 26, 2017 with The Annapolis Shakespeare Company as a part of the Comedy in the Courtyard series hosted in the Reynolds Tavern Courtyard— 7 Church Circle in Annapolis, MD. For tickets call the box office at (410) 415-3513 or purchase them online.