What follows the "I am" will always come looking for you. "I am old." Wrinkles will come looking for your face. "I am fit." The exercises will stick to you like white on rice. "I am controversial." The critic will have much to say in regards to your play. That last one follows soundly with Interrobang Theatre Company's current production of Amina Henry's Bully. An edgy 90-minute play that floats precariously around the subject of fitness, but more aptly addresses its namesake, takes to task the victim-blame mentality, notions of revenge and vengeance, as well as the extremes women can be pushed to when they reach their breaking point. Directed by Tara Cariaso, this is a conversational piece of theatre that sparks dialogues between what's happening on stage and the audience absorbing it all; there are a great many takeaways from this piece, and it certainly gets the mind moving.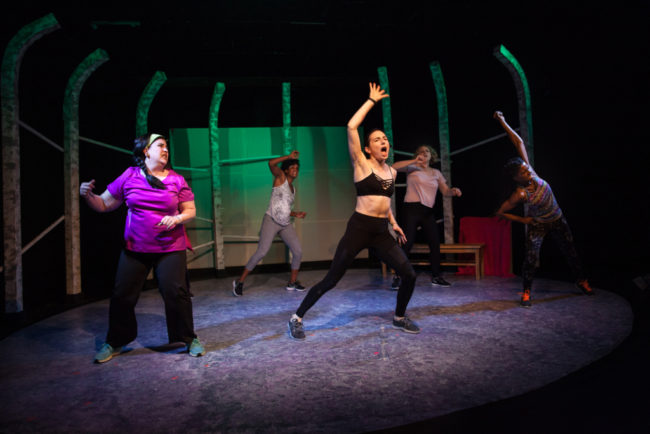 The larger issue raised here is not that Interrobang Theatre Company is producing what some may consider to be controversial work— to that end, I say more power to them; they're taking chances on newer works, under-produced works, and works that have a statement to make— however, this play in particular is flooded with gratuitous violence and is a bit inconclusive at the end. While it is praiseworthy that they've selected it, and casting aside the superfluous violence, one wonders if there aren't other plays that could make a similar statement that have more of a finality to them. That said, it is a bold undertaking and a well-executed one in the way that it comes together, even if all of the more abstract elements like the Dance Routines (choreographed by Caitlin Bouxsein) and the Shadow Movement (coached by Caitlin Rife) don't exactly gel with the rest of the production.
Costumes are modern; Kitt Crescenzo gives each woman a hint of uniqueness while keeping her basically the same in workout gear appropriate for an HIIT-style training class. Gabriella Castillo serves as the show's set and properties designer and keeps with the minimalist approach so that the focus can be honed upon what's happening between the six females on the stage. The strongest of the "design" elements in this production, though it really falls into a category all its own is the Fight Choreograph crafted by Brad Norris. There is a sharp pacing to the fight scenes, particularly the punches thrown and the kicks landed when various women are brutalizing their victims that are just stomach-churning. Norris has a keen sense of how to authenticate the sense of violence in a revolting fashion that draws heady attention to just how senseless these outbursts are and how disgusting and vile it is that society so readily tolerates them.
Heightened is the word that best describes the atmosphere that Director Tara Cariaso cultivates for this production. Despite the inconclusive ending between Wren and Bree, and the phoned-in conclusion for the remainder of the characters, Cariaso pushes every scene forward with a sense of urgency. The stakes are perpetually being raised by the determination revealed within the actors' characters and their character flaws. Though at times playwright Amina Henry's dialogue feels clunky and the play itself struggles for upward momentum (not so much as to stagnate entirely), Cariaso compensates for this with a heightened intensity, urgency, and all around drive that keeps things moving. Though the shadow work and dance routines feel a bit avant garde and somewhat out of place, it is easy to see where they're coming from visually.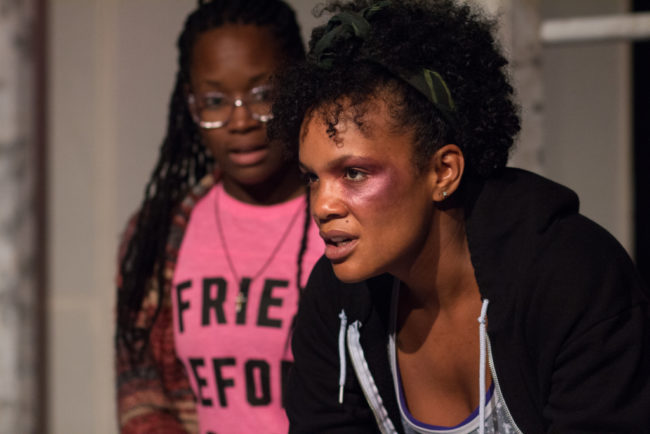 Absolutely spastic and hyper-steeped in her character's hysteria, Billie Krishawn takes up the role of Candace and makes her a bubbly irritant that is difficult to dislike. Krishawn's monologue about food, and her lack thereof as a child, is one of the most intensely delivered and astonishing moments in the production. Thoroughly invested in the text of this moment, despite her tweak-out and over-the-top approach to the character, Krishawn draws a hard focus to the way children are impacted by the food-habits and restrictions of those caring for them. Her squeaky vocal affectation adds a layer of humor to the production, which is much needed as there are a great many dark moments that populate the play over the course of its duration.
Delilah (Heather Johnston) is much the same and yet very different; she is super charged with a similar jittery energy though all of her text is delivered at a shout. Johnston embodies the character well, and for her stage debut, she holds her own against the other more seasoned actors in the show. Johnston too has her moment to shine, melting down over the donut box when she recalls being bullied all through high school. This pairs nicely with Candace's food monologue and again draws the audience to hone their focus on the deeper issues in play. This isn't just a show about fitness obsession; this is a show about the detrimental and long-lasting effects of bullying and self-image issues incurred by our youth, our women, and our society as a whole.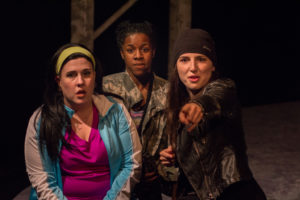 Tanisha (Eirin Stevenson) and Simone (Meghan Taylor) almost come as a package deal, though they are indeed separate characters. Stevenson and Taylor serve as the backup to the ferocious Queen Bitch, Wren, but manage to have their own little moments of recognition worthy of praise throughout. Taylor has her moment, jamming out to her fast-food tunes in the car, where each pop song that graces the radio (compliments of Sound Designer Brad Norris) gets its lyrics replaced with a food-obsessed series of words that are both humorous yet sad. Stevenson, as the fit and feisty Tanisha, has her moment toward the end of the show, once she finds herself on the reverse side of the treatment she's been giving others. There is mirth and a curious dark humor found in her portrayal in this particular situation that helps to ultimately lighten the gravity of the otherwise densely serious mood.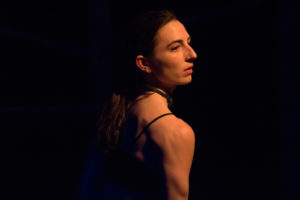 Endorphins are a beautiful thing because they give you such a rush. It's difficult to say who is hopped up harder, Wren (Anna Lynch) and Bree (Roxie Johnson.) The pair are a dynamic duo, playing perfect opposites against one another in this production. Johnson, as the victimized Bree, is perpetually motivated by this all-consuming, uncontrollable rage of being attacked. There is a tiger's blood coursing through her when she decides she has to take action and it is both intense and frightening. Lynch, as the intensely insane fitness-driven Wren, creates a character that defies description. With hyper-animated facial features that would scare the devil back to hell, Lynch leads these HIIT-Plyotmetrics fitness classes with vigor that could thwart the Roman Empire in one fell swoop. Her physical presence and indefatigable endurance is something that be marveled at, though take caution, just watching her is exhausting. The volatile chemistry that erupts between Bree and Wren is driven by Lynch but returned equally as hard by Johnson; the pair are unstoppable once they start going at it, carrying a great deal of the show's rising action until it comes to an unnatural and inconclusive ending.
Be prepared for an intense evening; there's a mental workout as well as an emotional one slam-packed into this 90-minute, high-octane evening of edgy theatre.
Running Time: Approximately 90 minutes with no intermission
Bully plays through June 18, 2017 with Interrobang Theatre Company currently at The Strand Theatre— 5426 Harford Road in the Hamilton neighborhood of Baltimore, MD. Tickets are available for purchase at the door or in advance online.