Come on in and sit right down and make yourself at home! Infinity Theatre Company is opening its doors for the 2017 summer season with a country classic— Miss Patsy Cline— though unlike you've seen and heard her previously on the Infinity Stage! Directed by Tommy Iafrate, A Closer Walk With Patsy Cline offers exactly as its namesake implies! An intimate jukebox musical; A Closer Walk pays tribute to the late Patsy Cline with some of her greatest hits and career highlights like performing at The Grand Ole Opry and some of Hank Williams' covers that she really enjoyed singing! It's a toe-tapping, feel-good time of an evening, so you better scoot on down to Bay Head road and see just what they're stirring up!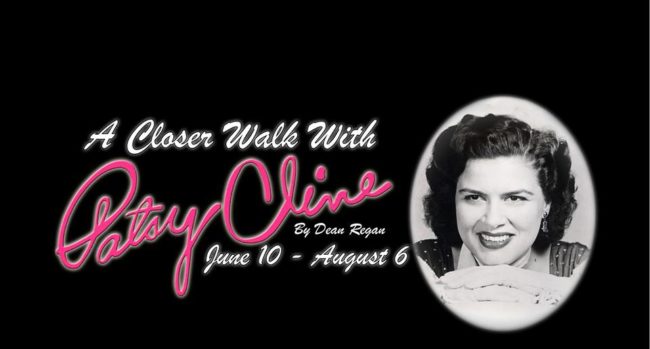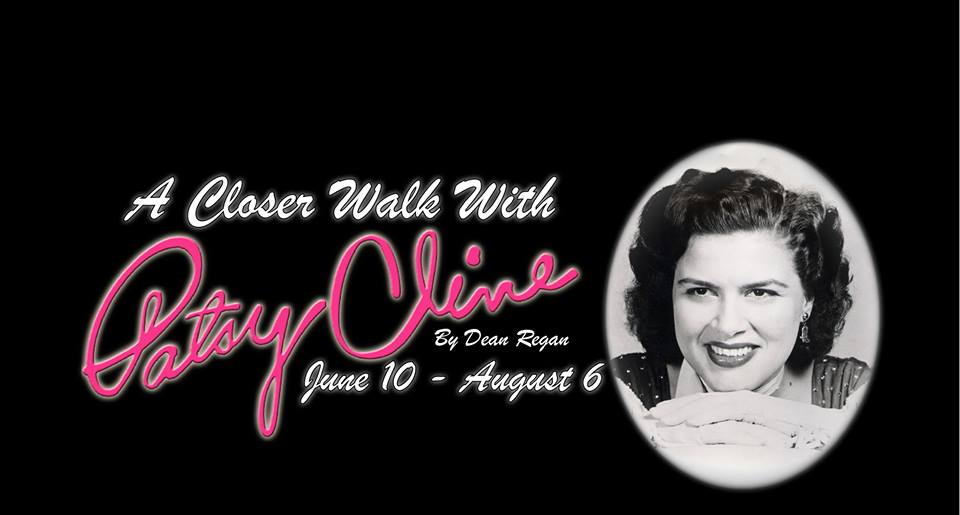 The stage is vast but the set is simple. Scenic Designer Quinn Stone uses a minimalist approach to let the audience focus on Patsy Cline and her music. There is a roll-in radio station DJ booth, where the character of "Little Big Man" spins his records, which are truly like memories, on and off throughout the production; this particular set piece is detailed to 1963 and looks appropriately antiquated. Stone's scenic work is subtle, allowing the other design elements— like the sartorial selection of Costume Designer Kristina Martin and the luminary plots of Lighting Designer Nathan Hawkins— to radiate in all their resplendence. Martin makes simple choices, using just four outfits for Patsy over the course of the evening; each one is well-suited for the locational shifts. Hawkins is reserved in his use of lighting effects, putting them to maximum use by being sparing in their distribution. The final moments of the show— an acapella lead in by Patsy— is a stunning combination of both Hawkins and Martin's work.
The driving force of the show is easily the live band on the stage. There's Bob Abbott on Bass, Dakota Kaylor (at this performance) on Percussion, and the two band superstars: JP Coletta on the keys and Jay McCarthy on the guitar and fiddle. Coletta and McCarthy take turns going to town with their wildly engaged playing styles; both gentlemen bounce about with the rhythm of the various songs, really putting their hearts and souls into their instruments. Coletta lays down some mean key work during "Seven Lonely Days" and really busts out some boogies for "Stop, Look & Listen." McCarthy is vibrant on both guitar and fiddle; he ferociously fires up the second act with a fiddle solo in "Orange Blossom Special" and his guitar skills are most prominently featured in "Don't Wanna."
While it may be a "one-woman" show in the sense that Patsy Cline is the only woman on the stage, the animated and somewhat exhausting Little Big Man (Andy Baldwin) adds a gritty balance to the performance as only a backwoods country yokel can. While he's reverent and completely invested in the tribute that the Radio DJ is giving to Patsy Cline from inside the studio— with narrative wending its way fluidly into memory into real time— it's his other characters, hosting in Vegas and at The Grand Ole Opry that garner the chuckles. Though at times his character work is a bit shticky, bordering on the hysteria of a caricature— almost in the vein of Don Knotts— Baldwin gives a solid performance, especially when cracking the off-color jokes of the times. His little asides in the radio studio— reading the news like Walter Cronkite or dismissively discarding the advertisement jingle slips— are some of the most earnest moments of comedy in the production.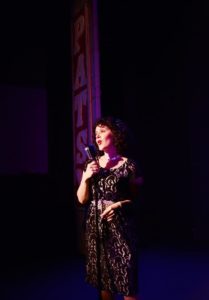 Laura Stracko carries the titular role of the show well on her shoulders. Not simply a songbird, but a natural storyteller, Stracko adapts the convivial manners and gentle fashion of speaking as she introduces various songs, members of the bands, and anecdotes that she's about to tell over the course of the evening. Burning with a slow smoky sound for "There He Goes", Stracko showcases a broad versatility when it comes to her musical range and capability. There is an homage to Patsy Cline embedded heavily in her performance; the way in which she presents her voice is quite similar, especially during numbers like "I Fall to Pieces." But there are other moments when Stracko gives the character a unique sound, like her powerful wailing belts during "Bill Bailey." There's the neon glow of an old-fashioned honkytonk just revving up in her soul every time she performs an up-tempo number and a swell of sentimentality every time a slower number about heartache comes across her lips.
It's a real pleasure to experience Broadway quality theatre in Annapolis for the summer; the show speaks to multiple generations— those who grew up with the music of Patsy Cline, those who are just hearing it for the first time and everyone in-between. The final moments of the show— as Director Tommy Iafrate has concocted them— are truly striking, rounding out the evening into something utterly remarkable.
Running Time: Approximately 1 hour and 40 minutes with one intermission
A Closer Walk With Patsy Cline plays through August 6, 2017 at Infinity Theatre Company at The Children's Theatre of Annapolis Complex— 1661 Bay Head Road in Annapolis, MD. For tickets call the box office at (877) 501-8499 or purchase them online.