Something is taking its course. I don't know how I feel today. There is no one else. There is nowhere else. It must be an absurdist cycle. Rapid Lemon Productions, under producer Max Garner, presents an evening of absurdism at The Motor House in the Station North Arts District of Charm City. A double-bill of two one-acts that are threaded loosely together in their absurdism roots, the classic Samuel Beckett's Endgame is paired with the American premiere of Darren Donohue's Voices in the Rubble. Directed by Lance Bankerd, with a stellar cast— of which Bankerd is included— the dual-feature is indeed absurd and can best be enjoyed by attempting not to understand it or make sense of it.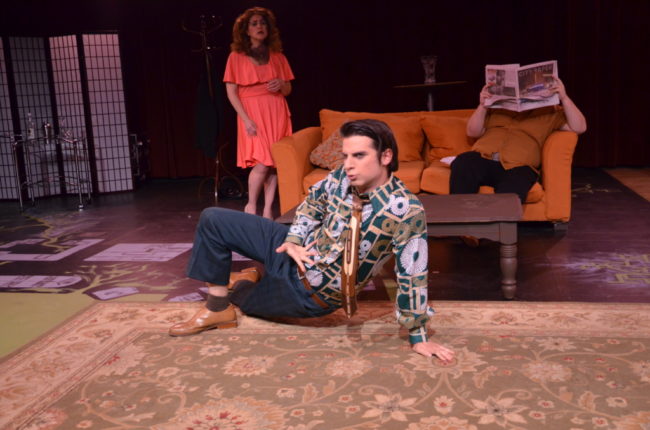 Set Designer Sebastian Sears sets to making two versatile scenarios which make unusual realities for each of the plays. For Voices in the Rubble, there is less of a focus on the aesthetic and more on the placement of the furnishings— like the bright avocado refrigerator and the vibrant orange couch— across the black-box style space. Sears' fabricates a much more drastic and post-apocalyptic aesthetic for Endgame. With sprayed graffiti on the windows and grungy filth on the floor, Sears captures the essence of this underground hovel of horrors. Working in tandem with Sears, Lighting Designer Allan Sean Weeks augments the atmosphere in both productions, elevating the hilarious absurdity of Voice in the Rubble and strengthening the bleak severity of the banal end-of-world existence for Endgame. Augmenting the bizarre reality of both pieces, more heavily in Endgame, Sound Designer Patrick McMinn brings an aural landscape to the foreground of the audience's attention at exactly the right moments. Cute and kitschy cues are utilized during Voices in the Rubble to exacerbate the hilarious vein of absurdity which Donohue has penned into the scenario, while more otherworldly and inexplicable noises that shatter the mind and shake the senses are infused into Endgame.  
Rounding out the absurdist aesthetic for both Endgame and Voices in the Rubble, Costume Designer Deana Fisher Brill puts forth a series of curious, albeit well-coordinated, sartorial selections for both productions. Brill's work showcases bright colors and effervescence for Voices in the Rubble, which is appropriately fitting to the whacky and almost whimsical nature of the play. Focusing on the post-apocalyptic vibe of Endgame, morbid grays and filthy earthen tones come into play for the wardrobe wonders befitted to the quartet of characters.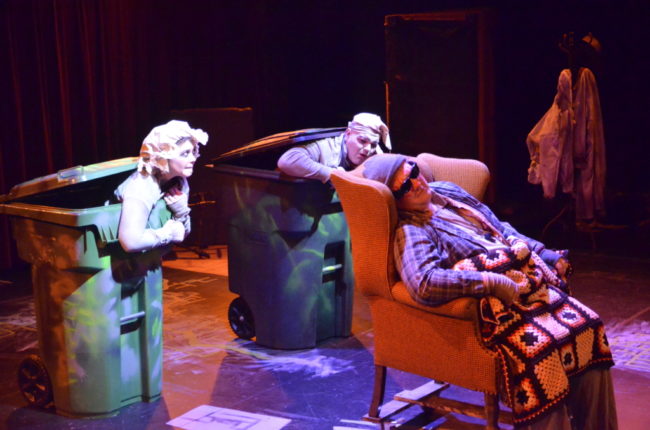 Director Lance Bankerd puts forth a strong vision when it comes to mashing these two unusual and distinctly different veins of absurdism together into one evening of absurdist theatre. It is a bold move to self-direct and feature in both shows, though his role in both performances is minor supportive. Bankerd coaxes nuances of subtlety out of Donohue's work, treating it a bit like a jacked-up 1950's sitcom. (This is where McMinn's soundscape comes into play, guiding the audience down this path so that they feel as if they're caught in a Twilight Zone-style episode of I Love Lucy strung out on sex, drugs, and murder.) Bankerd's pacing of Voices in the Rubble is exceptional and within 35 minutes the entirety of its shocking existence has ended. This is the edgier and arguably the more enjoyable of the two pieces featured on the double bill.
Endgame, through no fault of Bankerd's or the performers, is mind-numbing; bluntly put to suffer through it is a form of theatrical torture. Bankerd, fully acknowledging that, takes an almost immersive approach so that we the audience are as enrapt and entrapped in the situation as poor, pitiable Clov. The deconstruction and reconstruction, wherein the audience watches the performers transform into their costume and makeup center stage during what is argueably an intermission bled into a pre-show setup, is a mild preparation for what is about to be endured. Not without its humors or sharpened use of repetition, which Bankerd calls repeated attention to— furthering this viciously absurd cycle— Endgame is a theatrical experience like no other. Much like Voices in the Rubble, it is best viewed as is, meant simply to be absorbed. Save the attempted analysis or any hopes of making sense of it until after the performance has been consumed, digested, and processed out the other side.
Bankerd, as a performer in both plays— though his role in Voices in the Rubble is so brief it almost doesn't count, except for the sheer magnitude and plot significance which he delivers simply by arriving— is striking with his stage presence. Taking up the role of Nagg in Endgame, his vocal affectation is on point with the heinous existence left to the character. Watch his fingers and his demeanor and overall physicality as he plays peek-a-boo in and out of the garbage can; it's hilariously disturbing. Playing opposite of Lee Conderacci in this performance, wherein she plays Nell, the pair develop a surprising pre-existing chemistry that draws an even heavier gravity to the reality of the situation in which they find themselves. Conderacci is an effervescent bubble in Voice in the Rubble, with a squealing shriek that would set a deaf man's spine jumping out of his skin. Bubbly in a bizarrely complacent way, Conderacci showcases a remarkable ability to stop a scene in a breath by dropping into a darker tone, spinning the moment round on its head twice before moving forward.
Zack Jackson takes leading charge in both performances, playing opposite of Conderacci in Voices in the Rubble. His exasperative nature is played at a heightened peak for most of his performance as Tony in this piece. The harrowing juxtaposition of this character against Hamm in Endgame is astonishing. While they are vastly different, the share a frightening similarity of blindness, though one is metaphorical and the other is physical. As Hamm, Jackson exudes a commanding presence, forcing the audience and Clov, and anyone who will listen or is within earshot to pay him the utmost attention. There is something terribly unbalanced, but in the most decadently delicious way, about his portrayal of Hamm. Watch carefully, lean in closely, and enjoy the full horror he presents as this revolting creature of the world.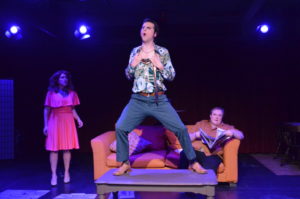 Matthew Lindsay Payne pops up in Voices in the Rubble— rather pops out, though of what I can't say— and makes his arrival as George the penultimate bizarre moment of the show— or rather th most bizarre up until that point. With a vigorous vibration of energy, he bounds about and engages in the absurd reality which has been well established by the time he arrives. Like night and day or any set of true polar opposites, Payne transforms completely to play Clov in Endgame, so much so that he is almost unrecognizable. The most impressive thing about this performance, his pinched nasally vocal affectation notwithstanding, is the brutal physical commitment he makes to the character. With a mincing scamper and distorted shuffle, his non-functioning leg is pronounced quite strongly. This informs the way he moves, bends, and even stands still; this creates a spectacle all its own that one could easily get lost watching.
With theatrical lunacy on one side and theatrical torture on the other, it is an even of well-preserved absurdism that will transport you to a time and place that are not of this world. It is an experience that most will not encounter in their theatergoing ventures and should be endured and experienced for exactly that reason, not to mention some of the more hilarious things coming out of actors mouths in Voices in the Rubble. Take a chance on absurdism, you'll feel a breath of insanity and then one of relief that your life indefinitely makes more sense than theirs.
Running Time: Approximately 2 hours and 20 minutes with one intermission
Voices in the Rubble & Endgame plays through May 21, 2017 with Rapid Lemon Productions on the main stage of The Motor House— 120 W. North Avenue in the Station North Arts District of Baltimore, MD. Tickets are available for purchase at the door or in advance online.**