What is life without taking a few risks? How could you pass up this rare opportunity to see a theatre for young audiences' dramatization of the classic story Robin Hood? Now appearing at Pumpkin Theatre to close out their mainstage 2016/2017 season, Robin Hood, adapted to the stage by Cathryn Pisarski and Directed by Bobby Harris, is galloping and gallivanting onto the stage to entice young audiences and audiences young at heart for an afternoon of daring swordfights, dashing adventure, and lessons in life!
Boldly starting the adventure off in the right direction, the design team— including Helen Garcia-Alton as Lady of the Lights, Heather Jackson as Woman of the Wardrobe, Ally Cribbs as Princess of Props, and King Bobby Harris whose directorial influence oversaw the scenic layout— creates a whimsically engaging atmosphere in which the tale can unfold! Particular praise must be paid to Garcia-Alton for her unique use of shadow and silhouette play, which covers the scene changes divinely. Jackson too deserves praises lauded upon her efforts for crafting fairytale quality costumes on full-fledged adults that make them look both appealing and iconic to younger audiences. Auxiliary assists to the design team include Musical Consultation from Pumpkin's resident Musical Director Mandee Ferrier Roberts, who consulted with our strumming, strolling minstrel, Melissa LaMartina, and Fight Choreographer Sarah Gorman, who put all of those dashing sword fights together with rigorous energy.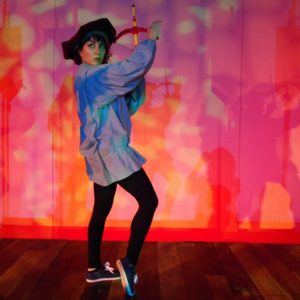 With a seven-person ensemble, the performers make every moment of this production thrilling and exciting for the young audiences in attendance. With the sprightly Alana (Melissa LaMartina) who takes her turn as the strolling and singing minstrel, playing the little lute as she serenades Robin Hood, the audience, and all with ears in her mellifluous tones. LaMartina, like half of the cast, doubles up at various points throughout the performance doing little things to distinguish one character from the next. Keep an eye on her during the great archery tournament and see how many times she arrives to shoot her bow at the mighty bullseye!
Dana Woodson is equally double-split, taking up the role of Scarlett and Anabelle, wherein one is a noble member of Robin Hood's band of pleasant people and the other is a ridiculous tittering hand maiden to Maid Marian, gushing and going google-eyed over all the boys, over every and any boy! She has great comic humors about her as does Ted Kedesla, playing the quirky Friar Tuck and Mortimer— a man in the company of the naughty and nasty Sheriff of Nottingham. Bumbling and humorous as the latter of the two characters, Kedesla finds some adorable comic moments that highlight the silliness of the villains in this show so that they aren't too scary for the younger audiences.
Speaking of silly, Rafael 'Spike' Regales has his hand in the soup as it were when it comes to shenanigans. Playing both Little John, the right hand man to Robin Hood, and Rodrigo, the right hand man to the Sheriff of Nottingham, Regales is equal parts goofy and hilarious in both roles, though seems to garner far more laughs as Rodrigo. Suggesting absurdities to the Sheriff of Nottingham when it comes to the devious plot of how to capture and end the days of Robin Hood (by tickling to death of course!), Regales is indeed the perfect fit for this henchman type character.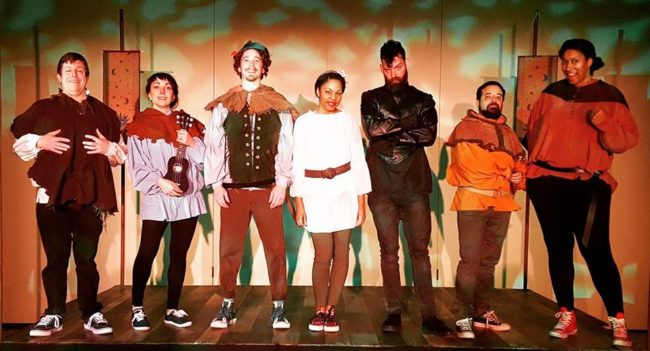 Tackling the big bad bully role of the Sheriff of Nottingham, Derek Vaughn Brown presents a ridiculously silly villain so that no younger members of the audience are frightened by him. Do not mistake this silliness for simplicity, however, as Vaughn Brown is still most definitely evil, after all he wants to do away with Robin Hood! Leaping about on his horse, with exceptional physical rigor in both this task and sword fighting, there is something to be praised for his fits and tantrums, especially when things stop going his way. Squaring off against Robin Hood (Jon Kevin Lazarus) becomes some of the most engaging moments in the show.
Jon Kevin Lazarus, in the titular role, is noble, honest, and sincere, though not without his quirks. Lazarus' Robin Hood can neither sing nor strum and this adds a level of hilarity to the show that the younger audiences thoroughly enjoy. And although he goes a-wooing Maid Marian (Rachel Reckling), it's not so simple as just being Robin Hood to win her (or the audience's) affections! (Seriously, the adorable audience starting retching, mock-gaging, and shouting "ewww!" every time he would stoop and kiss her hand.) Reckling, as the modernized maiden is no damsel in distress and in fact brings her own unique punch and panache to the role, amping up the character from dull dame to magnificent maid in no time flat! Spunky and ready to fight, Reckling reinvents the character into a heroine that young audiences can be proud of.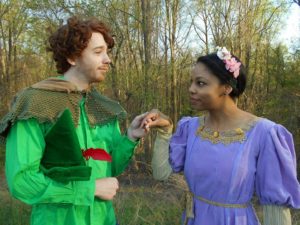 To quote two of the four young audience members who accompanied TheatreBloom on the Robin Hood adventure:
"They did awesome. They had good potential in everything." – Nigaya Johnson, age 12
"The evil one was scary! But not too scary!" – Niashay Johnson, age 7
Running Time: Approximately 65 minutes with no intermission
Robin Hood plays through May 21, 2017 at The Pumpkin Theatre located at Har Sinai Congregation— 2905 Walnut Avenue in Owings Mills, Maryland. For tickets call the box office at (410) 902- 1814 or purchase them online.