What should I say? What can I tell them? Just be honest. Don't perform— leave that to the folks at Tantallon Community Players and their exceptional production of A Chorus Line. Raw, honest, compelling, and engaging, this stellar performance is one for the books! Directed by Christopher Gerkin, with Musical Direction by Levar Betts and Choreography by Debbie Clark & Richelle Lacewell, this timeless musical of the unsung theatrical heroes— the chorus line dancers— will solidify its placement in your heart before the evening is through.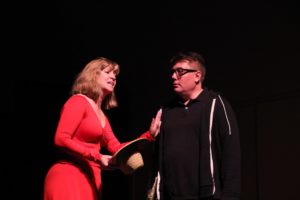 The stage is set: a faceless rehearsal space with mirrors on the back wall. This is the perfect backdrop for any production of A Chorus Line. Lighting Designer Isaac DeMarchi is appropriately stingy with the use of various lighting cues. There isn't meant to be dramatic lighting for a show that happens in real time. But there are moments of accentuation, compliments of DeMarchi's design work, that augment the frenetic energy of certain dance numbers, particularly during all four parts of the "Montage" sequence. DeMarchi does a fine job of handling the dimming factor when certain moments require a subtler touch of shadow; this finesse follows suit in his use of bright and tightly focused spotlights for various female individuals like Cassie and Shelia.
With the widely diversified cast, Costume Designers Holli Goral and Elaine Sullivan provide a topnotch aesthetic for the show, setting it with an homage nod to the 80's while giving it a modern and present day feel. The audition clothes vary from person to person, each having a unique color or style, each designed to show off their personality, their physique, and their overall presence on the stage. Goral and Sullivan create a varied sense of couture that is as unique as each cast member, using vibrant and dull colors, and all forms of dancer gear from the standard leotard to the midriff cuffed shirt, with leg warmers, ballet tights, and everything in-between to fully put the audience into the audition space in which the show takes place. Additional praise is to be lauded upon Goral and Sullivan for their sartorial selection featured during the "Finale", which can't be expressed without spoiling the surprise.
Director Christopher Gerkin has done an exceptional job of casting the show, featuring a wide variety of performers with varying ages, races, body types, and personalities. This is a striking representation of what is actually found in an audition room on Broadway today as the modern world opens its arms to see all types, even if it doesn't cast all types. In addition to this casting selection, Gerkin places himself in the role of Zach— the show's "director" overseeing the auditions, and puts the co-choreographers— Debbie Clark and Rikki Lacewell— into the role of Loretta, the dance captain of the audition. This is a sublime meta-infusion that draws the reality of the show to the forefront for a unique and engaging experience. Watching a director actually direct and a choreographer teach the steps they designed for the show is immersive on an inclusive level that tugs at the mind's curiosity and the heartstrings.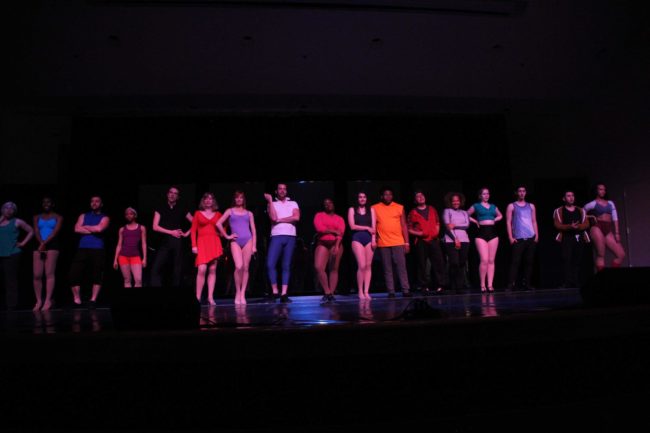 The pit, though unseen, conducted by Levar Betts, is strong and plays well with the performers, who are guided by Vocal Director Charla Rowe. Together Betts and Rowe make the music of the production sound solid, particularly when it comes to swells of orchestrations supporting swells of lyrics, all of which come out in sturdy balance with one another, where the voices rise to the surface and crash over the audience like a wave upon the shore. The vocal power possessed by the ensemble is tremendous, particularly when it comes to expressing emotions of frustration— like during "I Hope I Get It"—  and nostalgia— like during "What I Did For Love."
Everyone finds their moment in A Chorus Line, which is the beauty of the piece. Even the "Others" (Kristen Brisco, Jaden Foreman, Hillary Glass, Katrina Jackson, Shannon Perkey, Colleen Roberts) who are the nameless-named dancers and quickly eliminated from the audition, bring their own peps of personality and quirk to the opening number, "I Hope I Get It." While they may not have solos to sing or dialogue to run around with, this half dozen group of performers is the every-performer; they represent the chorus line member in us all, unseen, undervalued, underappreciated, unheard. Their moments, though brief, are just as important as everyone else featured in the production and their lively spirits express as much with great consistency.
Bobby (Mark Allen) and Greg (Richard Lepper) much like Donna (Zaneta Walthour) and Richie (Jory Holmes) find their moments in the limelight more often through their speaking and character development than their song or solo sung lines. Holmes, who proudly growls out his character introduction, does have a momentary angelic sound early on and is featured again during "Montage Part 4" but does not let his limited lines restrain his ferocious character. Allen, who is a scenery chewing comic cad during his pantomime bits of "And" leads his character with unwavering flamboyance, so too does Lepper, both openly embracing the femininity of their characters. And Walthour is just wild when it comes to expressing her stories. Watch her carefully during the ballet call and the "Tap Dance" routine because she's channeling her existence into her body's dancing ability.
Al (Ric Herrera) and Kristine (Kandace Foreman) are a smart comedic duo well matched against one another. Herrera surprises the audience with his well-toned singing voice, despite the thickly laid accent of indeterminate New York City origin, and really carries proper pitch during "Sing." This duet, shared with Foreman, wherein she patters and grumbles (with a bit too perfect of a voice for someone who supposedly can't carry a tune in a bucket) becomes a hilarious exercise in restricting the outburst of frustrations and learning to love one's partner regardless of how irksome the situation is growing to be.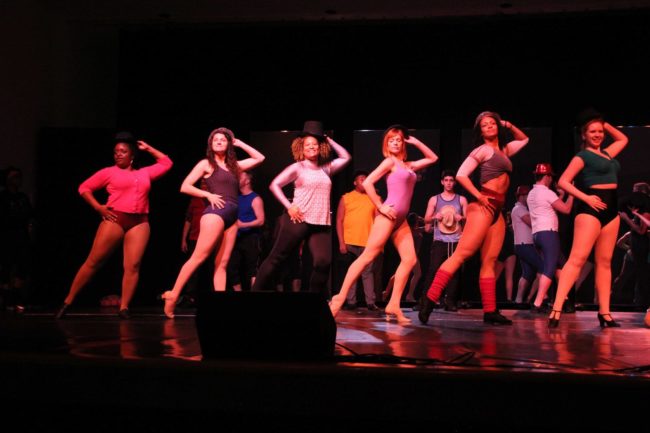 With a cherubic voice that would make angels weep, Niko Granados, playing Paul, only has a line or two here and there of song, but his voice is heavenly. It's not Granados' singing voice, however, that is his gift to this production but rather his earnest, raw, and convivial presentation during his monologue as Paul at the top of the second act. (The production splits an intermission just after "The Music and The Mirror" to accommodate the audience, an executive and well-placed decision by Director Christopher Gerkin. Although this lengthens the overall running time of the show, there is no loss of forward momentum as one might expect with such a choice.) Granados pulls you into his powerful, heart-wrenching, soul-searing speech so much so that you forget entirely about the production happening around you. Hypnotized by his sincerity and raw vulnerability on visceral display, Granados jumpstarts the second act with his powerful monologue and easily brings the audience to tears with the way he expresses this tale.
Twinkletoes extraordinaire, Mike (Jonathan Jackson) is the first character to whom the audience is truly individually exposed. Being asked to start of the personal interview section of the "audition", we get that Jersey-Brooklyn muddle of an accent screaming strong from Jackson as he tries to wise-guy his way through nerves. But once he settles into the element of his comfort zone— song and dance— the shiny soul of his character radiates through readily. "I Can Do That" becomes an incredible soft-shoe routine that showcases Jackson's dancing ability as well as his polished panache for character work, smiling and portraying proverbial jazz hands through his upright and energetic posture.
Alani D'Lawren doesn't let a little thing like little stop her when it comes to playing Connie. Appropriately sized and looking far too young to even be in the production, Gerkin made a smart casting call appropriating her to the role. D'Lawren has a powerful voice, which is showcased clearly during "Montage Part 1: Hellow, Twelve", and brings a spunky and perky but ferocious personality to boot with her character. Delivering a different sort of peppy perk, JoLeah Gorman— as the somewhat ditzy and down-home Judy— equals out the energy that D'Lawren is bringing to the show in a similar yet uniquely different vein. Gorman shines vocally in the back end of the whole Montage series, "Part 4", but her radiant personality pips up consistently throughout the performance like great unexpected blinding rays of sunshine laced with caffeine.
Bebe (Andrea Gerald) and Maggie (Brittany Caldwell) have sensational voices to lend to the production. Both are featured as backing vocals for Sheila (Amanda Dees) during "At the Ballet" and provide a harmoniously fluid sound that is just sublime. Caldwell repaints a wild with happy instance of her own childhood fantasy in this number, belting with such a sound that shakes the soul. Featured again as Tammy supporting harmony in "What I Did For Love", Caldwell puts her ferocious belttress sound on display for all to enjoy. Dees, as the frigid and pushy Shelia, carries a hellbent chip on her shoulder that freezes her into permanent resting-bitch mode. Surprisingly, Dees' voice charters the warmth that her childhood lacked during the chorus of "At the Ballet", proving a sharp contrast between her icy demeanor and the sentiment with which she imbues the number.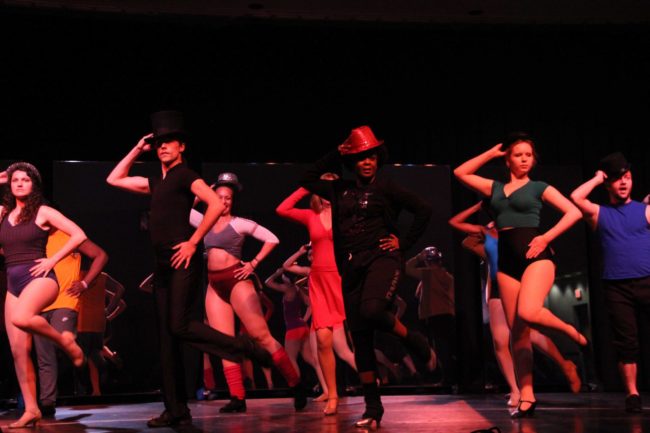 Posing opposite of Sheila is Val (Sarah Jones); the pair are in a scathing knock-down drag-out catfight over who deserves the chorus girl part more. Jones, though stylistically different than Dees, brings a similar attitude and channels it hardcore into every step that she takes, every move that she makes, and every note that she sings. Her crowning glory in the production, despite her abrasive attitude, is "Dance: Ten; Looks: Three" wherein she shakes things up both vocally and physically. Selling sass, though at times a teeny bit pitchy, Jones owns the belt at the end of this number, earning her place in this menagerie of a chorus line.
The irony that Tammy Roberts has worked the circuit playing the big houses and is a former Miss Maryland now playing Cassie in A Chorus Line is lost on nobody. It's a brilliant casting decision and the chemistry formulated between Roberts and Gerkin during their encounters— both over the mic and on stage— is volatile. Roberts has a strong voice showcased exceptionally well during "The Music and The Mirror." Her spoken lines have hints of artifice, like she's putting on to impress the Zach character, and this falls in step with the character's arc. Watching her dance the fully invested solo routine during the aforementioned solo, is something astonishing as she's ever so slightly behind the beat and ever so slowly behind her time. This is a flawless capture of the character's existence, Cassie has come back from stardom just desperate for work; Roberts takes that challenge in stride and soars through the role perfectly.
Rising as the star among the ensemble for her sheer sense of presence, her phenomenal vocal ability, and overall commitment to the moment in which she's breathing and living as Diana, Tahara Robinson is a glorious and radiant star. Supremely expressive with her eyes, face, body, and voice she owns the barren stage during "Nothing." Featured alone, she fills the entirety of the empty space with her presence, her attitude, her animated facial features, and above all her voice, which transports a wild range of emotions all through the number. And when she belts it out, Robinson is pulling it from the very bottom of her soul. Robinson brings forth an unapologetic bittersweet remorse and nostalgia as she leads "What I Did for Love", the perfect musical conclusion to the show and the growth of her character as well as all of the characters still remaining on stage at this point.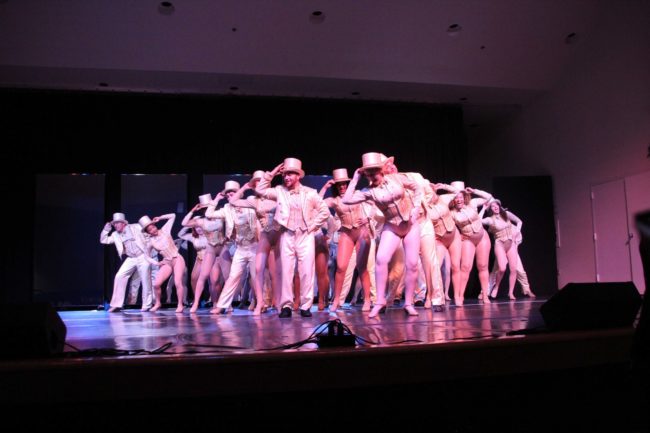 The ultimate character— yet unmentioned— is the show's choreography. It stands alone as a person unnamed, crafted and birthed by Choreographers Debbie Clark and Rikki Lacewell. Clark and Lacewell take turns playing Loretta on stage, guiding the dancers through these routines, but watching the moves they've created is mind-blowing. The synchronization, the uniformity, the crisp edges, and overall emotional weight of these moves is incredible. The opening sequence alone, "I Hope I Get It" is filled with exhausting choreographic routines that dizzy the eyes just to watch. The militaristic moves featured during "One" are shocking as well as harrowing to behold when Clark and Lacewell create the faceless anonymity of a chorus line dancer in this routine. There's a bit of everything going on during these dance routines, everything from soft-shoe to jazz hands and dozens of steps, flavors, and styles in-between, all of which are hand-cultivated and carefully tended to by Clark and Lacewell.
Kiss the day goodbye, and head into the evening where you will catch a fine production of A Chorus Line. It will be your one singular stage sensation you see this spring if you hurry and get tickets before they sell out.
Running Time: Approximately 2 hours and 30 minutes with one intermission
A Chorus Line plays through June 11, 2017 at Tantallon Community Players in residence at the Harmony Hall Regional Center at 10701 Livingston Road in Fort Washington, MD. For tickets please call (301) 203-6070 or purchase them online.