Something Rotten! in the state of Maryland! It's not politics! It's not corruption! It's a bloody, bleeding musical! What the hell's a musical? Well, it appears to be a play where the dialogue stops and the plot is conveyed through song! Charm City be praised! This brand new thing— this "musical"— is coming directly to Baltimore's France-Merrick Performing Arts Center and settling down at The Hippodrome Theatre. Why, direct from its smashing success on The Great White Way, Something Rotten! is here to splash things up, set things down, and remind us all why we love and hate Shakespeare! With a maniacally hysterical book by Karey Kirkpatrick and John O'Farrell, and Music and Lyrics by Wayne Kirkpatrick and Karey Kirkpatrick, this epic and hilarious musical will titillate the mind, tickle the funny bone, entreat the ear, and a whole lot more! Directed and Choreographed by Casey Nicholaw, it's a big and shiny, mighty fine-y, glitter, glitz, and chorus line-y, bob your head and shake your hiney musical! And you won't want to miss your chance to see it!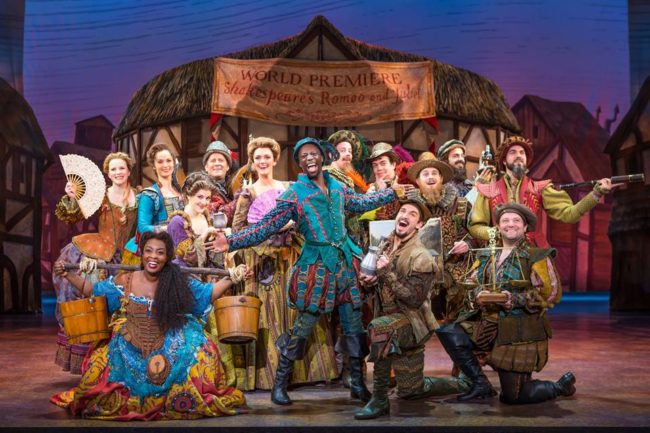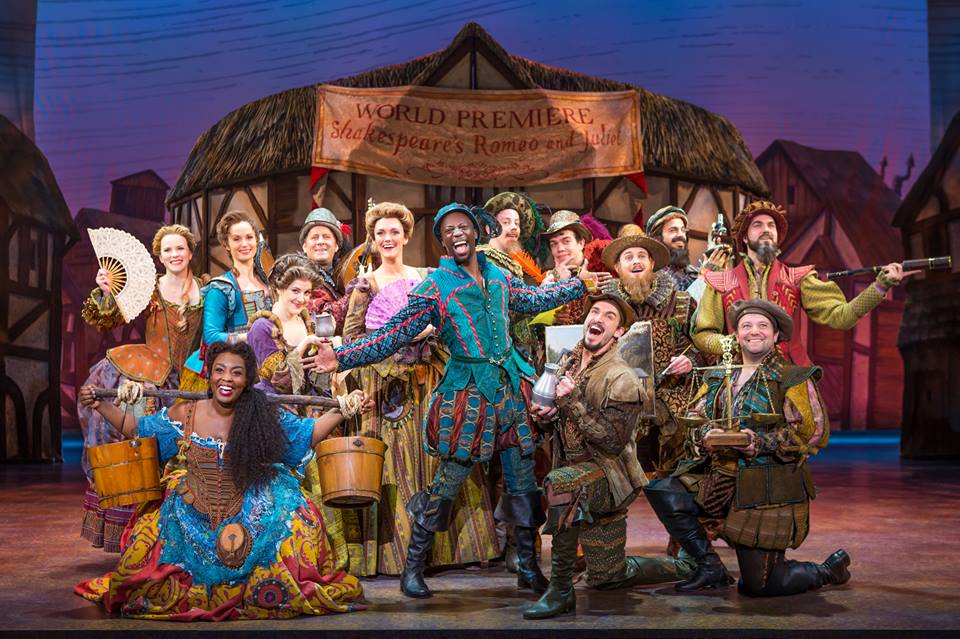 Designed to be an Everyman show, but exceptionally funny for anyone versed in Shakespeare or Musical Theatre, and doubly so for people who have a well-oiled working familiarity with both, Something Rotten! is a hysterical and uproarious romp through The Renaissance featuring The Bottom Brothers— Nick and Nigel— as they try to write the next great show to outdo The Bard himself, William Shakespeare. Chock full of musical theatre and Shakespearean references that will satisfy even the most causal of theatre fans, this phenomenal piece of musical theatre pulled together by Kirkpatrick, Kirkpatrick, and O'Farrell literally has something for everyone and is barrels upon barrels of fun!
Welcome to the Renaissance, that's right— they're fancy: every element of the Design Team that makes this astonishing production come together to be a sensational smash touring hit! From Scenic Designer Scott Pask to Lighting Designer Jeff Croiter, from Hair Designer Josh Marquette to Costume Designer Gregg Barnes, they've got all the splendid aesthetical approach that adds the fantastical razzle-dazzle required to often impress the musical-going audiences in the modern era of theatre. Pask's set is simple yet beautiful, all painted canvases dropping in as background and wing flanks to shift from the proper English village to the seedy back alley (not unlike New York City until it blinks to life like Broadway) and everything in-between. Croiter's light work is truly illuminating, especially when the rainbow inferno burns up the number "Will Power." Marquette and Barnes tag-team to create the perfect fashion line for everyone in the ensemble, but especially the posh-n-purple Lord Clapham, the tenaciously teal-decked Minstrel, and of course the superiorly sexy sartorial selection seen on Shakespeare.
Casey Nicholaw puts his credentials on display and owns the title of superior when it comes to his direction and choreographic work in this show. Nicholaw pumps a palpable enthusiasm into the ensemble as well as the principle players; every moment of the show is bursting with a sizzling energy that explodes onto the stage with joviality and pizzazz. The plot moves swiftly under Nicholaw's keen supervision, each scene a sharply executed exchange of witty banter, fantastical scenic splendor, and rump-shaking rhythm that has the audience all but dancing in the aisles. Taking a sensational show and turbo-charging it into a high-octane, vigorous spectacle where every number is a show-stopping, encore-winning moment, Nicholaw makes this the show of the season here in Charm City.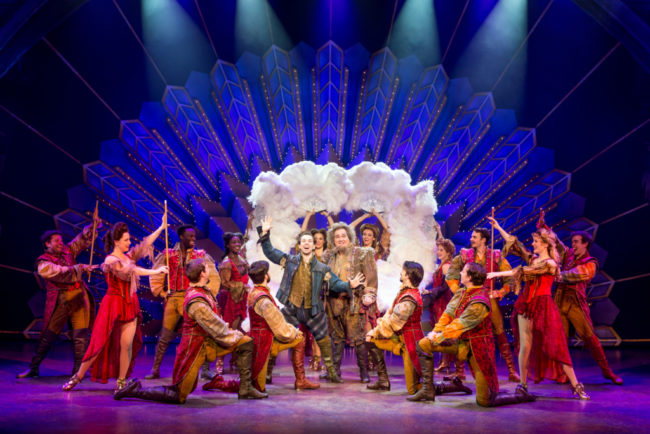 The audience won't be able to help but feel their arse gyrating to that titillating beat once they get a gander at Nicholaw's stunning choreography. Everything from tremendously terrific tap routines to the marvelous and ever-amazing kick-line, Nicholaw's dance routines have everything a great Broadway musical should and they're executed with stunning attention to detail, making them visually flawless. Synchronization, rhythmic approach, and overall finesse are divine in every single tap-step, side-step, two-step, and kick-step that Nicholaw puts into these invigoratingly impressive routines. "A Musical" has jaw-dropping choreography that is well worth the price of admission. An exceptional nod of praise must be given to the "Will Power Backup Boys" (Daniel Beeman, Drew Franklin, Ralph Meitzler, Con O'Shea-Creal) for the intense choreography that they pull off with machismo and moxie during "Will Power."
The ensemble kicks the performance into high gear from the moment The Minstrel (Nick Rashad Burroughs) takes the stage in the opening number, "Welcome to the Renaissance" through all of the insanely heightened numbers— like "A Musical", "Bottom's Gonna Be on Top", "Something Rotten!" and "Make an Omelette"— and keeps the audience laughing, screaming, and cheering every step of the way. Burroughs, whose voice is powerful and loaded with a striking R&B pop quality that still fits snuggly over the musical theatre style of the tune, is a charmer in his role as the Minstrel. This ensemble stopped the show after "A Musical" with an encore of applause that threatened not to end; this was a remarkable feat to witness and the number itself was amazing as well.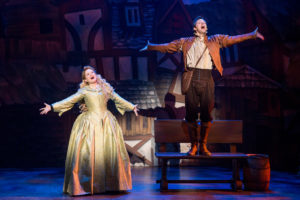 And while they weren't allowed on stage, the two leading ladies of the production— Portia (Autumn Hurlbert) and Bea (Maggie Lakis)— hold their own against all the fine fellas of Something Rotten! each with their own personal panache and punch of pristine talent. Hurlbert, who is the ingénue with deeply entrenched intensity in both her personality and her singing performance, really gets nerdgasmic over poetry and Shakespeare (she doesn't hate Shakespeare!) Bouncing all over the place with her bubbly enthusiasm for poetry and Shakespeare (she really loves Shakespeare!), Hurlbert's portrayal of Portia is perfect. When she laces her voice in duet with Nigel during "I Love the Way" and later for the group sensation "We See The Light", you get a clear sense of her vocal talent as well as how readily she can connect these songs to her character's emotions.
Lakis, as the boisterous Bea, unearths a rich and bawdy humor when she takes up the notion of cross-dressing, carting herself around as a boy. But not before seriously putting her vocal prowess on display during "Right Hand Man." With a clear sense of her vocal range, Lakis belts through the number and really puts the humorous lines at the forefront of the song and does so in an authentic fashion that balances the integrity of her character against the witty h. Not bereft of sentimentality, her rendition of the song's reprise, late in the second act, showcases her versatility as a dynamic and emotionally invested performer.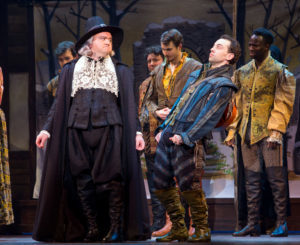 Supporting males who take turns stealing the show with their silly shenanigans include Shylock (Jeff Brooks), Lord Clapham (Joel Newsome), Brother Jeremiah (Scott Cote) and Nostradamus (Blake Hammond.) Newsome and Brooks have their little moments of snappy hysterics that keep the audience chuckling, whether it's Newsome's insane purple ensemble and how well he rocks it or Brooks' overzealous enthusiasm for the theatre! Scott Cote, as the piously pristine puritanical Brother Jeremiah, is in a category all his own when it comes to flashy flamboyance. Sashaying his way all over the stage with a conflagration that could spark up a pride fire several miles high, Cote adds several closeted layers of hilarity to the character by forcing his flamboyance to the forefront. And when he gets to singing in "We See the Light", his vocal abilities are as impressive as his ability to interpret the caricature of the character.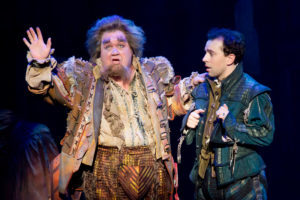 Blake Hammond is an uproarious sensation as Thomas Nostradamus, the slightly less successful Nostradamus where premonitions are concerned. Zany, wild, wicked, and wonderful, Hammond is a scene-stopping, show-stealing, rump-shaking, dance-break-taking, hoot and holler for everyone to enjoy all evening long. His one liners are as hilarious as his layered build-up jokes. Hammonds bears on his shoulders the majority of the "insider references" to all of the various musicals that have come before Something Rotten! It's hard to say which ones he delivers best because they're all so hysterical. Hammond leads "A Musical" with such panache, such gusto, such vim and vigor it's a wonder he doesn't combust into a sparkling pile of jazz hands and kicking legs as the song's conclusion.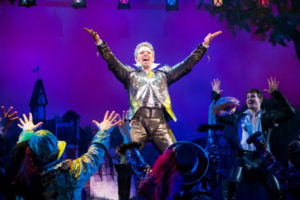 Shakespeare! Who doesn't love Shakespeare! Especially when Adam Pascal is Shakespeare! The groovy, intense, insanely cocky and arrogant Bard of the Ages is fully embodied, embraced, and emoted by Pascal to sublime perfection. With an attitude that precedes him into a room, Pascal pushes his potent personality around the stage and stuns the Shakespearean worshipers who all but grovel at his feet. With his signature powerhouse rocker vocals, numbers like "Will Power" become a blaring beacon of rock-musical legend. Finding the humor in the whinier elements of the character, Pascal's pattering ability blends perfectly with his belts and sustains during "Hard to Be the Bard", giving him the ultimate edge as bad-ass performer of the show.
It all comes down to the bottom of the barrel: The Nick (Rob McClure) and Nigel (Josh Grisetti) Bottom— the Bottom Brothers! Far from the bottom of the talent ladder, both Grisetti and McClure are the absolute tops when it comes to leading this show. The repartee that they share and the intertwined character arc over which they traverse is handled like a well-oiled machine, each taking turns with one another to advance their character's growth. The comedic timing split between them is sharply on point and delivered free of artifice. Though they stand on opposite sides of the peg for "God, I Hate Shakespeare" the way the hold their verses of this number, primarily led by McClure, against one another is a real tell of the working chemistry that they have developed between their characters.
Grisetti's Nigel is endearing, albeit dopey. A bit like the pet brother or kid pup that everyone can relate to, Grisetti imbues his character with a dense naiveté that earns him quite a few chuckles along the way. But there is a sound emotional depth present in his portrayal as well, even if it's not discovered until the second act during numbers like "To Thine Own Self" and its reprise. The other element of Grisetti's performance well worth praising is his smitten twitterpation over Portia. Enthusiastically eager and bubbling over with jubilant glee, he pushes Nigel into the blind, star-crossed romance that is befated such an innocent character in a show like this.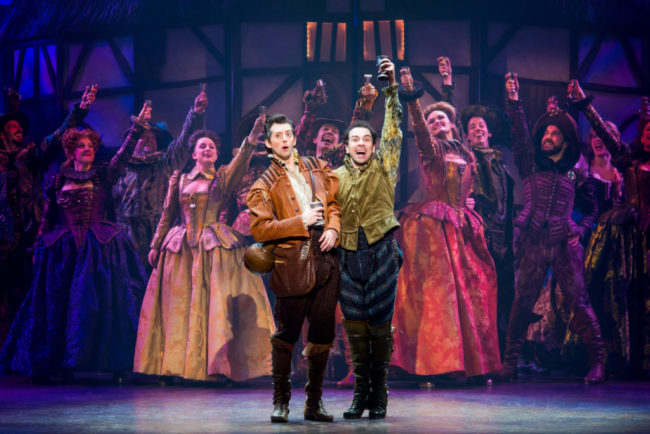 McClure delivers Nick Bottom as a boundless dreamer whose head is soaring through the clouds while his feet leap from the mud. With an astonishing voice that tackles numbers like "God, I Hate Shakespeare", "It's Eggs!", and "Make An Omelette" with superb intonation and sustainability, McClure has the audience eating right out of his hand as the show's central protagonist. When he takes the troupe into the Act I finale, "Bottom's Gonna Be On Top", there's an infectious optimism and energy that just swallows the house whole in his vivacious rendition of this song. Outstanding with the roller coaster emotional track on which his character is set, McClure runs away with the character of Nick Bottom and ensures that he surges up on top!
So even if you hate Shakespeare! (Seriously? Who could ever hate Shakespeare!) This is a singy-dancy-and-romancy— hands-a-clapping and toes-a-tapping MUSICAL! Why, yes— it's a M-U-S-I-C-A-L! You don't want to miss this musical— Something Rotten! is the best musical to hit The Hippodrome Stage in years!
Running Time: Approximately 2 hours and 30 minutes with one intermission
Something Rotten! plays through April 23, 2017 at the France-Merrick Performing Arts Center— 12 N. Eutaw Street in the Bromo Seltzer Arts District of Baltimore, MD. For tickets call the box office at (410) 752-7444 or purchase them purchase tickets online.