The Vega household on Pike Street, on the lower east side of New York City, is a hectic walk-up on the eve of Hurricane Delores, the biggest potential disaster since Hurricane Sandy hit in 2012. Devoted mother Evelyn is franticly attempting to arrange an emergency generator so her handicapped teen daughter Candi can continue to survive on her ventilator and life support equipment. The transport and emergency shelter services they offer were disastrous the last time during the devastation of Sandy. Between being put on hold with Con Ed, she deals with the distractions of downstairs octogenarian busybody Mrs. Applebaum, her feisty widowed father, and his hoochie gold-digging lady friend, Migdalia, all while preparing for the return of her beloved brother, decorated Afghanistan war vet Manny, a revered hero of the block.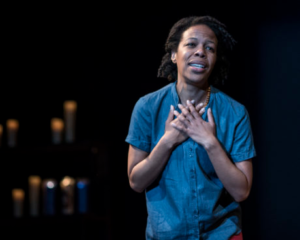 The characters interact at a breakneck pace, with the one-liners and the comebacks coming with precision speed. Alternately hilarious, touching, heartbreaking, and shedding a spotlight on contemporary social issues during the day-to-day problems of a cast of diverse characters, what sounds as if it could have been another groundbreaking 70's Norman Lear sitcom accomplishes that with one major distinction: every character in the piece is performed by one artist, the sublimely gifted playwright/performer Nilaja Sun. Under the astute direction of Ron Russell, Sun creates an absorbing look into a day of a wide cross section of the faces unseen and stories unheard during the usual media coverage of such disasters.
A native of the lower east side, Sun was inspired to compose the piece when Hurricane Sandy landed and stories of devastation emanated from her old neighborhood. New York is a city of dichotomy, and the richest of the rich live merely a few dozen blocks from the most neglected of the poor. In a land of sky-rise tenements, hundreds of the disadvantaged were being abandoned, many of them elderly, handicapped, or mentally ill. These and the neighbors who help them when no one else will are the voices of which she wants us to be aware and remember when future mass disasters occur. She chose Pike St. as the titular residence because the real Pike St. is a literal and figurative dead-end that stops at the East River, beating down its inhabitants with both physical elements and emotional fatigue.
Most solo performance pieces take one of two forms: an ongoing dialogue peppered with interjections from the characters who provide the color of the canvas (think Chaz Palminteri's coming of age story A Bronx Tale), or a series of monologues performed by a succession of varied characters (as in Whoopi Goldberg's career making Broadway solo debut Direct from Broadway). In one of the boldest designs since the inimitable Lily Tomlin in her Tony winning The Search for Signs of Intelligent Life in the Universe, Sun has scripted a standard play where she merely jumps back and forth from character to character in rapid fire succession. Aided by Russell's keen guidance, she fluidly transitions from character to character, almost seamlessly picking up body movements, facial expressions, and gestures virtually where she left them off at each character's previous line with dizzying precision. She has created vivacious characters who are distinctly different in body language, facial expression, vocal intensity, and life experience as could be possible, and her transitions back and forth are breathtaking at times. The result is an evening of visual and emotional poetry as we are taken on a breakneck ride of humor, wit, physical comedy, intensity, education, pathos, desperation, and ultimately redemption with Sun as an accomplished and generous conductor.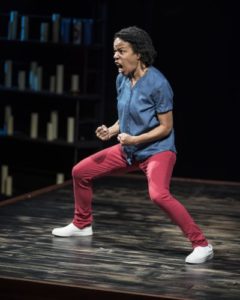 She is warm, wise, and compassionate as Evelyn Vega, a stressed single mother struggling to do her best to pay her bills and care for the advanced needs of her disabled daughter Candi (whose interpretation is the most moving of the piece). She is confident and charming as Evelyn's brother Manny, returning as a decorated war vet, yet transitions abruptly to a darker side when his residual PTSD becomes apparent. For comic relief, Mrs. Applebaum, a good-natured neighbor from downstairs has a lifetime of experience filtered through the onset of early Alzheimer's. Evelyn's sassy father cracks one liners between the pain of dealing with a lifetime of failure as a husband and a man, and his hard as nails, chain-smoking, bimbo lady friend Migdalia who abrades with the precision of a Puerto Rican hoochie Bette Davis.
Sun races from one to the other faithfully and effortlessly without missing a beat of any of the characters involved. As an interesting side note, Sun has incorporated three generations of war survivors amongst her denizens of the building. In addition to Manny, Mrs. Applebaum is a holocaust survivor, and Evelyn's father is a survivor of Vietnam. Through them, we get three generations of perspective on the horrors, the differences, and the after effects of the wars, serving as a layer of social subtext.
Physically the production is appropriately sparse but effective. Set Designer Meghan Raham has assembled a bare stage with a single chair for Candi, amidst two walls of holy candles prevalent in the Latin faith (Evelyn's deceased mother Dona Lola was a beloved holistic energy healer of the neighborhood, and Evelyn aspires to continue her "gift", partly in honor of her mother, partly in hopes of curing her daughter's affliction). Lighting Designer Tyler Micoleau enhances the ambiance of the evening, punctuating his work when called for with bursts of energy reflecting the elements, the disasters, and the realms in which Sun's story unfolds. Costume Designer Clint Ramos has selected a simple, flattering androgynous ensemble of fitted red pants and a blue short sleeved button down cotton shirt which allows Sun to leap characters with fluid ease. There are no usual add-on pieces (no time!) to aid Sun's delineation of characters, and she shows clearly she need not rely on such physical performance aids.
All combine for a deceptively simple but emotionally potent evening of performance art. The themes resonate like the titles of the aforementioned Norman Lear sitcoms, form All in the Family to Good Times to One Day at a Time. Nilaja Sun has created an evening of powerful statements to defend and empower the voices she so diligently wants to be heard.
Running Time: Approximately 90 minutes with no intermission
Pike St. plays through April 23, 2017 at Woolly Mammoth Theatre Company in the heart of DC's Penn Quarter neighborhood— 614 D Street NW, Washington DC  20004. For tickets, call the box office at (202) 393-3939 or purchase them online.