Come on, babe, why don't we paint the town? And all that jazz! You're gonna rouge your knees and roll your stockings down…and all that jazz! Start the car, get to the whoopee spot— in the Opera House— where the piano's hot! It's fun and fancy free— at the center Kennedy— and all— that— jaaaazzzz. Whoopie…ha-cha…skidoo…Chicago is slinking into town for a limited time engagement, playing now at The John F. Kennedy Center for Performing Arts. Directed by David Hyslop— based on the original New York production's direction by Walter Bobbie— and Choreographed by David Bushman— based on the original New York production choreography by Ann Reinking in the style of Bob Fosse— this bare bones production is the latest sensation in murder, mayhem, seduction, and jazz!
It is astonishing how enthralled the audiences are with this touring production of Chicago; the bare bones minimalist approach serves the show's underlying message of "…razzle-dazzle 'em…" with unwavering confidence. Scenic Designer John Lee Beatty constructs a stack-tiered orchestra pit that consumes the entire center of the stage, leaving a narrow strip of play space in front of and all the sides of this bank. There's no illusion when it comes to the concept Beatty has created here. Costume Designer William Ivey Long and Lighting Designer Ken Billington follow suit; the basics: bare bones and little more. What's most fascinating about this approach is how deeply invested you become in the little nuanced moments of movement and interaction among the characters and the Music Director (at this performance the pit conductor) Rob Bowman.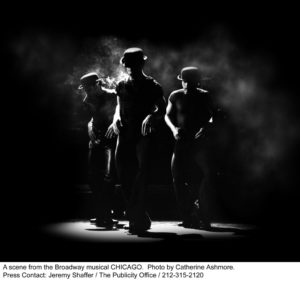 Despite this strikingly stark conceptualization, the choreography of the show feels somewhat uneven. Choreographer David Bushman, who is recreating Ann Reinking's recreation of Bob Fosse's dance style, doesn't utilize the space as fully as he could for some of the routines while others look crisp, sharp, and slicingly edgy. Bushman's most successful routine is "Roxie"— featuring Roxie and The Boys (Brent Heuser, Daniel Gutierrez, Anthony LaGuardia, Tanner Lane, Colt Adam Weiss, Matthew Winnegge.) Heuser, who is also billed as Fred Casely at the top of the production, has a series of wildly entrancing moments in this routine that showcase his finesse as a dancer. Bushman's choreography is mostly clean, and the chair routine used during "Cell Block Tango" is particularly noteworthy.
Despite the imbalance of choreography, David Hyslop's approach to the characters in this show is decidedly presentational, with the exception of Roxie. This again hones the focus of the show on the "razzle-dazzle" concept and really swindles the audience in a fashion most profound. Having Roxie being openly empathetic and blatantly exposing her emotional awareness with great consistency throughout the show strengthens her point of view and how easily it is to be swept up in the notion of fame, fortune, and celebrity. This presentational approach to the characters works particularly well for Billy Flynn (Brent Barrett.) Smarmy, unctuous, and dripping with ribald innuendo, Barrett puts on a show for the masses, bamboozling the audience during "All I Care About" and "Razzle Dazzle." Barrett's butyraceous voice slinks over every note, gliding with effortless ease to charm the audience.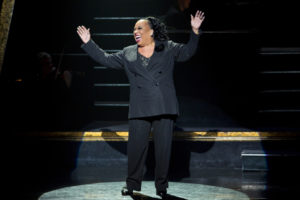 Providing plenty of pizzazz to the role of Matron "Mama" Morton, Roz Ryan toys with the audience and they eat up every instance of it. Standing large and in charge with very little effort, Ryan cajoles the crowd into lapping from her hand as she uses tricky vocal techniques to cover her way through "When You're Good to Mama" and "Class"; the latter is a duet shared with Velma Kelly (Tierra C. MacLeod.) Caught in the crosshairs of her own creation and paying homage to various greats who've come before her, MacLeod's Velma is somewhat off-kilter, due largely impart to her inconsistent vocal affectation. It comes and goes in waves, whatever it is that she's trying to do with her voice, and disjoints her connection to both the character and the show. There's no denying MacLeod has powerful pipes, as witnessed in the end belt of "All That Jazz", but her performance as a whole would have been better served had she foregone the vocal affectation and accent.
Roxie's boys may have all the attention but the Girls (Nicole Benoit, Lauren Gemelli, Pilar Millhollen, Laura Oldham, Evelyn Christina Tonn) are equally praiseworthy. The aforementioned each bring a spicy, unique personality to their merry-murderess identity during "Cell Block Tango", and their dancing is to die for in that number. Extra praise is deserved of the fierce Shamicka Benn, playing "Go-to-Hell-Kitty" in the scene where she storms the courtroom, making a ruckus loud enough to wake all of the windy city. Bawdy, beautiful, and bold, Benn is a ferocious tiger to keep an eye on whenever she's strutting across the stage.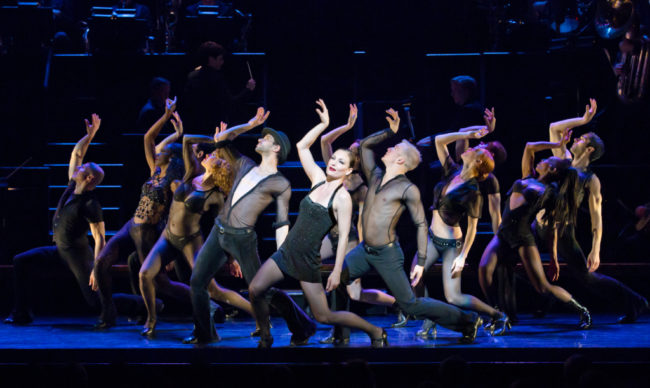 Whilst being stunned in the mesmerizing ether of the show's hoodwinkery, it's easy to forget that Mary Sunshine (C. Newcomer) isn't what she seems. Newcomer has the gooey-eyed, bleeding-heart character refined to a hilarious science, making her more saccharine than a mouthful of the stuff straight from the kitchen table. Newcomer's falsetto is delightful; "A Little Bit of Good" is an exceptional solo that shows off a smashing vocal ability and really entreats the audience to the intricacies of what a proper falsetto sound can do for a song.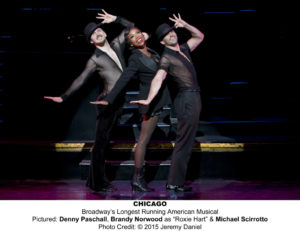 Mister Cellophane couldn't be his name because he's too incredible to be ignored, that Paul Vogt playing Amos Hart. Mealy and melancholy, even a bit milquetoast at first, Vogt plays the audience's heartstrings like a genuine violin with his pathetic personality affectation to suit the character. Perfectly suited for the role, Vogt is such a sensation that when the enthusiastic pit conductor Rob Bowman refuses to give him his exit music, the audience erupts and creates its own soundtrack for his departure. "Mister Cellophane" is punched to the top with panache and pizzazz, earning Vogt a well-deserved ovation from the house.
Truly the epitome of all that jazz, Brandy Norwood as Roxie Hart is the show's pulse. Honest, emotionally vulnerable, and deeply expressive— both physically and vocally— Norwood knocks 'em dead every time she takes the stage. Her magically molten voice is superb, melting over "Funny Honey" and later sweeping through "Nowadays." Emotionally invested, Norwood brings a striking honesty to the character, playing each moment from an earnest place within Roxie's heart. Watching her act the puppet to Barrett's antics during "We Both Reached For the Gun" is hysterical; her vivid facial expressions, flawless lip-sync action, and limber limbs maker her the epitome of a human marionette— no strings attached! Radiating vocal brilliance in a way that keeps her emotional connection to the character stunningly honest, Norwood is phenomenal as Roxie Hart.
Don't miss your chance to paint the town of DC while Chicago is in town— this is one sweet setup that you'll savor for days!
Running Time: Approximately 2 hours and 30 minutes with one intermission
Chicago plays through April 16, 2017 on the Opera House Stage of The John F. Kennedy Center for Performing Arts— 2700 F Street NW in Washington, DC. For tickets call the box office at (202) 467-4600 or purchase them online.