Give them your money, all that you got! Fork it on over— or some puppets will get shot! And you don't want these adorable, hand-crafted, furry little monsters and non-monsters to be obliterated before you get a chance to see them sing and dance their way into your squishy little emotional heart, do you? Give them your money, give them your money, give them your gosh-darn money!! By going to The Highwood Theatre and seeing Avenue Q! I mean, just do what Jesus Christ would do. He'd give them his money and go see it too! Directed by Kevin Kearney and Toly Yarup, this raunchy risqué adult puppet musical will have you laughing all through the night with its hilarious songs and insane reality that is real life after college.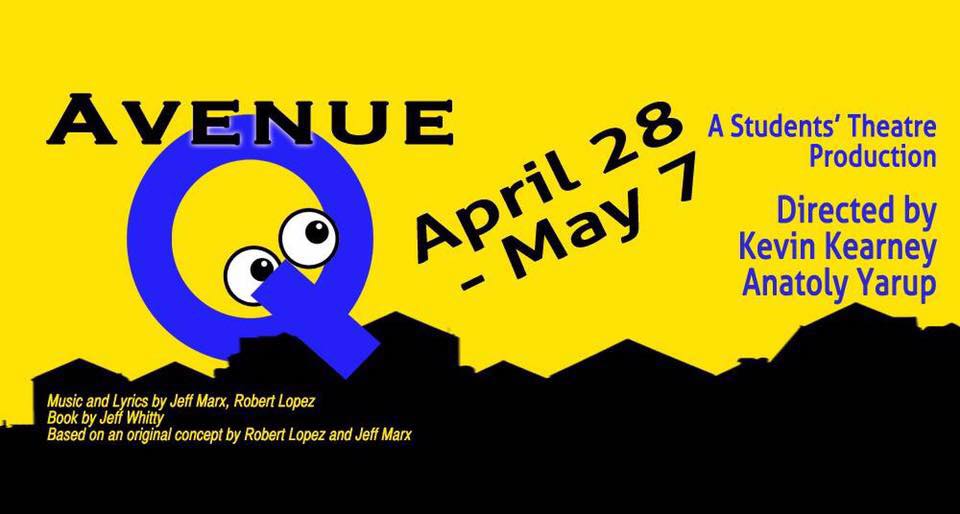 Another fantastical production from The Students' Theatre at The Highwood Theatre, this edgy award-winning musical is the perfect transition for the older students and an eye-opening experience for the younger ones. With Matthew Nicola on Lights, giving that extra pop of pizzazz when and where needed throughout some of the more enthusiastic musical numbers, and Co-Director Toly Yarup wearing the additional hat of Sound Board Op, there's all sorts of aesthetically pleasing things happening in this production. Costume Designer Tip Letsche deserves multiple bows of praise for the garishly gorgeous wedding monstrosity outfitted on Christmas Eve for the wedding scene. It's hooped out; it's covered in lace and gossamer; it lights up and glows; there are poinsettias. Letsche sends the message loud and clear that weddings can be hysterically scary with this gorgon of a wedding gown.
Properties Designer Jason Reid adds a veneer of finesse to the production with little details, like the largely out of date phones featured in the production, and couples his design visions well alongside Video Designers Zach Rosing and Ben Phillippe. But what makes this production of Avenue Q special is the company effort to make the puppets uniquely their own. Though not designed completely from scratch, the company has taken time to personalize the blank bodies of their puppets with fun and funky outfits, accessories, even wild hair styles. Kate Monster has Cabbage-Patch Kid style kinky hair in shades of bubble gum and mint green while Trekkie Monster is one big electric lemon-lime fuzz puff! All of the attention to detail is what makes the production a truly splendid one, setting it apart from others.
As Co-Director, Musical Director, and Set Designer, the multi-hatted Kevin Kearney puts on a show and a half, keeping the pit balanced and well-paced throughout the production. Incorporating a few little dance routines in a few of the musical numbers adds an extra layer of musical theatricality to the production. Co-Director Toly Yarup works with Kearney to keep the show's overall pacing moving swiftly, bringing the entire production in at just over two hours and that includes the intermission.
The Bad Idea Bears (Yael Kissel and Joey Pennington) are a real scream with their chipper and excitable, albeit misguided, enthusiasm toward "helping" Princeton. Pennington in particular stands out with her improvisational skills, particularly during "The Money Song" and pocketing an audience dollar or two, working the bit into a minor comic frenzy. Both Kissel and Pennington have brightened spirits and in taking on the roles of these boisterously troublesome bears, bring a vibrancy to the production that enhances the overall theatergoing experience.
He's Gaaaaaaary Coleman, Trey Taylor is. A bit on the soft spoken side of the spectrum, Taylor finds the humor of the character in his deadpan and sarcastic delivery. Meg Miller, who plays Lucy T. Slut, is the bombastic opposite with her bold voice, seductive saunter, which transfers from her physical body as an extension into her puppet-clad arm, and her sultry tenacity, which she pumps heartily into "Special." Watching her do a quick-change transformation towards the end of the show displays Miller's ability to traverse the character arc and she does so fluidly.
He no want to go out of his apartment. He just want to stay in and watch— well, you know. Trekkie Monster (Will Valdes) is a rumbling hoot in this production of Avenue Q, coming down from his apartment to burst his way through Kate's song, "The Internet is For Porn." Watching Valdes trying to restrain his facial features and his voice during this number is hysterical because it looks like he might explode if he doesn't shout it out. In a unique and clever turn of events, Valdes takes the lead during "You Can Be as Loud as the Hell You Want." As Trekkie Monster is the ruling pervert of the show, Valdes embraces this song with gusto and really blasts it out there, having a funky good time with the number.
Brian (Henry Wiebe) and Christmas Eve (Tuyet Gunter) are just an ordinary couple living on Avenue Q, and like everyone else they've got their dreams, their troubles, and they're a little bit racist. Gunter and Wiebe share an impressive chemistry, one that works well for the relationship dynamic between Brian and Christmas Eve. Both are fair of vocal ability and manage to thoroughly work their characterizations into their songs. Wiebe, who is featured in "It Sucks to Be You" and solos during "I'm Not Wearing Underwear Today" is congenial and comedic, getting laughs from the often panicked expressions appearing on his face. Gunter has a powerful mid-range belt, with somewhat of an airy head-voice soprano range, and this makes her rendition of "The More You Ruv Someone" a vocal treat. Mastering the fine balance between awkwardly humorous and slightly offensive when it comes to her vocal affectation and the purposeful pronunciation of certain words, Gunter handles the nuances of the role extremely well.
Rod (Philippos Sourvinos) and Nicky (Samuel Intrater) live together, they're close as people can get— so they know lots of ways to make each other upset! It's hard to say who's funnier in this dynamic duo, whether it's Sourvinos and his panicked expressions trying to keep his big secret under wraps or Intrater and his uncanny ability to absorb every available breath in the room, but between the two of them, they create some hysterical moments that are thoroughly enjoyable. Sourvinos' rendition of "My Girlfriend Who Lives in Canada" is a scream while Intrater is a convivial comedian for "If You Were Gay." They pair both take pride in translating their facial expressions and slight vocal affectations to the puppets they are wielding, authenticating these characters in a way that makes them uniquely their own.
What will he do with his B.A. in English? One can only hope that Dylan Kaufman is pursuing theatre— that might be his purpose. For this show, his purpose is Princeton and he creates a vibrancy in puppet character that resonates consistently throughout the performance. With his warm, sweet, and powerful vocal ability, Kaufman embraces numbers like "Purpose" and "The Money Song" (a duet shared with Samuel Intrater) and soaks them deep in the emotional and perpetually perplexing broth that is Princeton's life. Kaufman, like the rest, is possessed of wildly animated facial features and delivers each moment in real time, convincing us that he and Princeton are experiencing them for the very first time as we witness them.
There's a fine, fine line between stellar and perfection, a line which Madison Middleton toes imperceptibly in the role of Kate Monster. With vocals that were all but built for the role, Middleton nails all of the emotional keys of songs like "Fine, Fine Line" layering them exactingly over perfect pitch, glorious sustain, and even tone when she sings. Putting her belt into those soulful moments, and really going to town with the more humorous songs, Middleton showcases a veritable versatility that is exceptional in a young performer her age. Mastering the fine art of comic pauses, Middleton works this knowledge to her advantage and puts hilarious new moments into the show simply by executing impeccable timing and spacing in her line delivery. Expressive and transformative, it's difficult to believe that there's a bubblegum and mint crimpy-haired puppet on the end of her arm and that she isn't just wholly Kate Monster.
It'll definitely suck to be you if you don't go see Avenue Q at The Highwood Theatre this spring. It's a great laugh, and you definitely will appreciate the modern reference thrown in by the very enthusiastic cast during "For Now."  
Running Time: Approximately 2 hours and 5 minutes with one intermission
Avenue Q plays through May 7, 2017 with The Students' Theatre at The Highwood Theatre— 914 Silver Spring Avenue located in the heart of Downtown Silver Spring, MD. For tickets call the box office at (301) 587-0697 or purchase them online.