It is all too easy to make excuses for the violence of the oppressed. Humanity's knee-jerk response to people who commit heinous atrocities is to paint them as monsters. But aren't they just human beings beneath it all? In a powerfully gripping and evocative theatrical exploration, playwright Nicholas Wright presents a deeply harrowing psychological and emotional excavation into post-Apartheid South Africa with his work A Human Being Died That Night. Based on the book by Pumla Gobodo-Madikizela and Directed by Logan Vaughn, this haunting expedition into the mind of a war criminal sparks a primal conversation between actor and audience, between human and monster, between conscience and action.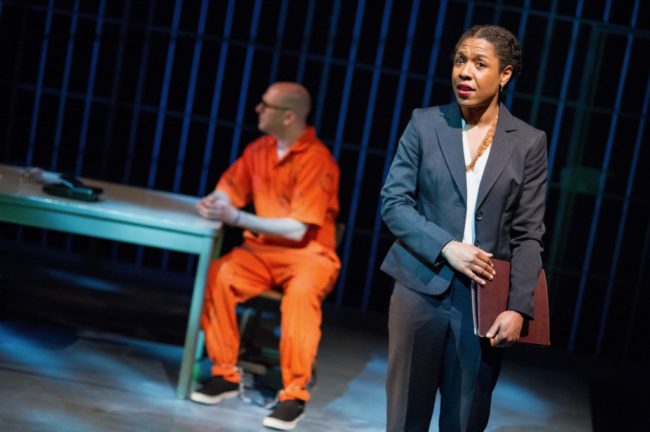 The set is simplistic. There is one prison cell, one interrogation style table, and two chairs— one with a restraining chain below it and the other with wheels. Set Designer Debra Booth has stuck with the most basic approach to this moving tale, allowing the dynamics of what is witnessed to be trafficked by the actors. Heightening and enhancing the overall emotional arc of the story as well as the plot progression, Lighting Designer Michael Giannitti takes a similarly simplistic approach. Giannitti uses subtle shifts for moments when Pumla comes in and out of direct address with the audience verses in and out of moments of direct interaction with Eugene. These delicate adjustments to the lighting creates shadows and sets a tone, furthering the exploration of the narrative in the process.
Costumes fall in the same line as the rest of the production design, ordinary but not without making their stated purpose. Costume Designer Brandee Mathies keeps Pumla in a basic woman's working suit and Eugene in the stark orange jumpsuit of a prisoner. The contrast is both striking and expected while creating something unsettling about their dynamic. Watching the two actors exist in one cell with all of the aforementioned design elements is made a complete theatrical experience by way of Sound Designer David Lamont Wilson, whose background atmospheric soundscape trickles in at precisely the right moment, honing in on the location of the prison.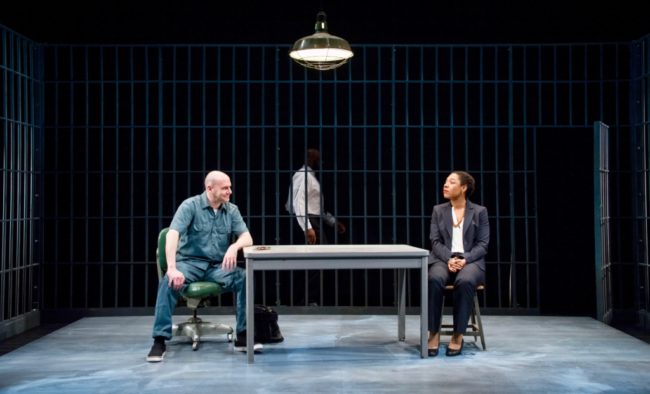 Much like her work in Blood Knot, Dialect Coach Kim Bey has given great guidance to both actors when it comes to articulating the tricky South African dialect. Working intensely with these two performers to create a cohesive and coherent sound, which is easily understandable when it lands on the ear even during moments of heightened emotion or whispered exchange, Bey achieves the unique sound of the South African accent and dialect while maintaining the integrity of the words being spoken. This is a critical component to the production's success as the South African accent in particular can be difficult to understand without prior exposure.
The play's one major downfall is its false sense of an ending and the unnecessary continuation of time and dialogue exchange once the characters' pass the climax of the narrative. There is a profound moment where the title is uttered and iterated, coming together an even more profound silence and shift in lighting that follows. The play readily could have ended there, making far deeper emotional and political impact than it does by carrying on with an epilogue of sorts for another ten minutes. This excessive and somewhat superfluous ending is capped over the story in the vein of presenting how their lives have progressed beyond what they presented during the show. It detracts from the overall statement the piece is making as well as from the jarring note on which the play could have ended.
Director Nicholas Vaughn, despite the playwright's superfluous extension of the narrative, keeps the story moving and flowing, pushing it forward with superior timing. Including an addition character of Guard (Jason B. McIntosh), is a smart device that Vaughn utilizes to transport Eugene de Kock (Chris Genebach) into and out of the cell. This creates a versatile visual as opposed to having him pre-seated in darkness before the scene begins and better serves the momentum of the show.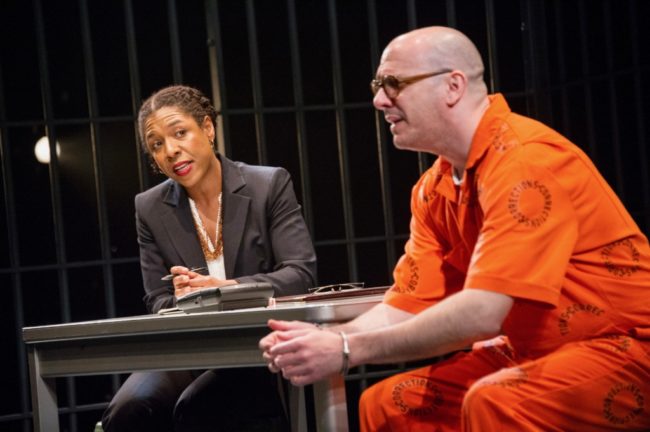 Chris Genebach matches fellow performer Erica Chamblee, playing Pumla Gobodo-Madikizela, toe to toe. h Going head to head with authenticity of emotion, rawness of expression, and depth of overall connection to the character, Genebach humanizes this monster character, also referred to as 'Prime Evil' in a way that makes the stomach turn. There are harrowing scenes of confession where Chamblee plunges psychologically and Genebach responds with an intensely cathartic purge of pathos. In moments of deeply rooted confession, both Genebach and Chamblee bring the humanity of their character, though primarily of Eugene de Kock, to the raw and unabashed surface, forcing the audience to acknowledge his existence beyond the monstrous creation that he has been labeled to be.
Fully loaded as an expressive and deeply moving piece of theatre, and arguably the stronger of the two works featured in the South Africa: Then and Now Rep, A Human Being Died That Night, will move you, and leave you questioning your own judgement of such situations, such crimes, such human beings.
Running Time: Approximately 80 minutes with no intermission
A Human Being Died That Night plays through April 30, 2017 in repertory with Blood Knot as a part of South Africa: Then and Now with Mosaic Theatre Company at the Atlas Performing Arts Center— 1333 H Street NE in Washington, DC. For tickets call the box office at (202) 399- 7993 ext. 2 or purchase them online.