For the next ten minutes— well times eight but hey— will you share your life with them? With Jamie and Cathy and their story? Can you handle that? They can. Stillpointe Theatre takes Jason Robert Brown's The Last Five Years and breathes a curious new life into the production by running two casts in rotating rep over the course of the show's four-weekend run. Featuring a male and female cast, as well as a female and female cast, there are four powerhouse performers who each bring unique qualities to the show. As the show's running time itself is quite short, it is encouraged that both casts be seen, for although the music is the same, the performances create two wholly different experiences.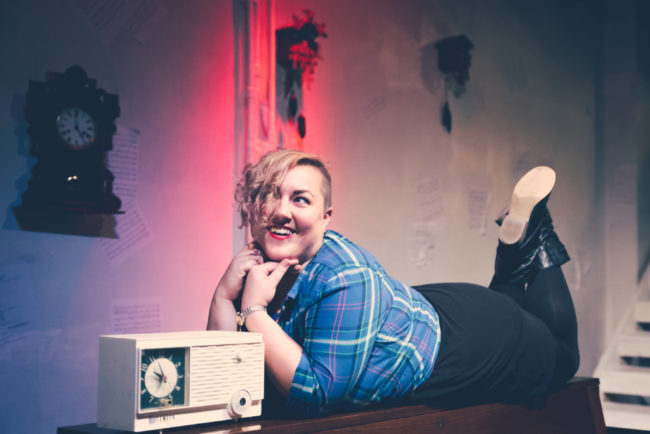 Utilizing the smaller performance space in the auxiliary theatre, Set Designer Ryan Haase builds a visionary play space for this tragically beautiful romance stuck moving forward and backward in time. Lining the seating bank in two rows along the long wall, Haase makes use of both elevated areas, creating the illusion of home while providing a convenient hidden space for costumes changes for both characters. The walls and stairs are white, smattered with sheet music that looks as if its flying away from the paint itself. This imagery stirs up a great deal of symbolism, which creates a heady tether to the show's overarching themes. The use of two live pianos and the perfect placement of the live orchestra in the center of the space further allows the audience to be swallowed into the show's reality.
Simple street clothes make the show timeless. Costume Designer Heather Jackson finds little ways to make the sartorial selections appear polished without too much effort. A cream ribbon-cinched dress for the mid-point scene on Cathy, more business attire for Jamie as the musical draws to a close. These outfits step outside of time while maintaining a connection to the modern world, which makes the linear discombobulation of the show's plot-flow that much easier to follow.
It is curious how one Lighting Designer, Adrienne Gieszl, has created two different lighting plots for what essentially could be the same show. Some of the cues are quite similar, but it seems with the male-female cast they are much more intense and much more deliberate. There is an overarching sense that when Jamie is in focus, regardless if it's Jamie's singing song or not, that the lights on Jamie are brighter, and Cathy falls into shadow or darkness. The darkness is enhanced to nearly double in the male-female cast, truly plunging into the darkness, reflecting how she isn't the sun in Jamie's world the way he is in hers. There also appears to be a more distinctive use blue in the female-female cast. Gieszl, regardless of which cast, has a keen sense of subtlety and how to use it when it comes to effective emotional lighting.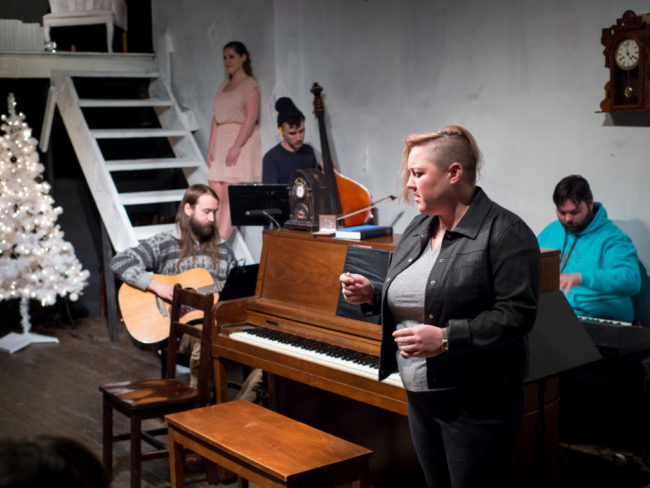 Musical Director Ben Shaver delivers an astonishing production with his band of just five, wherein he himself plays the piano. With Trevor Shipley on Guitar, Cody Raum on Bass, Steven Bainbridge on Cello, and Livy Amouruso on violin, the music of Jason Robert Brown swells to life with tremendous emotional intention. There are moments (in both cast performances), though only briefly where the live pit— largely because of how they are situated in the center of the space, overplays the actors, but Shaver corrects this as the play progresses. Commendable for his flawless fingers and sense of how to adjust when the singers skip ever so slightly ahead or slide ever so slowly behind the music, Shaver makes the music of the production as decadent and delightful as Brown intended it to be. A nod of extreme praise is also deserved to Livy Amouruso, whose string sounds are bliss upon the ear, particularly during "I'm a Part of That."
Director Darius K. McKeiver has done an exceptional job of selecting talent when it comes to putting together these two casts. He even presents two different visions when it comes to ensuring that the performances are separate. The one point of confusion that causes some questioning of his choices is with the Female-Female cast. Deliberating casting two females in the role but choosing not to alter the pronouns makes the motivating factor unclear. If the intent is to cast completely genderblind, casting Amanda J. Rife as Jamie and playing Jamie as a man, this is not clearly articulated. Otherwise, McKeiver does a great many things with the intimate space, including bringing the performers into the rows of the audience, having them lea up upon the back-facing piano, and works tight, intricate blocking with great consistency throughout both cast performances.
Female-Female Cast:
Jamie (Amanda J. Rife) and Cathy (Amber Wood) have a palpably distant chemistry from the beginning. With Wood working the story from back to front and Rife working the story from beginning to end, there are a great many moments where the pair are staged together without truly seeing one another, yet still effectively communicating their emotions and sharing these scenes as if they were. There is a natural born tension between them, which melts away like snow on a warm spring day come to dissolve the frost when they see each other at the same time for the first time during "The Next Ten Minutes."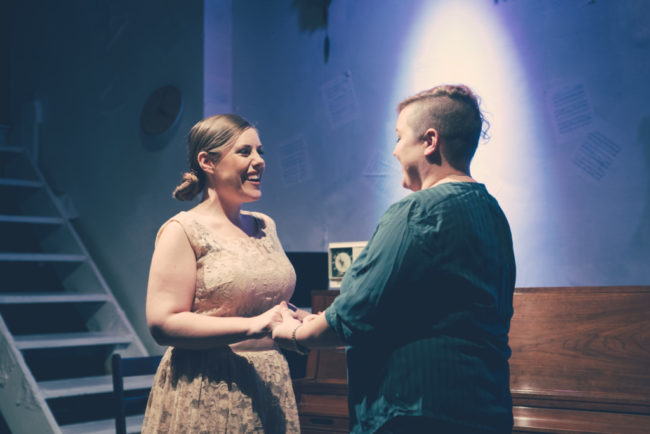 Rife's portrayal of Jamie is fierce. Putting a zingy punch of jazz into "A Miracle Would Happen", which is partnered against Wood's dulcet tones for "When You Come Home to Me." Rife delivers a heightened sense of animation in her facial expressions and her body for "The Schhmuel Song" and pushes the hilarity to be found in the zesty 'clock' character. There is a vocal explosion of undefinable elation experienced in "Moving Too Fast" and this is a delightful contrast to the way Rife is able to slow things down and gracefully slip away emotionally during "Nobody Needs to Know."
Wood, as Cathy, has an equally powerful voice and puts it to use though in a much different fashion. Starting in emotional tatters, Wood pulls the shatters of heart-glass and the splinters of soul-wood through "Still Hurting" and by the show's end has completely transformer her character arc in reverse, arriving at "I Can Do Better Than That" which such courageous optimism that it's as different as night and day. Finding a devoted physical comedy bit for "A Summer in Ohio," Wood puts her comedic prowess on display here, and does not shy away from some of the sillier things that make her character honest— like the attitude she presents for "Climbing Uphill."
Male-Female Cast: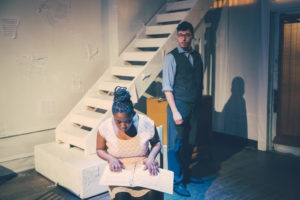 Jamie (Danny Bertaux) and Cathy (Jessica Bennett) are radiant sparklers whose paths cross briefly but brightly in time. From the moment Bertaux sets the note on the chair through to the end when they sing their differing goodbyes, Bertaux and Bennett dominate the room with an unstoppable chemistry that is pushing and pulling them together and apart. This is most strongly felt at its pinnacle, "The Next Ten Minutes" and when they lock arms and finally touch, after number upon number of being so close and nearly embracing or caressing, there is an ecstasy that just floods like room. Feeding off each other's natural vocal and emotional energies, despite heading in opposite linear directions, Bertaux and Bennett fuel one another from start to finish in this performance.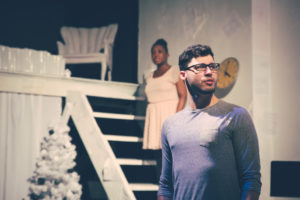 Flying full speed ahead, Bertaux delves into the sensationalism of "Moving Too Fast", bolstering a jazzy and energetic physicality to match the rhythm, speed, and overall tone of the number. Unafraid to unleash his inner funky monkey during "The Schhmuel Song," Bertaux creates an illustrious narrative from the piece and goes to town with it. Creating an unfathomable softness and gentleness, far beyond what the lyrics would imply, he takes to "If I Didn't Believe In You" with such a tender grace that it's stirring. Fully present, Bertaux embraces the nuanced moments as well, like responding to the squeaky steps when he comes sneaking down them just before "Nobody Needs to Know." This number is visceral, passionately ripping him apart as he sings it.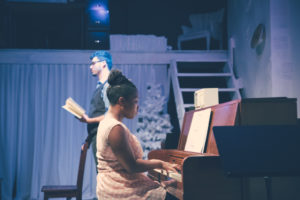 Bennett, as Cathy, is vibrant. Wound into the seams of her singing are years and years of dreams, and emotional expression. Though in the final song, "Goodbye Until Tomorrow & I Could Never Rescue You", there is a bit too much emotional bleed as she struggles to make her half of the duet a joyous one, Bennett's overall emotional approach to the character is spot on. There is a soulful push of intensity every time she hits a ballad section of her solo numbers. Her willingness to play with Musical Director Ben Shaver during "Climbing Uphill" (they take turns battling for focus, ripping it from one another in a hilarious fashion), is endearing and her overall expression of this number is impressive. Fully absorbing the weight of "I'm A Part of That" at the song's conclusion is one of the most harrowing and powerful moments expressed in the production and Bennett nails it. Remarkable of voice and paired extremely well against Bertaux, Bennett portrays Cathy with stunning presence, exceptional voice, and striking emotion.
See Them Both
No matter which cast you view, you're going to get a great performance. It is worth attempting them both if at all possible.
Running Time: Approximately 80 minutes with no intermission
The Last Five years plays with rotating repertory casts through March 26, 2017 at Stillpointe Theatre— 1825 N. Charles Street in the Station North Arts District of Baltimore, MD. Tickets can be purchase at the door or in advance online.